Summer is right around the corner, and that means it's moving season. Whether you're moving into your first home, or selling your existing home and moving into a new one, congratulations! A big move is a major step, and an exciting one.
That being said, everyone knows that moving is a hassle. All that packing, all the paperwork, and the whole process of settling in to your new space adds up to lot of time, effort, and expenses. Anything you can do to make things easier is a must. And we've got an idea you may not have thought of, installing a smart home security system!
If you're moving in to a new home, you may think a smart home security system is something that can wait 'til you're more settled. But actually, it can help you handle so many aspects of settling in from day one. From security to cost savings, there are tons benefits! For those moving out, you may be surprised to hear how much having a wireless home security and automation system can help sell your home. Let's take a closer look.
For moving out
If you're moving out, you're in luck! Not only have you been able to enjoy all the benefits of a CPI smart home security system throughout your time in your home, but research shows that buyers want them too.
Now let's look at some facts. Coldwell Banker's annual smart-home survey, published in January 2018, asked potential homebuyers about the importance of smart home devices. And they put up some major numbers:
As you can see, well over a majority are interested in having all the aspects of a smart home set up and ready to go before moving in. We think those are some pretty smart homebuyers!  So when you put your house on the market, you can do so confidently knowing yours will stand out from the rest because of the system you have.
And with a CPI system, when your buyers move in, they won't be dealing with tons of separate systems. A CPI smart home security system offers all connected equipment, professionally installed and ready for use. By having an existing system in place, all the new homeowners will have to do is make one quick call or email to activate.
An added benefit: Smart home devices like keyless entry door locks and garage door controllers allow you to make your home available to prospective buyers and realtors with no disruption to your day, a benefit that makes the process of selling your home secure and a little less chaotic.
For moving in
Now, let's talk about your new home. Making your new space feel like home right away is a must. So first, let's talk safety. We're a security company first and foremost, so helping people feel safe is, and always will be, our number one priority. And in a brand new home and new neighborhood, you're bound to feel a little less secure, simply because things are unfamiliar. The peace of mind that will come with the protection of a CPI security system is huge.  Make the first night in your new home a great one by feeling comfortable and safe.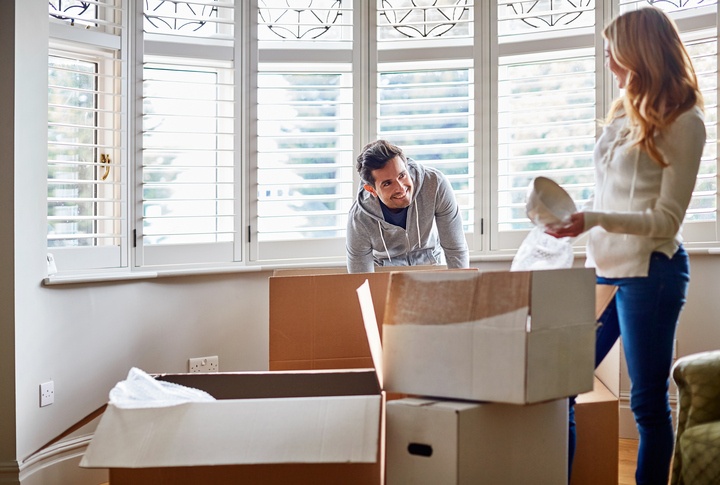 Beyond providing essential home security, your whole smart home system can also save you time and money. During the very first days after a move, you're bound to have lots of visitors and deliveries. We're talking about the cable guy, the washer-dryer install, all those Amazon packages of new home supplies, and of course, the lovely new neighbor bringing brownies! When you've got smart door locks, you can let people in to drop off deliveries or make home updates from your inTouch app. Say goodbye to wasting PTO being stuck at home during one of those infamous "anytime between noon and 9pm" delivery windows! An exterior door camera lets you see exactly who is arriving, so you know whether you're comfortable unlocking.
Lastly, a smart home thermostat can start saving you money in your new home immediately. Don't just swallow a couple months of expensive energy bills while you get a sense of exactly what settings are best for your new home. Let a smart thermostat handle that for you! The inTouch thermostat can help automate your temperature settings; you'll be able to remotely access and control the thermostat, set up schedules, and receive temperature alerts, all through the app on your smartphone or tablet.
Smart home security systems and moving go together like doorbells and cameras. (Sorry, that's an industry joke. It means they're perfect together!) Make a CPI Security package part of your plan for a better move. 
Interested in a smart security system for your new home?  Check out popular CPI Security packages here.