We're Hiring! Careers at CPI Security:
Here's what our employees are saying.
VIEW VIDEO
CPI Security is one of the most successful residential and business security companies in the Southeast and employs over 800 people in multiple locations. Consistently ranked in the top 10 in the nation and recently awarded SDM Dealer of Year, CPI Security's continued growth is due, in part, to a corporate culture dedicated to superior customer service, cutting-edge technology and community involvement.
Perks of the Job
At CPI Security, we know that our most important asset is our people. We hire and retain some of the best employees in the industry and couldn't do so without offering great employee perks and benefits.
Competitive Benefits with 401(k) Match
Birthday & Anniversary Celebrations
Activities and Team Building
Wellness Incentive Program
Education Assistance
Paid Volunteer and Charitable Engagement Opportunities
About CPI Security
For more than 25 years, CPI Security has been a leader in customized security and home automation solutions. We are one of the only providers to design, install, monitor and service our own security systems.
What's it like to work at CPI?
CPI realizes that its success depends on employees who are excited about coming to work every day. We offer our employees a positive and rewarding work environment with competitive pay and benefits, paid training, and educational assistance. Our employees are driven, independent, passionate, and team-oriented. Everyone at CPI comes into work knowing they will make an impact, whether that means with their team or customers. There's a reason why we were voted one of the top places to work in the Carolinas!
New Corporate Headquarters
Our corporate headquarters expansion is complete! We're excited to announce that our new building is open. Our new facility is a beautiful light-filled, open concept designed for collaboration. It has dedicated training space and houses our new world-class 5 Diamond, U.L. Listed Monitoring Center. Some of the amenities include a full-service restaurant, fitness center and much more.
Dedicated to our Communities
CPI's culture is built around our strong desire to give back. Because we live and work in the regions serviced by CPI Security, we actively participate in our communities. Several times a year, we ask employees to participate in our spirit of giving back and always have a great time doing so. We even offer volunteer time off for charitable time outside of work.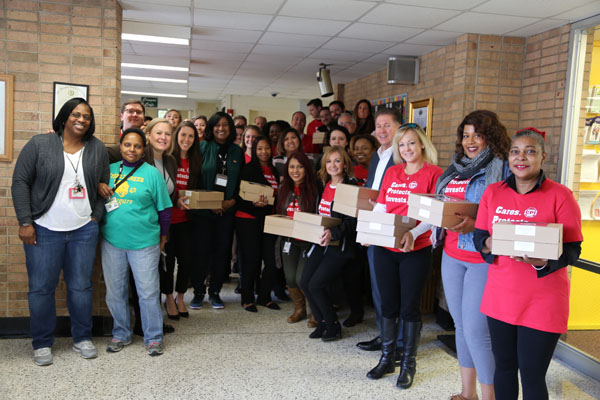 Become a Part of the CPI Family!
Ready to join one of the fastest growing companies in the Southeast?
Search Open Positions