Home Security Systems
CPI's award-winning alarm monitoring center provides fast response when you need it most.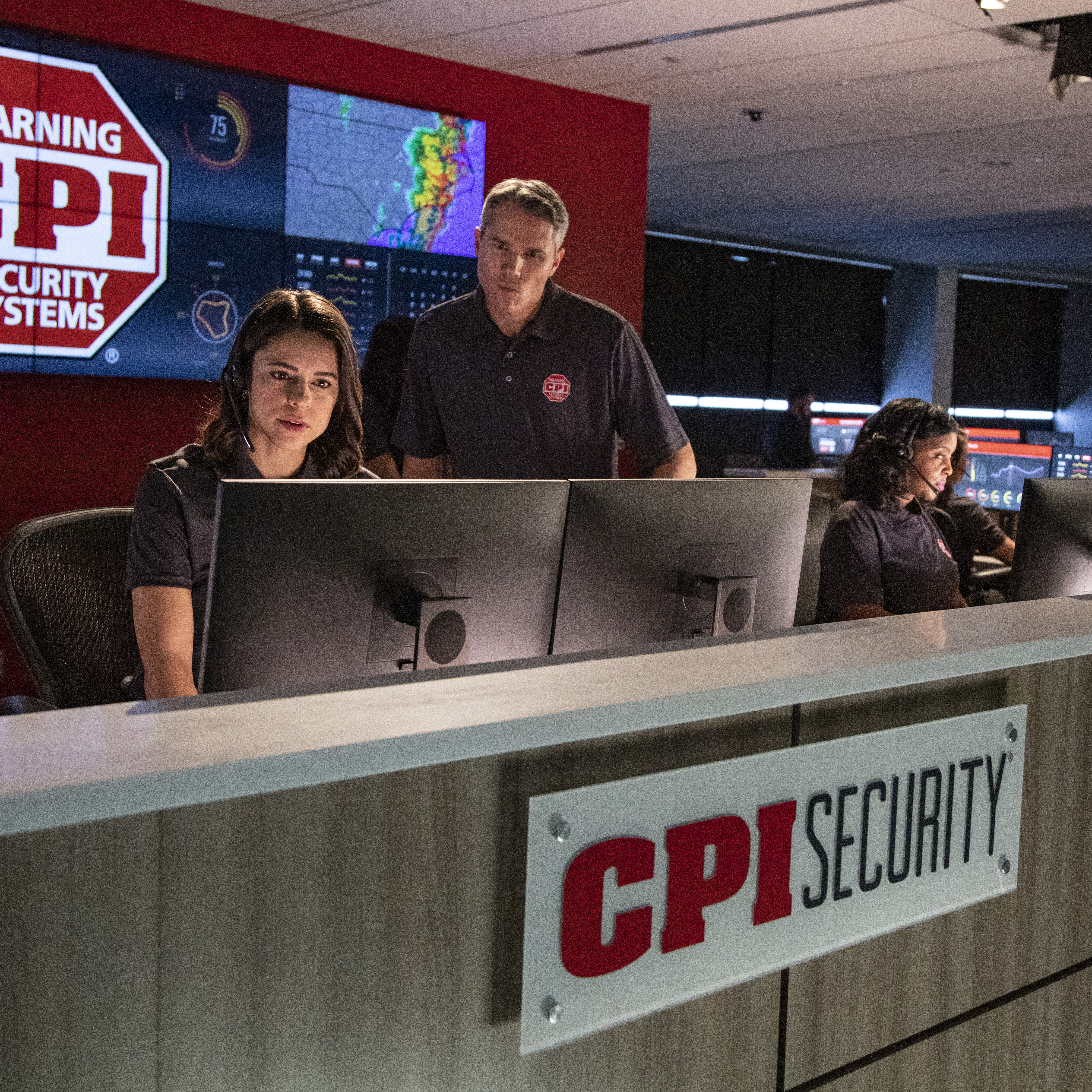 Alarm response in seconds, not minutes.
When it comes to the safety of your loved ones and protecting your property, CPI's Real Time Response℠ makes all the difference. Our award-winning central station communicates a verified emergency to the authorities, delivering a response in seconds not minutes.
Video verification helps identify intruders.
An alarm event triggers your security cameras to start recording and notifies CPI's award-winning Central Station. The recorded video allows CPI to verify dangerous alarm events and has helped to apprehend burglary suspects and keep families safe from harm in real time.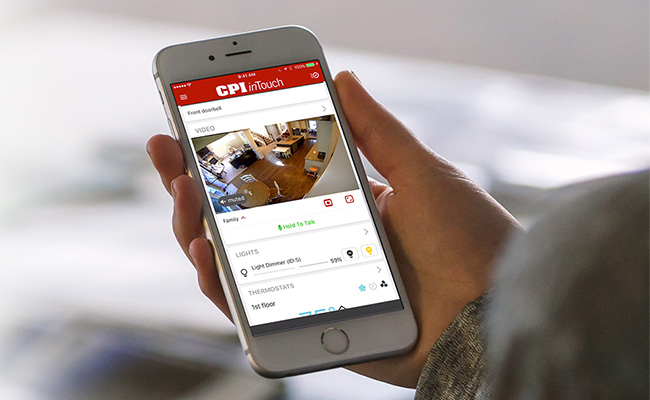 Video security made easy with the inTouch App.
Real-time Video
Watch live or recorded video from your security cameras. Keep an eye on your kids, pets and valuables in real-time!
Control Remotely
View and control your indoor and outdoor security cameras remotely with ease!
Talk to Visitors and Answer the Door
Have a clear view of your front door with CPI's inTouch Doorbell Camera. Answer the door for guests or make sure your package is left in a secure space.
Fire & Carbon Monoxide Detection
Fire is one of the most dangerous and destructive threats to your family and home. At the first indication of smoke, CPI's Fire Communicator sends a signal to our monitoring center, dispatching the fire department saving you precious time.
Carbon Monoxide is virtually undetectable to the senses and can be deadly. Our Carbon Monoxide Detector monitors for CO leaks and at the first trace, sends a signal to our monitoring center, getting you help quicker.
Heat Rise Indicator
Detects rapid temperature changes and extreme heat (e.g., kitchens, furnaces).
Fire Communicator
Unlike most smoke alarms, CPI's fire communicator is monitored fire detection. At the first detection of smoke, CPI will be notified, verify the emergency and dispatch the fire department – whether you're home or not.
Carbon Monoxide Detector
Sounds alarm and sends signal to monitoring center at first trace of carbon monoxide.
Security Sensors and Devices
Top Notch Company. Professional, Courteous, Respectable.
Theresa, Seymour TN
Installation done right the first time.
The protection and security of your home and family are important. We take pride in knowing every system and camera are installed correctly and customized for your home.
Call: (800) 827-4347
Glass Break Detector
Glass break detectors sound an alarm when glass is broken, not just when a window or door is opened. They are a great option for rooms with multiple windows or glass exterior doors.
Call Now:
(800) 827-4347
Door/Window Sensors
Button activated or flush mounted sensors trigger your alarm when a door is opened. Even when the system isn't armed, a chime sounds letting you know when someone is coming or going or opening doors elsewhere in the home.
Call Now:
(800) 827-4347
CO Detector
Carbon Monoxide detectors are important in any home that has natural gas, wood, or other fuel-burning appliances. If carbon monoxide is detected, you will be notified and help can be sent, if necessary.
Call Now:
(800) 827-4347
Water Sensor
Protect your home from flood disasters or minimize damage if they do occur. If the sensor detects water, you can receive notifications and alerts. Water sensors are useful in basements, near kitchen appliances, or in any place flooding is a possibility.
Call Now:
(800) 827-4347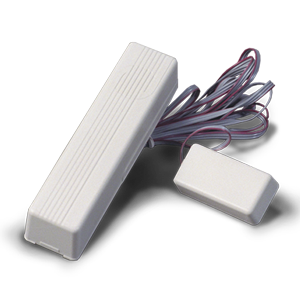 Medical Pendant
Whether you have an elderly parent or someone else you want to keep an eye on, a medical pendant can trigger an emergency response. When the pendant is pressed, CPI's central station is immediately notified, helping to keep your whole family safe.
Call Now:
(800) 827-4347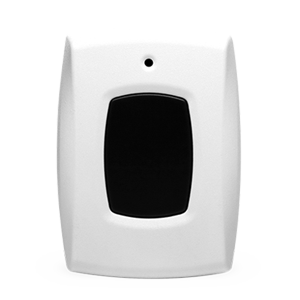 Key Remote
This convenient remote attaches to your keys or bag and offers another way to control your system when away from the panel. Arm, disarm, or press the panic button if there's an emergency.
Call Now:
(800) 827-4347
Light Control
CPI's smart plugs allow you to control the power to any device through the inTouch app. Set schedules to turn lights on and off automatically - great for pretending your home while you're away.
Call Now:
(800) 827-4347
Garage Control
Never worry about leaving your garage door open again. The garage door control kit is fully integrated with your security system and controllable through the inTouch app. See if the door is open or closed, then simply tap the screen to control it from wherever you are.
Call Now:
(800) 827-4347
inTouch Thermostat
Take control of your energy use and automate your temperature settings. Remotely access and control the temperature, set custom schedules, receive critical temperature alerts and create location based automation all with the convenience of your inTouch app.
Call Now:
(800) 827-4347
Touchscreen Door Lock
Whether you forgot to lock up after going out to a movie, or you need to let the neighbor in to feed your pets, the Touchscreen Door Lock's motorized deadbolt allows you to lock and unlock the door from the keyless touchscreen or through the CPI inTouch app. Plus, customize alerts to let you know who's coming and going.
Call Now:
(800) 827-4347
inTouch 180™ Indoor Camera
CPI's all new indoor camera has an incredible 180° field of view, 6.8-megapixel camera, and two-way communication. With one touch of the camera, start a two-way call or video chat with any connected mobile device.
Call Now:
(800) 827-4347
inTouch Indoor HD Camera
In the event of an alarm, CPI uses audio and video in real-time to communicate a verified emergency to the authorities. Supports wireless connection to a broadband router. High-quality video with fast frame rates and great low-light performance.
Call Now:
(800) 827-4347
inTouch Doorbell Cameras
Always know who is at your front door. With motion sensors, digital microphone and speaker, you can answer the door, and speak to visitors – all from your app. Know who is at your front door, even when they don't ring the doorbell.
Call Now:
(800) 827-4347
inTouch Outdoor HD Cameras
Know what's going on around your home with the HD Outdoor Video Camera. View crystal clear 1080p HD video in real time through the inTouch app. This weather resistant camera allows you to see up to 40 feet in total darkness.
Call Now:
(800) 827-4347
Stream Video Recorder (SVR)
Have up to 30 days of recorded video. View locally on a TV or remotely access recorded videos through CPI's inTouch app. View live or recorded videos on your own schedule, making it easy to send and share clips after an event occurs.
Call Now:
(800) 827-4347