Did you know that in 2019, victims of burglary offenses suffered an estimated $3 billion in property losses in total?*
Here's the good news: it's easy to learn what you need to do to secure your home and reduce your risk of break-ins. Since 83% of would-be burglars check to see if a home has a security system before attempting a break-in, a CPI smart security system can help burglar-proof your home while giving you some extra peace of mind. Plus, nothing catches the eye quite like the classic red CPI yard sign.
If you have a professionally monitored security system, that means there is a dedicated monitoring team that responds to alarms whether you're home or away. They also confront intruders and verify alarms in an emergency, relaying valuable information to the authorities in real-time (this is compared to a non-professionally monitored system that relies on the homeowner to contact authorities in an emergency).
In addition to professional monitoring, CPI provides products that do the work for you and keep you in the know – like the new CPI Outdoor Security Camera with Perimeter Alert, which does more than just record crime, it actively deters it. In addition to sending you real-time alerts when a person, animal, or vehicle enters your property, when a trespasser is detected, it lets them know they are being recorded with an audio and visual alert, and scares them away.
When it comes to burglar-proofing your home inside and out, check out our top security tips below: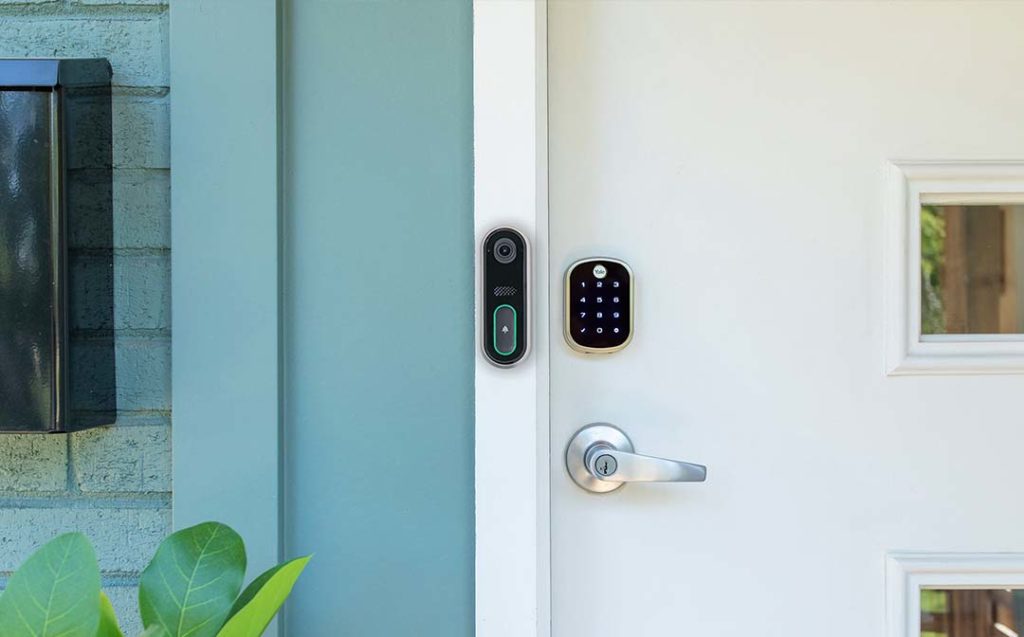 Best Ways to Burglar Proof Your Front Door
Property theft is usually a crime of opportunity, so keeping the front door locked is an easy way to keep intruders from entering through your front door. Here are a few other ideas on how to secure your home's main entrance:
How to Secure Your Home's Front Door
Make sure locks and hardware are in good condition and check the quality of the door and the frame. The best lock in the world won't help if the door can be kicked in. If you have a smart lock, you can receive reminders if you forget to lock your door after a certain amount of time, allowing you to lock or unlock your front door from anywhere.
Use Door Sensors as a Burglar Deterrent
A door sensor can also alert you if a door isn't latching properly or has been left open. With a connected burglar alarm and smart home security system like CPI's, you'll get notifications through the inTouchTM app, so you can quickly return home or ask a trusted neighbor to close the door for you.
Be Careful When Hiding Keys
If you're hiding a key outside, use a mounted lockbox instead of just slipping it under a flowerpot. Better yet, install keyless smart locks that let you control access right from your phone. You can create unique user codes for everyone from contractors to pet sitters to the kids and customize your app alerts, so you know who's coming and going.
How to Prevent Burglary Using Video
Really want to show unwanted visitors you're serious about security? A video doorbell camera is a great foundational theft deterrent. Even better: pair it with an outdoor security camera to know immediately when a person, vehicle (or animal) enters your property.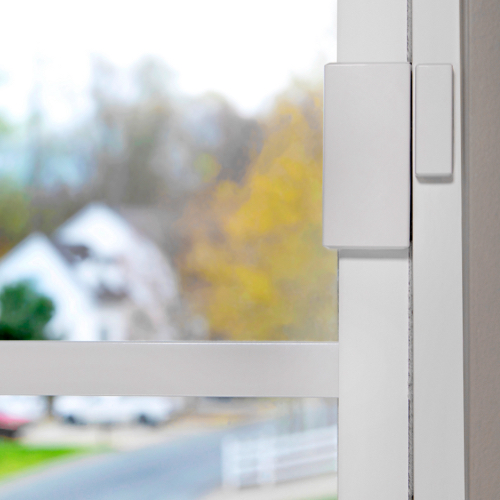 How to Secure Your Home's Windows
Windows can be tempting for would-be burglars, especially since traditional locks can be easily broken. Some households use a wood or metal bar to block sliders from opening, while others install simple but effective pin locks.
How to Prevent Burglary with Landscaping
Want to keep your home safe while improving its curb appeal? Maintain the landscaping close to your house so dense shrubbery doesn't provide a handy hiding place for lurkers. While you're planting, a few strategically placed thorny beauties couldn't hurt.
How to Secure Windows With Sensors
For extra peace of mind, connected window sensors can notify you – and your security monitoring service – if a window is opened while the system is armed. And if you have a CPI-connected security system with an outdoor video camera, burglars will get a warning to stay away before they even get near your windows.
How to Scare Burglars Away from Your Backyard
Whether your yard is a simple fenced rectangle or a sprawling haven with its own structures, simple steps can amp up your outdoor security.
Easy Tips on How to Prevent Backyard Break-ins
Start by locking up and keeping valuable items tucked away, like bicycles, sports equipment, and home improvement tools. If you must keep these items in plain sight, the audible and visual warning from a smart outdoor video camera can be an instant burglar deterrent.
How to Prevent Burglary Through Backyard Doors
Make sure doors are protected, too – inexpensive patio door locks can be surprisingly convenient. Sensors can help you protect back entry sliders or doors, and let you know if someone's trying to open a shed, gate, or other entry points.
How to Secure Your Home With Backyard Lights and Cameras
Motion-sensing lights are a great burglar deterrent – thieves don't exactly enjoy the limelight. If you really want to put them on the spot, an outdoor security camera can detect them in action, deliver a warning, and record the whole thing.
How to Secure Your Home and Protect Your Valuables
When you're comfortable in your home, it's easy to get lax. But just like how leaving property in your vehicle is an invitation to car burglary, it's a bad idea to give thieves a front-row view of valuable property.
How to Prevent Burglary of Your Valuables With Décor
When decorating your home, remember that curtains, blinds, or other window treatments are a simple way to hide what's inside. Even when the shades are drawn, it's a good habit to keep jewelry, cash, expensive electronics, and other high-ticket items stored away.
How to Protect Your House From Break-ins by Planning Ahead
Remember: while burglary and theft can be crimes of opportunity, some thieves are more sophisticated. But you can do your part by making sure valuables are always in secure environments, like a home safe, insuring the property that you feel should be insured, not oversharing your location on social media, and taking the appropriate measures if you plan to be gone for extended periods of time.
Home Security Smarts: Let Your Smart Security System Do the Work for You
The best "how-to" if you want to protect your home from invasion? Don't try to go it alone – instead, choose a professionally installed and monitored smart security system you can trust, like CPI, to secure your home inside and out:
24/7 Emergency Response: With CPI's 24/7 professional monitoring, known as Real Time ResponseSM, our specialized teams can confirm an alarm with two-way audio and video verification, and communicate with first responders in real-time, getting the authorities there faster than traditional security companies.
All-in-One Smart Security: Our suite of smart home and security system products all work together to create a uniquely intelligent and safe home that's all controlled through your inTouch account.
Complete Control Under One App: Securing your home with CPI means bringing your smart home and security needs under one roof. Use your inTouch App to review camera feeds, lock up or arm the system, and check on what's happening at home from anywhere.
Professional Installation: We take the stress out of setting up your smart home security system with expert technicians, post-installation education, and more.
Enjoy the Peace of Mind of a Safe & Secure Home
It's important to keep in mind that because every home is unique, there's no one-size-fits-all, guaranteed solution when it comes to burglar-proofing your home. However, start by following these steps and speaking with a security professional to ensure you're installing the best system possible for the style of your home. For safety tips like these, and more information on everything home, smart security, and innovation, visit the CPI blog today.
Sources:
*FBI's Uniform Crime Reporting (UCR), "2019 Crime in the United States."
**UNCC – Alarm Industry Research and Education Foundation, "Understanding Decisions to Burglarize from the Offender's Perspective."