As the saying goes, a picture is worth a thousand words. But what about a video? With the rise in popularity of home security and automation, adding cameras to your smart security system is an excellent way to strengthen your protection, stay in the know from anywhere, and assist your security monitoring team during emergencies. But with so many home security cameras available, how do you pick the right one? You may be wondering – What features are important? How many do you need? Where should you place your home security cameras? And how are you going to install them? This comprehensive guide will help you answer these questions and more so you can choose the best security cameras for you, your home, and your family. If you're looking for something specific, click each topic to learn more:

Benefits of Having Security Camera
Arming your home with a doorbell camera, smart lock, and outdoor camera is a great first line of defense   The perks of having home security cameras extend beyond "checking in" or having the latest technology.
Enhances emergency response during alarms.
If you choose a security company that offers 24/7 monitoring and emergency response (like us at CPI), cameras help security monitoring experts verify alarms more quickly in an emergency because they can see what's happening in real-time. Video-verified alarms get authorities there faster when it matters most, saving precious seconds and getting you and your family the help you need.
Supports your smart security system.
The best home security cameras integrate directly with your smart security system and products, making your life easier and safer. Have a friend stopping by to visit? See them arrive and unlock the door straight from your smartphone. Did you order take-out? Speak with the delivery person at your front door through two-way audio and ask them to leave the food at the door.
Deters criminals.
According to a UNC Charlotte study, the presence of a home security camera system is an effective deterrent for criminals and helps prevent crime. A high-quality security camera can also catch criminals in the act and help local authorities identify suspects!
Keeps an eye on your home 24/7.
You're busy and don't have time to watch video surveillance all day – and night – long. That's where night vision capabilities, intelligent video analytics, and motion-activated recording come in handy. You can even personalize your intelligent video analytics and receive customized alerts if a person, animal, or vehicle enters a designated area or shows up unannounced.
Helps you stay connected.
Whether you're away on vacation or stuck late at the office, home security cameras keep you connected to your home and family. Check your security camera's live feed through an app, like the inTouch™ app, on your mobile phone or tablet, or look back on recorded moments throughout the day. Depending on the camera's capabilities, you can even talk with your family members inside the home or speak with and greet visitors at the front door using a camera with two-way communication. Back to the top
Best Home Security Cameras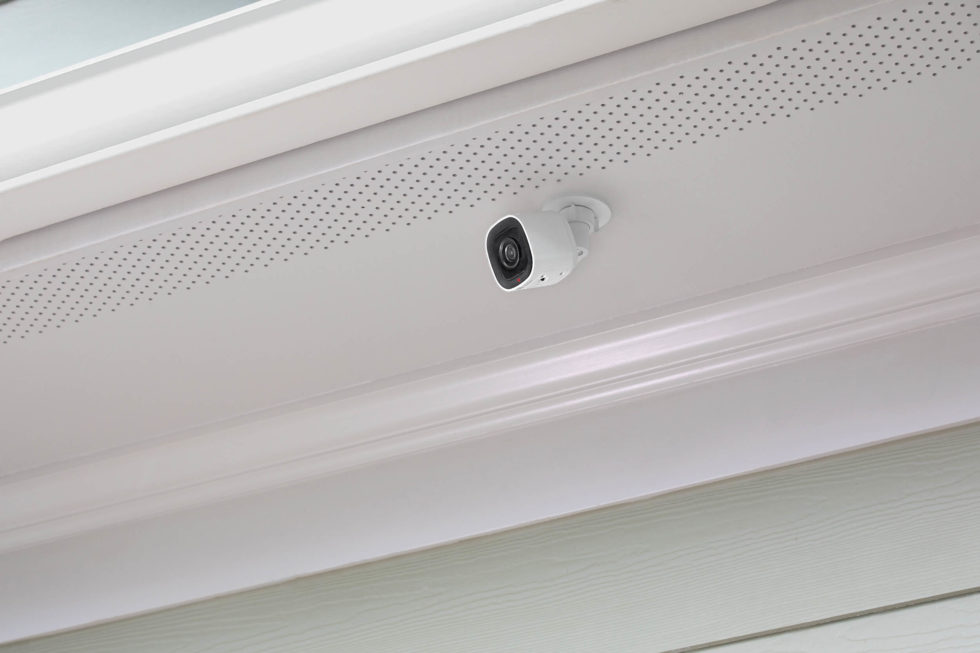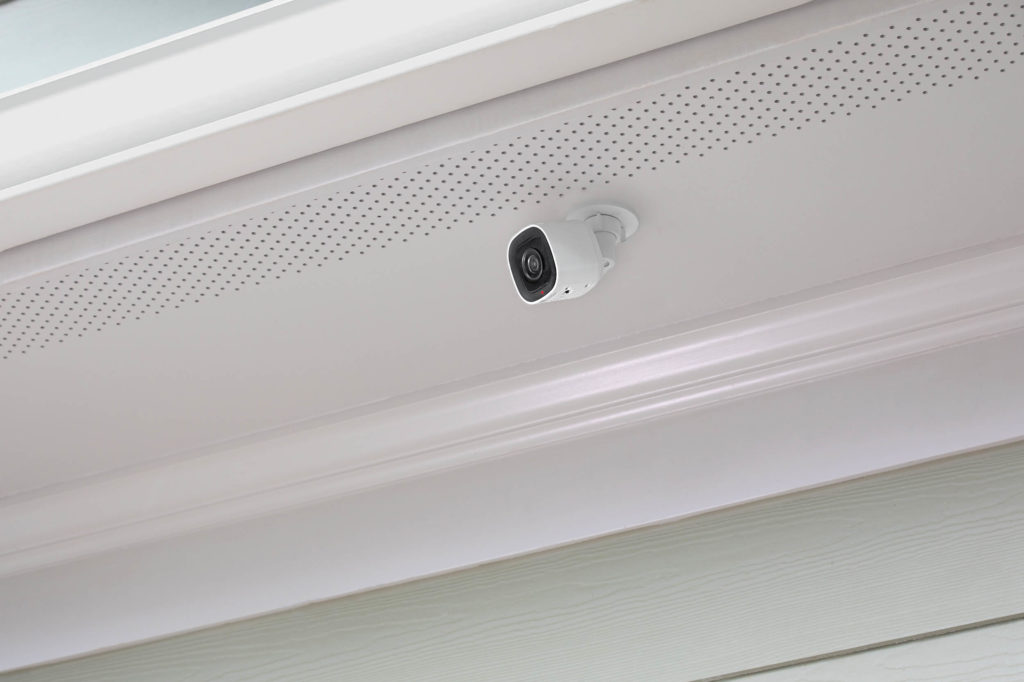 Consider using an outdoor camera to keep an eye on your backyard as well as your front
Outdoor Cameras
There are many different types of outdoor cameras. Also known as exterior cameras, outdoor security cameras are built to withstand the elements, including wind, rain, sleet, cold, heat – you name it. You'll want to look for one equipped with infrared night vision, so you can keep an eye on all things that go bump in the night. With most outdoor cameras, you can set custom zones, like in your driveway, front yard, or backyard, to ensure important areas are always protected. While there is a range of options in the market, some have features that separate them from the pack. Take the CPI Outdoor Security Camera with Perimeter Alert, for example. It doesn't just record criminals – it stops them in their tracks. The latest CPI Outdoor Camera detects bad guys, lets them know they're being recorded with an audio and visual alert, and sends them running.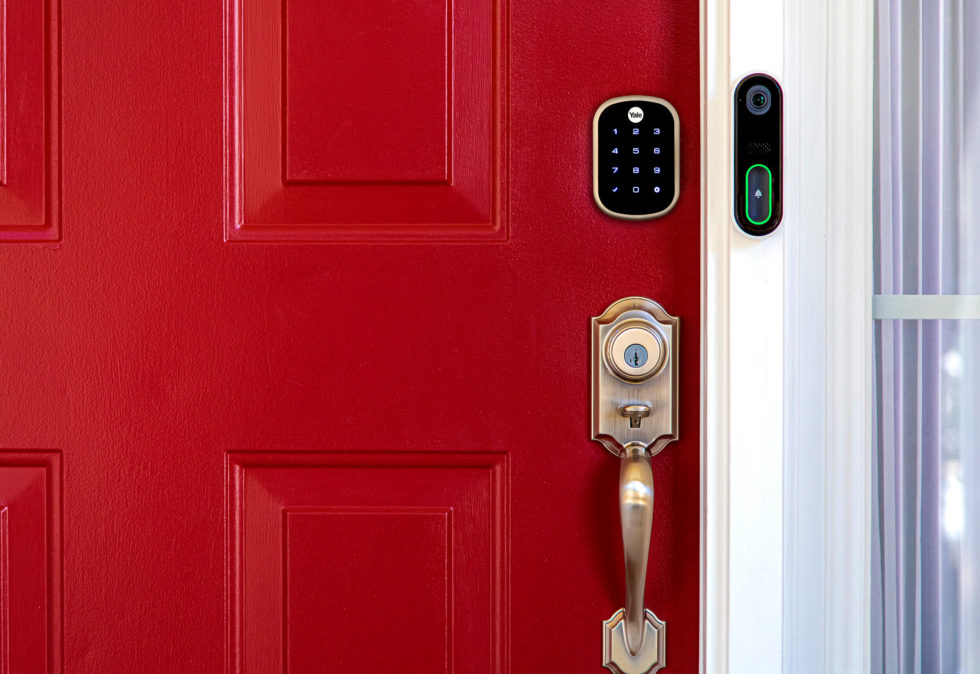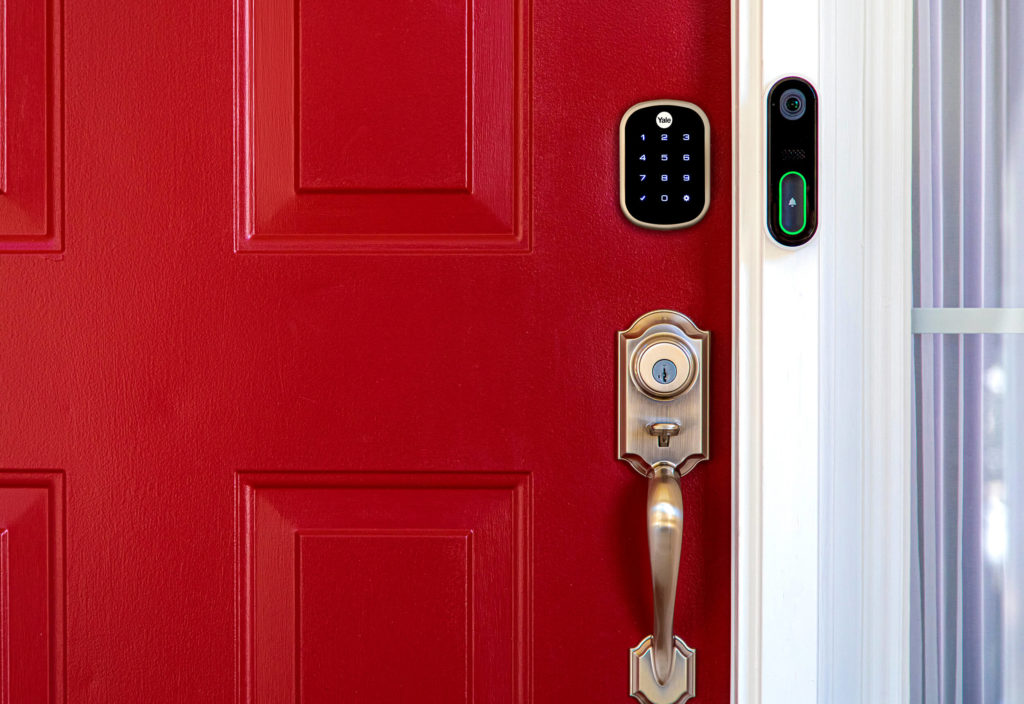 Smart doorbell cameras are a great way to see more of what's at your front door
Doorbell Cameras
A doorbell camera is a hybrid between a doorbell and a security camera that takes the place of your traditional doorbell. It allows you to see who's at your front door in real-time and monitor deliveries. Some security doorbells are more than smart. A doorbell like the CPI Video Doorbell Camera Pro uses video analytics to detect people and send you relevant, real-time alerts based on your personalized settings. Doorbell cameras can also be equipped with two-way audio so you can speak to visitors right from your smartphone. Doorbell cameras are either wired through an existing doorbell or wireless and battery-powered.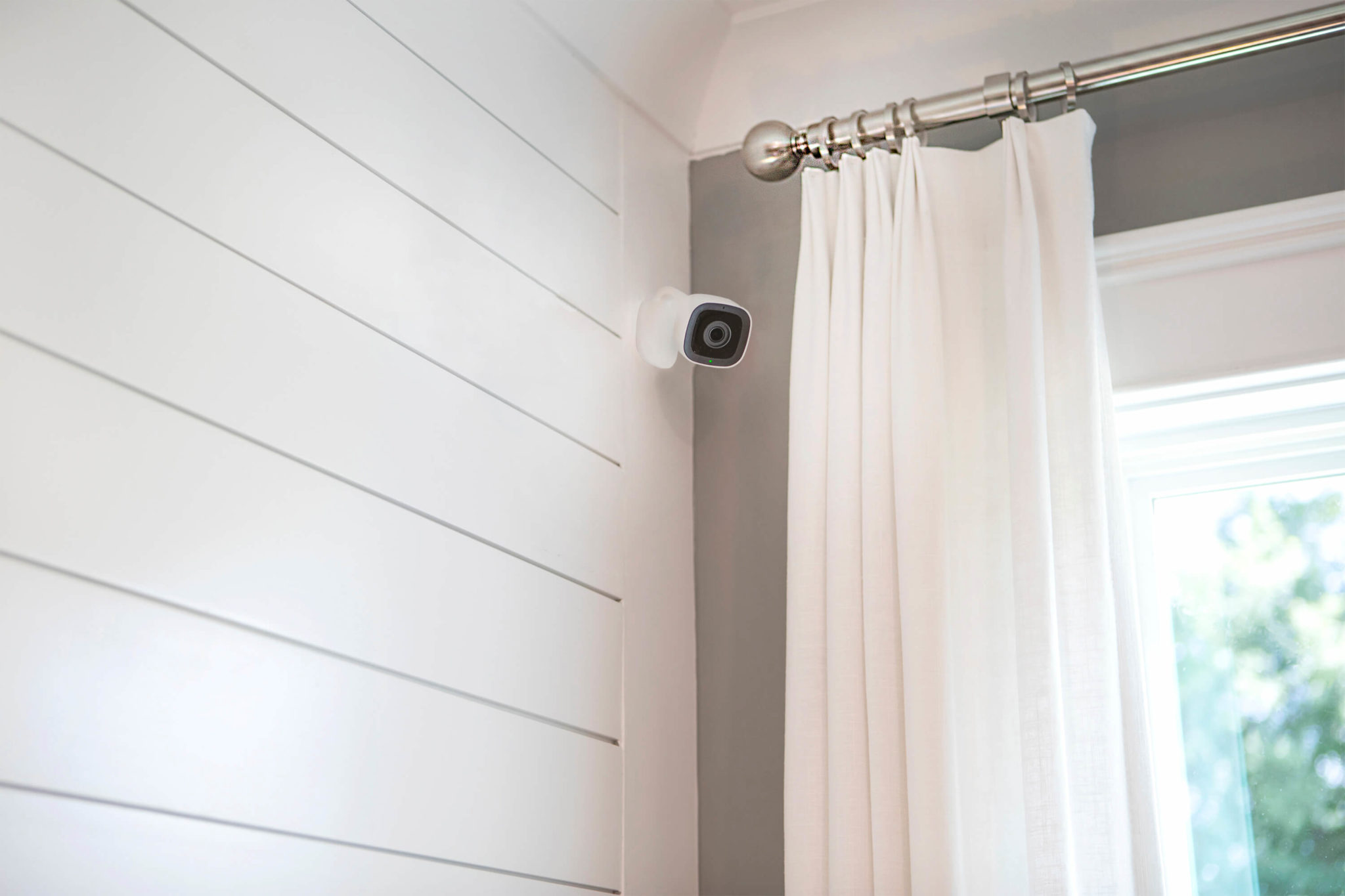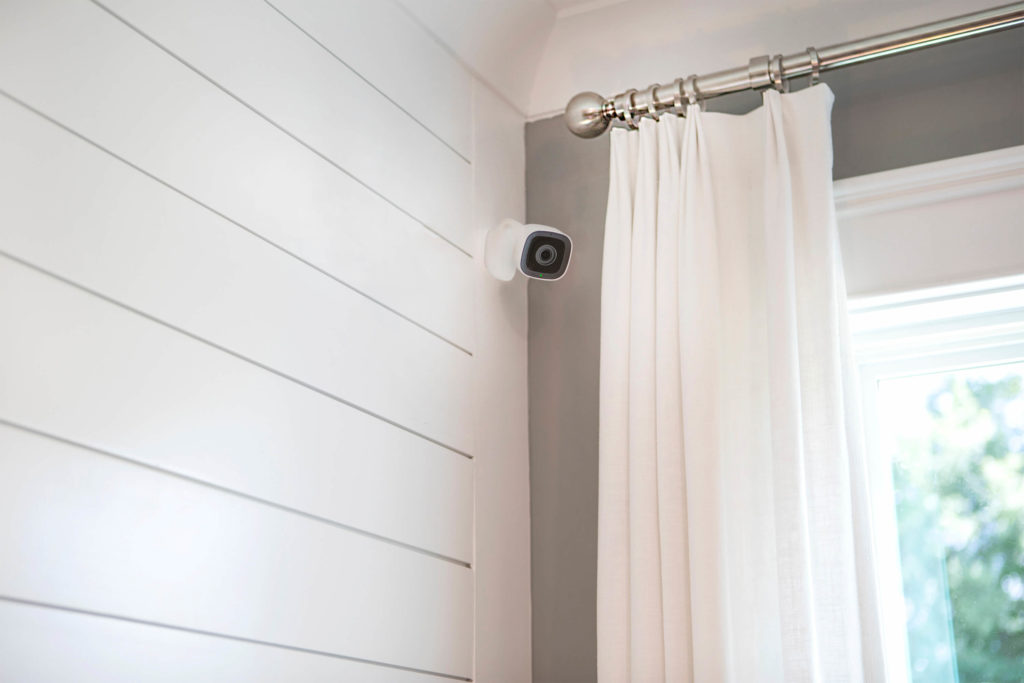 Indoor cameras help you keep an eye on your indoor living spaces from anywhere
Indoor Cameras
There's no place like home, and with indoor cameras, you can feel like you're home even when you're not. Keep a watchful eye on your kids, pets, and other loved ones inside your home while monitoring high-trafficked areas like the kitchen or living room. Indoor cameras also come in handy if you need to watch valuable areas like a:
Medicine cabinet
Cleaning supply closet
Gun safe
Liquor cabinet
Home office
With real-time, motion-activated alerts, you'll know if a child is up after bedtime or if someone is near an off-limits area like your home office or safe. In an emergency, indoor cameras allow your security monitoring team to verify interior alarm signals – this helps confirm emergencies more quickly and reduces false alarms.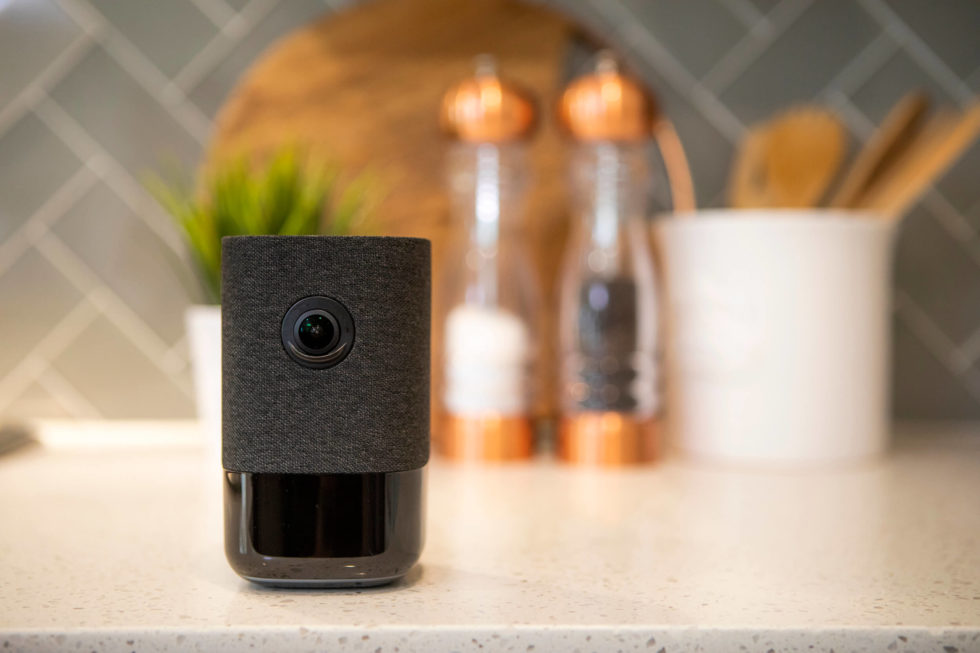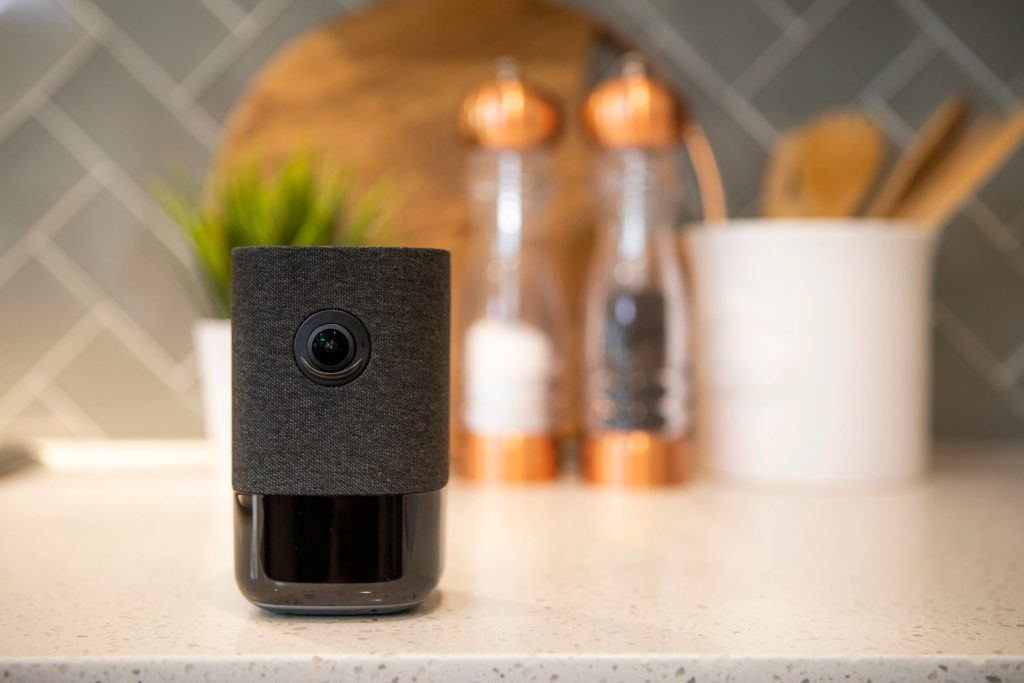 Cameras with additional features like push-to-talk two-way audio and 180-degree field of view can be a great addition to your home if you have someone you want to communicate with someone at home
Other Premium Indoor Cameras
Some indoor cameras give you more than just a glimpse of what's happening in your home. Built with two-way communication and a larger field of view, some indoor cameras are helpful for families and pet owners alike. Do the kids need help with homework? Is the nanny over? Want to check in on an aging grandparent? CPI's 180 Camera is a wide-angle indoor camera with a 180° field of view with push-to-talk functionality This allows you to receive calls to your app when those inside your home push the button at the top of the camera so you can have a conversation with whoever is in your home. Back to the top
Camera Features to Consider
Resolution Quality
You want to look for a home security camera that offers HD resolution, which stands for "high definition." HD gives you crisp, clear picture quality so you can see what's going on inside or outside your home. Resolution types usually range from 1440p and 1080p to 720p. A 1080p security camera is a great place to start – it's commonly referred to "as "Full" HD" it's one of the most common camera resolutions. A high resolution is also important if you or the authorities need to clearly identify someone on your property.
Two-Way Audio
You'll also want to find home security cameras equipped with two-way audio, meaning the camera is built with both a speaker and a microphone. This function allows you to have a conversation with family members at home, scare away approaching intruders, or communicate with a delivery driver – all from your smartphone.
Night Vision
The darkness of the night provides good cover for not only intruders and thieves, but also teenagers trying to sneak out past curfew. That's why the best cameras, both indoor and outdoor, are equipped with night vision, so your cameras can act as your eyes and ears while you get a good night's sleep.
Weather Resistance
Look for exterior cameras that are weather-resistant and built to withstand the elements. But do you know how to compare products when shopping? Look for the camera's IP rating. IP stands for Ingress Protection, and it is made up of two numbers:
The first number refers to the level of protection against dust and is measured on a 0-6 scale.
The second refers to the level of protection against liquids and moisture – this is measured on a 0-8 scale.
Cameras with IP66 are suitable for outdoor use, offering total protection from dust and designed to withstand rain, sprinklers, and powerful water jets.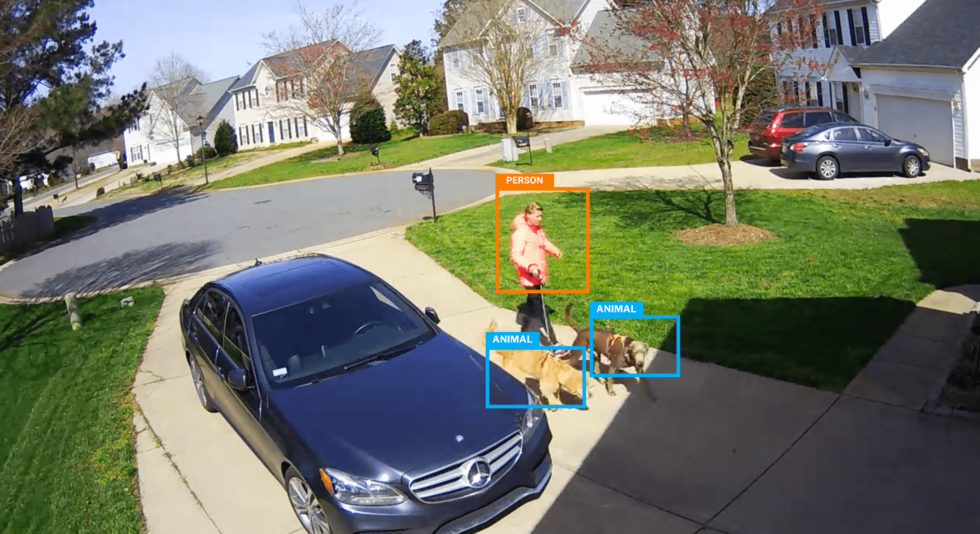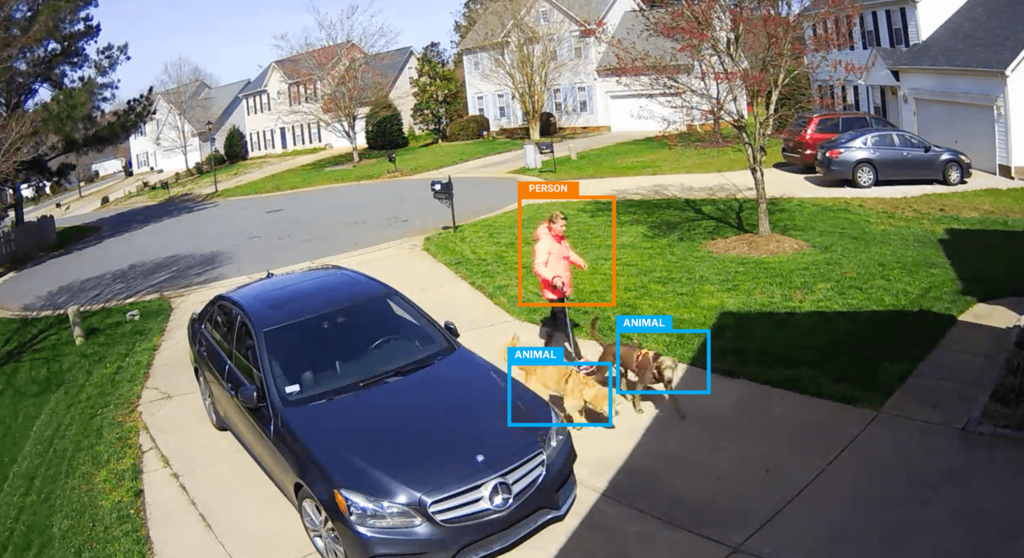 Check out these smart video notifications from the point of view of the CPI Outdoor Camera
Smart Notifications
It's one thing to add cameras to your security system. It's another to add security cameras with intelligent notifications. These intelligent motion detection alerts cut down on unhelpful camera notifications, so you only see the moments that truly matter. You should look for smart notifications that not only know the difference between people, animals, and vehicles, but also let you customize your alerts and monitored areas. CPI's Intelligent Video Activity Notifications (IVAN) is one of the most powerful video analytics tools on the market. IVAN sends alerts for things like:
A vehicle pulling into your driveway.
A person walking up the front steps.
Someone loitering in a specific zone on your property.
A child or pet leaving the yard.
Wired Cameras vs. Wireless Cameras
For the most part, a home security camera will either be wired or wireless. What's the difference? How does each one work? And which one should you choose for your home security camera system?
Wired security camera – A wired security camera is hardwired or plugged into your home's internet network using an ethernet cable. Images and information are sent to the cloud through a wired internet connection.
Wireless security camera – A wireless security camera communicates to your home's internet network wirelessly, commonly referred to as the Wi-Fi network. Images & information are sent to the cloud through a wireless internet connection. It's important to understand that most wireless cameras require a hardwired power source.
While wireless security cameras provide more flexibility in placement, wired security cameras may be the better option for your home because of their reliability. You don't have to replace batteries on a wired security camera. Most wired security cameras have backup batteries during a power outage that ensure your protection is never interrupted. Back to the top
Connectivity: WiFi Cameras vs. PoE Cameras
The way home security cameras transmit signals and information primarily varies between WiFi and PoE.
WiFi Cameras – A WiFi-enabled security camera system connects your cameras to a wireless router without hardwired connections. Some WiFi cameras may be battery operated, but most require an AC adapter to connect them to a power source.
PoE Cameras – PoE stands for "Power over Ethernet," meaning a PoE camera is powered and connected to the network through an ethernet cord.
Both styles of connectivity have their pros and cons. WiFi cameras are preferred by homeowners as most homes aren't equipped with enough ports to connect several PoE Cameras. Because of this, WiFi-enabled cameras offer far more flexibility when it comes to placement. Back to the top
Video Recording and Storage Capabilities
Local vs. Cloud-Based Storage – Local storage refers to a home security camera system that saves video clips onto a local hard drive or memory card. Cloud-based storage refers to a system that saves video clips to the cloud, meaning your footage is stored on remote servers. With both storage types, you can review the footage by logging into your app.
SVR – SVR stands for Stream Video Recorder. This device provides 24/7, continuous local recording with remote access, cloud management, and intelligent bandwidth-optimized streaming.
Continuous Video Recording – SVR is necessary for achieving a 24-hour, continuous recording cycle. In addition to recording continuously, cameras with this function can also capture footage based on personalized event-based rules.
Event-Based Video Recording – Most cameras can be set up to record based on motion, specific events, or rules. With CPI's Intelligent Video Activity Notifications (IVAN), the options are endless – set tripwire rules, movement alerts, and more. Cameras integrated into your smart home can also be set up to record based on specific triggers – the garage door opening, when an alarm is set" to "Away" or disarmed, if the smart locked unlocked, and more.
How Many Security Cameras Do You Need?
This answer is different for everyone and every home. Step 1: Take stock of your entry points, vulnerable areas, and places in and around your home you'd like to keep an eye on. For new parents, the most important room in your home may be the nursery, so they opt for an indoor camera. Car collectors might want to put an outdoor camera on the garage. When greeting and screening visitors, an elderly couple might enjoy the convenience and safety a doorbell camera provides. This is all a personal, customizable decision. Step 2: Determine your goals for your security camera system. Do you want to deter thieves? Make sure your cameras are in obvious places. Want to keep tabs on family members and pets? Make sure your indoor cameras are in high-traffic areas like the kitchen and the living room. As a good rule of thumb, the basic needs of a home are:
One doorbell camera to keep watch on your front door, greet visitors, and track packages.
1-2 outdoor cameras, depending on the size of your home. Your doorbell camera will cover a large area of the front yard, but you may need an additional camera for your front yard and one for the backyard.
1-2 indoor cameras will allow you to monitor your precious items and areas in your home while staying connected to your family.
It's best to consult with a home security professional who can evaluate your unique home and make strategic, practical recommendations for maximum protection and monitoring. Back to the top
Professionally Monitored vs. Self-Monitored Security Cameras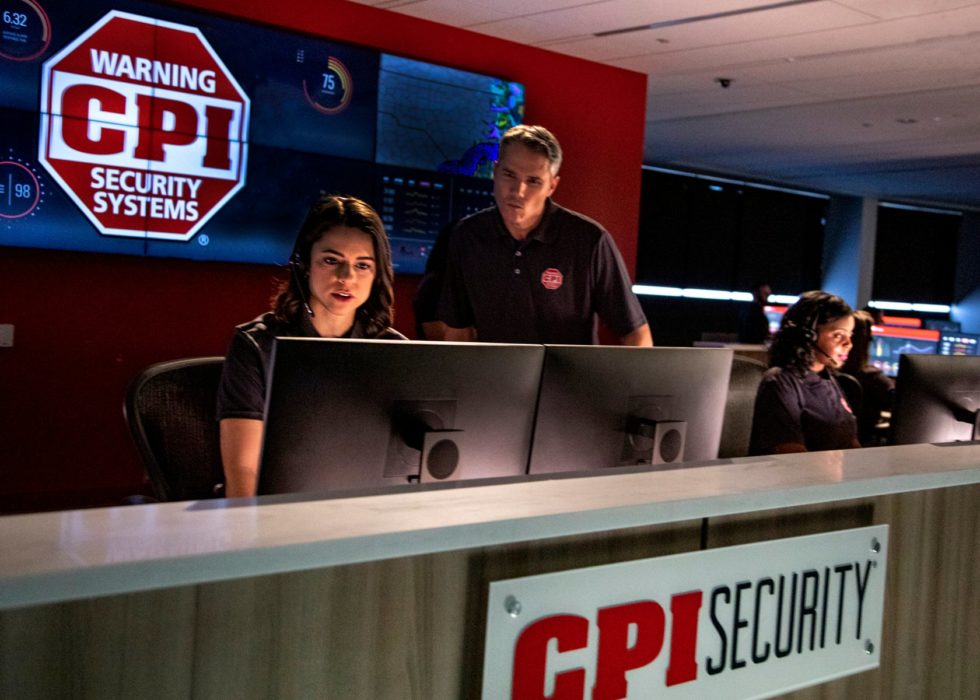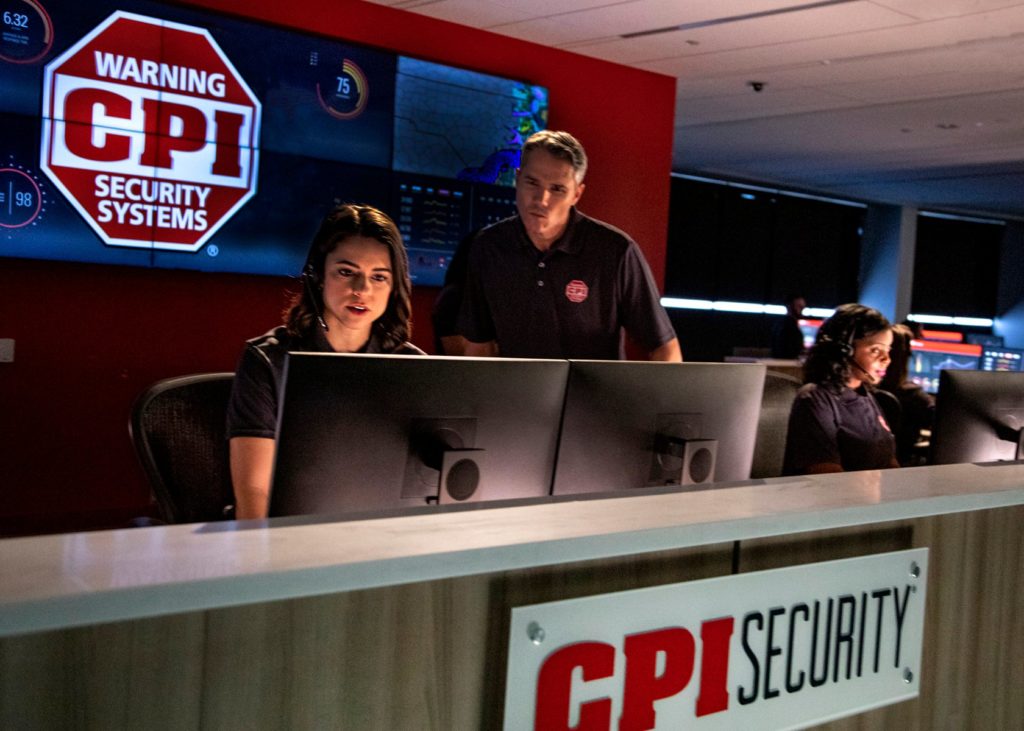 Alarm monitoring centers, like CPI Security's Central Station, can use cameras to verify customer alarms in an emergency Speaking of monitoring, do you know the difference between professionally monitored and self-monitored security cameras? We're here to spell it out for you". "Monitoring" refers to the proactive method of having an emergency response team ready to answer alarms triggered by your security system for emergencies, like break-ins, fires, medical alerts, flooding, and more.*
Self-Monitored – With a self-monitored system and security camera, you are in charge of all monitoring. If an entry alarm is tripped or there's a medical emergency, being aware of an emergency is only half the battle. With self-monitoring, you have to contact the local authorities yourself. If you're in duress or away from home, how are you going to do that effectively?
Professionally Monitored – With a professionally monitored security system, you can rest easy knowing security experts are on standby 24/7 should you ever experience an emergency. When there's a burglary, home invasion, or suspicious activity that triggers a monitored home alarm, or if a smoke or carbon monoxide alarm is triggered, professionals act quickly to ensure your safety and get you the help you need. Security experts handle everything – from verifying emergencies, contacting the local authorities like firefighters or police, and relaying critical information during their response.
Cameras can play a critical role in emergency response because they allow the monitoring team to see and verify the alarm emergency in real-time. *Certain monitoring and emergency response capabilities depend on the products in a customer's smart security system. Back to the top
Professional Security Camera Installation or DIY?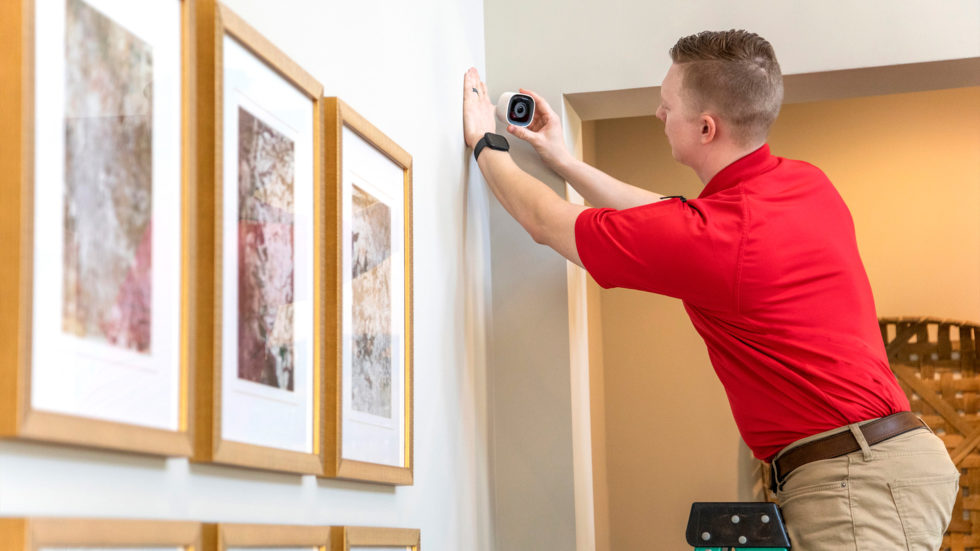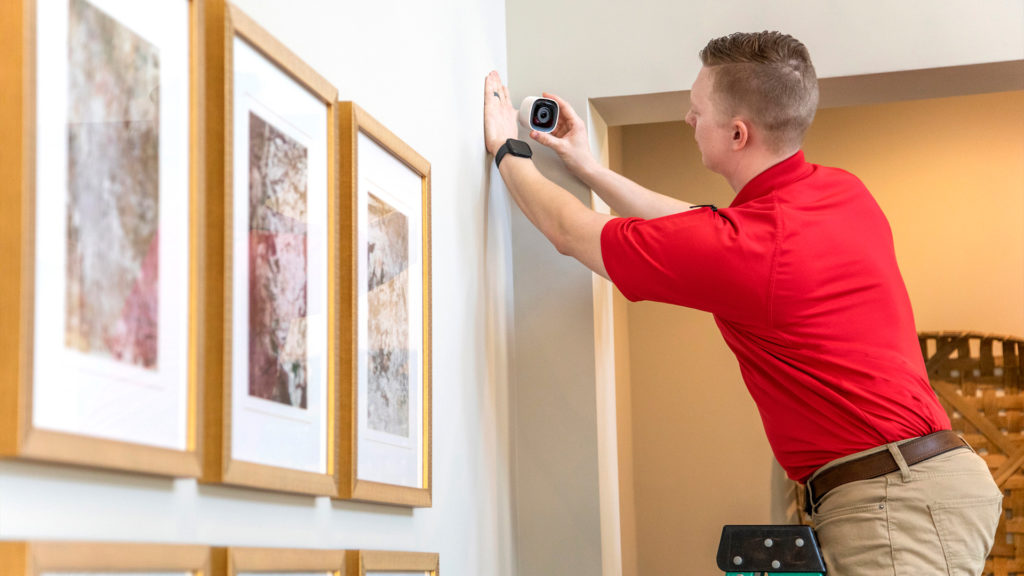 Professional security camera installation ensures the most strategic and effective camera placement around your home. When choosing security that best fits your needs, a significant factor to consider is whether the company offers complete professional security system installation or if you'll have to do it all yourself. There are many pros to letting professionals handle everything.
Expert Placement, Installation – Professionals perform an on-site security assessment to ensure your cameras are positioned in areas for maximum protection. As a bonus, professionals can be strategic, hiding wires and blending with the look of your home (saving you trips to the home improvement store)!
Post-Installation Testing, Education – Security systems and cameras each come with their own instructions. With professional installation, you received personalized post-installation education that shows you how to use your system and cameras.
Confidence in Your System, Cameras – With professional security camera installation, rest easy knowing your system and cameras are emergency-ready.
These are just a few reasons why nearly 80 percent of customers say that smart home security installation and monitoring is best left to professionals. Back to the top
Getting Started With Home Security Cameras
Whether you're checking in on the kids when they get home from school, keeping an eye on your puppy while you're at work, deterring criminals from targeting your home, security cameras are an essential part of any smart home security system. Visit us today if you'd like to learn more about home security cameras.