CPI Security previously responded to an inquiry concerning a lawsuit filed by a former employee, Ms. Kelley Phelps, against CPI Security and its CEO and Founder Ken Gill alleging race discrimination, retaliation, and wrongful discharge. In the response, CPI denied the allegations but decided not to make any further comments due to the ongoing litigation.
CPI will prove that Ms. Phelps' allegations are false in the court, but because Ms. Phelps and her attorneys are attempting to slander the reputation of CPI through media coverage, we feel it's appropriate to point out the simple and unfortunate reality that this lawsuit is the result of CPI's refusal to pay an exorbitant dollar demand, nothing more.
Below is a copy of Ms. Phelps' resignation letter that she submitted on July 6, 2020, with a submitted resignation date of August 21, 2020, which was, in fact, her last day of work. There you'll see a very different description of her experience at CPI than what is being claimed 16 months later. Although Ms. Phelps alludes to the fact that CPI is building and improving on its already well-established culture that respects everyone, she made no claims or complaints of a work environment that is racist or discriminatory, as she is now alleging in her lawsuit.
Though Ms. Phelps was not the highest-ranking black manager at CPI Security, as the lawsuit claims, she rose from an entry-level position in the call center to a Director following several promotions by many of the same people her lawsuit now seeks to attack. Her contributions to CPI over her two-decade-long career were valued, recognized, and appreciated. CPI kindly accepted her resignation, allowed her to work through her official date of resignation (August 21, 2020), and in appreciation for her tenure, paid her a bonus on her final check.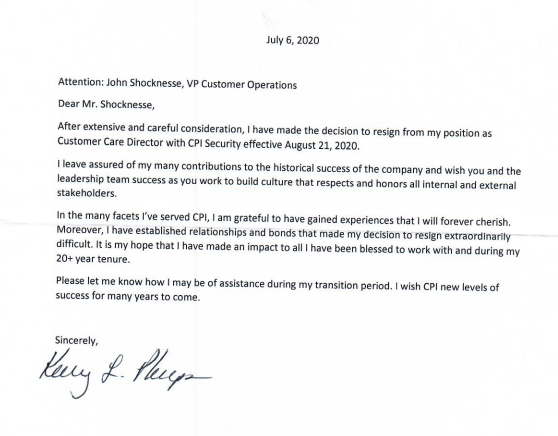 While we wished Ms. Phelps the best when she left the company, it's disheartening to see this is where we have landed 16 months later, but we cannot and will not bow to attempts to exploit the very real struggle against racism for profit.
November 23, 2021- CPI Statement in Response to Lawsuit
We adamantly deny the allegations made in this lawsuit. CPI Security is 42% racially diverse. The company, led by CEO and Founder Ken Gill, has a 30-year history of giving back to our communities, especially to the underserved. As this is an ongoing lawsuit, we will not make any further comment.
Because other media outlets brought up Mr. Gill's remarks to a Charlotte activist and former CPI employee in 2020 while reporting on this issue, I'm attaching a copy of the email exchange. If you choose to include this piece in your story, we respectfully ask that you share the entire email exchange with your readers so they can gain the full context of the email exchange.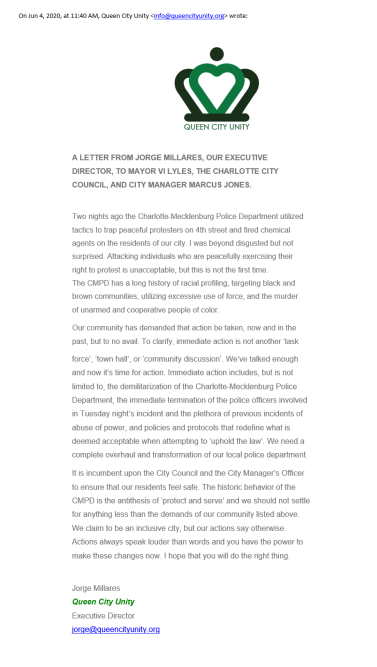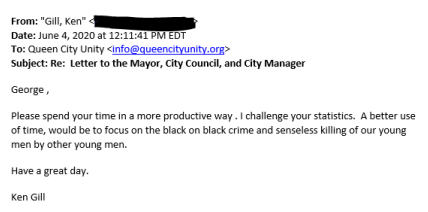 To be clear, Mr. Gill's response, nor the email he was responding to, were about the death of George Floyd or Black Lives Matter. Mr. Gill was specifically responding to the allegation that CMPD has a "long history" of "the murder of unarmed and cooperative people of color."
Mr. Gill has personally been involved in improving police accountability and reform in Charlotte for 30 years. For example, he personally contributed to the piloting and implementation of the Electronic Ankle Monitor program in Mecklenburg County. He and CPI Security made substantial donations to purchase body-worn cameras for the CMPD and the Greensboro Police Department. He also helped fund the construction of a $2 million de-escalation training facility for law enforcement in the Charlotte region. This is all to improve police accountability and reform.
For a more exhaustive list of CPI and Mr. Gill's work in the community, learn more here.