Christmas time is here! If you celebrate Christmas, your holiday traditions likely include a cozy, glowing Christmas tree filled with beautiful, sentimental ornaments. But have you ever worried that your Christmas tree is actually a fire hazard? 
According to the National Fire Protection Association, from 2016 to 2020, an estimated average of 160 house fires per year began with a Christmas tree. Annually, these fires caused an average of two deaths, 11 injuries, and $12 million in property damage. More than half of these fires were caused by electrical malfunctions (34 percent) or placing a tree too close to a heat source (20 percent). 
With that said, the NFPA also reports that less than 0.1 percent of house fires are caused by a Christmas tree lighting fire, and Christmas trees are responsible for just 0.1 percent of home fire deaths and injuries, and 0.2 percent of property damage caused by house fires.  
In other words, Christmas tree fires are rare, but they can be devastating when they do happen. By implementing the following Christmas tree fire safety tips, you can reduce your Christmas tree fire hazard risk and enjoy your tree without worry.  
Choose a fresh, healthy tree.

 

Prep your tree before bringing it inside.

 

Display your tree away from heat sources.

 

Water your tree often.

 

Decorate with indoor, high-quality miniature lights.

 

Turn your Christmas tree lights off when you aren't home.

 

Recycle your tree after Christmas.

 

Protect your home with a smart smoke detector.

 
CPI's Top Christmas Tree Safety Tips
These Christmas tree safety tips are easy to implement but make a big impact toward keeping your home safe and protecting against a Christmas tree fire. 
Choose a Fresh, Healthy Tree.
Christmas tree fire safety begins with choosing the right Christmas tree. Always choose a fresh tree with bright green needles that don't fall off when you touch them. Not only does this kind of tree look better when you decorate it, but, more importantly, a healthy, fresh tree will dry out more slowly and be less of a fire hazard.  
Prep Your Tree Before Bringing It Inside
Before bringing your tree inside your home to decorate and enjoy, make a fresh cut to the trunk. Use a saw to remove 1-2 inches of the trunk; this gets rid of the seal, so the tree can more easily absorb water. Just remember that the tree should be placed in water within several hours of cutting it. If you get your trunk cut at the Christmas tree farm or tree lot and then take it right home and put it up, you won't need to cut it again, but if it sits outside for a day or two before you get it in to a tree stand with water, always make a fresh cut on the bottom.  
Additionally, make sure your tree will fit in your stand. If the trunk is too wide, you'll need to buy a bigger stand. Never whittle away the sides of the tree to make it fit, as this will affect how well the tree absorbs water, and cause it to dry out faster. 
Display Your Tree Away from Heat Sources
When choosing the perfect spot to set up your tree in your home, make sure that it is at least three feet away from heat sources such as lights, candles, heat vents, radiators and fireplaces. Overtime, the warmth from these heat sources will dry your tree out. If you want to slow the drying process even further, consider keeping your house at a lower indoor temperature, especially if you're traveling and away from home. This will reduce your energy usage and costs, too! With the CPI Smart Thermostat, you can set your thermostat to a schedule or adjust the temperature of your home remotely.
Water Your Tree Often
As soon as you get your tree set up indoors, fill the stand with water. A traditional, reservoir-type tree stand is ideal for keeping your tree watered. Check the water level daily, ensuring that your stand always has about a quart of water per inch of your tree trunk's diameter. Never let the water level fall below the base of the tree.  
If you'll be traveling for Christmas, make sure to give your tree plenty of water beforehand and leave the stand full of water to prevent drying out. If you'll be gone for an extended period of time and you're concerned about it getting too dry, consider having a neighbor stop by every few days to add more water, or even take your tree down and recycle it before you leave.  
Decorate with Indoor, High-Quality Miniature Lights
It wouldn't be a festive tree without cozy lights, but choosing the right lights is key to preventing a Christmas tree from starting a fire. When choosing lights, only purchase and use ones that have been tested by a qualified testing laboratory. Miniature lights are a great choice, as they give off less heat and don't dry your tree out as much as bigger, warmer ones. Additionally, pay attention to whether your lights are designed for use indoors, outdoors, or both, and never use them in the wrong place.  
Before putting your Christmas lights on the tree, inspect them carefully for signs of wear and tear or damage. Never use worn out or broken light sets, as they can be more likely to start an electrical fire. Think carefully about how many strands of lights you are using so as not to overload electrical circuits.  
Checking your lights before you put your tree up is especially important for artificial Christmas tree fire safety. While you don't have to worry about an artificial Christmas tree drying out, these trees can still be flammable, so you do need to carefully examine lights on pre-lit trees to ensure no signs of wear or damage that could start a fire.  
Lastly: never decorate a tree with lit candles.  
Turn your Christmas Tree Lights Off When You Aren't Home
Be careful not to leave a lit tree unattended. While electrical fires from Christmas tree lights are rare, they do happen. Always turn off your Christmas tree lights when you aren't home or when you are sleeping. This is an easy step you can take to avoid an electrical fire starting while you're away. 
You can set your Christmas tree on a timer, so you don't forget or connect your tree to CPI's Smart Plug so you can turn the lights off remotely.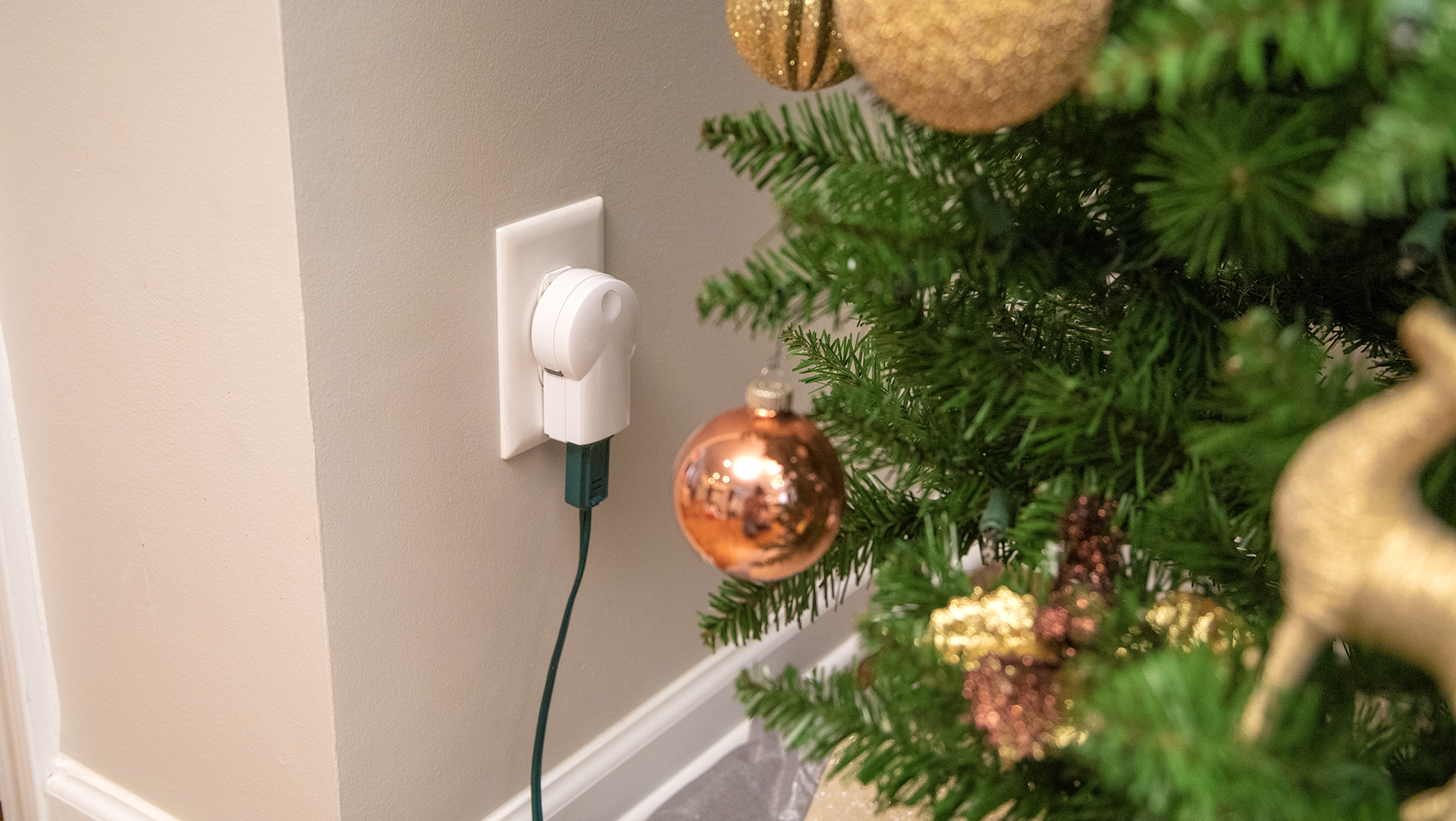 Recycle Your Tree After Christmas
Don't leave your Christmas tree up too long after the holidays, and take it down once it begins to get dry. Recycle it immediately, rather than propping it up against the outside of your house or in your garage to be dealt with later.  
Many municipalities pick up discarded live Christmas trees for recycling, so check with your town or city to see what they offer, and if curbside pickup is an option. Additionally, most communities have free tree drop-off locations, and some even have tree recycling or mulching programs. 
Protect Your Home With a Smart Smoke Detector
Take proactive steps to protect your home year round by installing smoke detectors and testing them regularly to ensure the batteries are charged and the detectors are working. 
At CPI Security, we offer a smart smoke detector that detects fires and immediately notifies both you and our monitoring team. Our monitoring team will then contact emergency dispatchers on your behalf and communicate with you to help you get out of your home safely. To learn more about how CPI can keep your home safe and secure during the holidays, get in touch with our home security experts today.