The holidays are a time when families come together to celebrate. It's also a time when burglars take advantage of homes left unoccupied or owners distracted by the festivities. If you're going to be away from your home during the holiday season, it's essential to take steps to keep your property and valuables safe. This blog post will share our recommendations for keeping your home safe while you're on holiday vacation. 
Here Are 10 Security Tips for Holiday Home Safety
Install an Alarm System 
A monitored home alarm system is your first defense for keeping your home safe during the holidays. There are many different types of alarms available, so be sure to research and find one that works best for your needs. 
Before you shop, ask yourself these questions: 
How many entry points and windows will the alarm have to protect?

 

What type and size of home do you have? 

 

Is the home in the city? Or the country?

 

How much do you want or need to spend on your home security system? 

 
Once you've answered these questions, it's time to start shopping for the ideal security system that can keep your home and family safe during the holidays.  
Have Someone House-sit or Check On Your Property
It's always a good idea to have someone check up on your property while you're gone, whether that means hiring a house-sitter or just asking a friend or neighbor to stop by periodically. This will help give you peace of mind during the holidays. 
Keep the Lights On 
Leaving the lights turned off when no one is home can signal to burglars that nobody is around, making your home an easy target. Instead, be sure to keep the lights on while you're away so that burglars will be less likely to assume that your house is empty. Even better, you can turn your lights on and off remotely with the CPI Security smart plug which can give the illusion that someone is home.  
Secure Your Doors and Windows
All your doors and windows should be locked securely when you are away from home, especially if you are going to be gone for a longer period. This can help prevent unwanted guests from gaining access to your property while you're gone. 
For your doors, be sure to install deadbolt locks and more secure measures (like door jammers). Sliding glass doors can be made more secure by laying wooden dowels on the door tracks.  
You can also add window and door sensors to alert you anytime they are opened unexpectedly.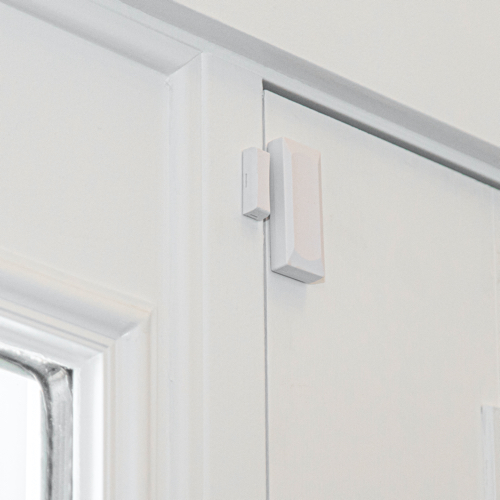 Keep Valuables Out of Sight
If there are valuable items in your home, such as expensive jewelry or electronics, it's important to keep them out of sight when you go on vacation. This will help discourage potential thieves from targeting your home. Curious to know which room burglars go to first? Read through our blog when deciding the best places to keep valuable items.  
In addition to placing your jewelry and electronics in drawers/cabinets, consider using blinds or heavy curtains to block someone's view of the inside of your house/apartment from the street.  
Use Timers on Your Electronics
If you need to have electronics like the TV or lights turned on while you're away, consider using a timer so that it looks like someone is home even when you aren't. This can help deter potential burglars from targeting your property.  
In addition, timers can help you save money on your energy bill by automatically turning off lights and other electronics when they are not in use. There are a variety of different timers available, from simple plug-in options to more advanced models that can be controlled remotely with your smartphone or another device.  
Keep Travel Plans Under Wraps 
Whether you are flying to visit family or driving across the state, be sure not to share your travel plans with others in advance. This will help prevent potential thieves from knowing that your house will be vacant while you're gone. 
Make Friends With Your Neighbors
Ask a neighbor to keep an eye out for any suspicious activity: It's always a good idea to let a trusted neighbor or friend know that you will be away from home and to ask them to keep an eye out for any suspicious activity during that time. This can help prevent a potential burglary from occurring and may even lead to catching the thieves in the act if something does happen. 
Keep Your Outdoor Lighting Bright
Outdoor lighting is an effective way to deter burglars, so be sure that all of your outdoor lights are working properly and are as bright as possible when you're away on vacation. If there's not enough light outside, consider installing some new lights or adding extra lighting fixtures. 
Invest in Security Cameras
Investing in home security cameras is a great way to deter potential intruders and keep your home safe while you're away on vacation. These cameras can record any activity around your property and help you identify anyone who may be trespassing or trying to break into your home. This allows you to take the necessary action against these intruders, whether that means calling the police or pursuing legal action. 
If you're looking to invest in security cameras for your home, there are a few things that you should keep in mind. First, consider where you want to place these cameras in your home. You'll likely need multiple cameras to ensure that they can capture all potential entry points and areas of interest. Additionally, make sure that you choose cameras that are durable and have good night vision capability so that they can continue to capture activity even in low-light conditions. 
As you can see, there are several simple steps that you can take to help protect your home from burglars while you're away on vacation. By following these tips, you can help ensure the safety and security of your belongings – and enjoy a worry-free holiday! 
Ready to take your home's security measures to the next level? We can help! CPI's industry-leading success is built on decades of experience. Learn more and receive your free quote today.