In 2022, CPI Security's customer support team launched a new Virtual Tech program to address customer inquiries and technical support issues remotely. Since its debut, Virtual Tech has made for a smoother experience for customers and reduced carbon emissions in the process.  
Previously, anytime a customer called CPI to troubleshoot an issue with their system, if it could not be resolved over the phone, CPI would send a technician to the customer's location to troubleshoot the issue in person. With CPI's Virtual Tech program, now, customer support representatives can communicate with the customer over the phone while also remotely viewing their device. Much like a video call, the customer support representative can see the customer's environment while troubleshooting with them. 
Virtual Tech provides a better experience for the customer because they do not have to wait for an appointment with a technician to resolve the issue. CPI representatives have been able to solve about 70% of Virtual Tech calls. 
The increase in successful Virtual Tech appointments has led to a reduction in CPI site visits. This is beneficial to both the customer and the community. Because of Virtual Tech appointments, customers may not have to take off work or plan to be at home for the site visit. The more Virtual Tech appointments, the fewer site visits CPI technicians must make. The reduction in physical service calls equates to a significant reduction in miles traveled, gas expended, and carbon emissions released.  
Since its inception, CPI has rolled 184,465 fewer trucks to customer sites. Because of Virtual Tech, CPI Security is expending about 166,000 fewer gallons of gas per year. View the infographic below to see how remote appointments are reducing pollution, preserving natural resources, and helping our community become more sustainable.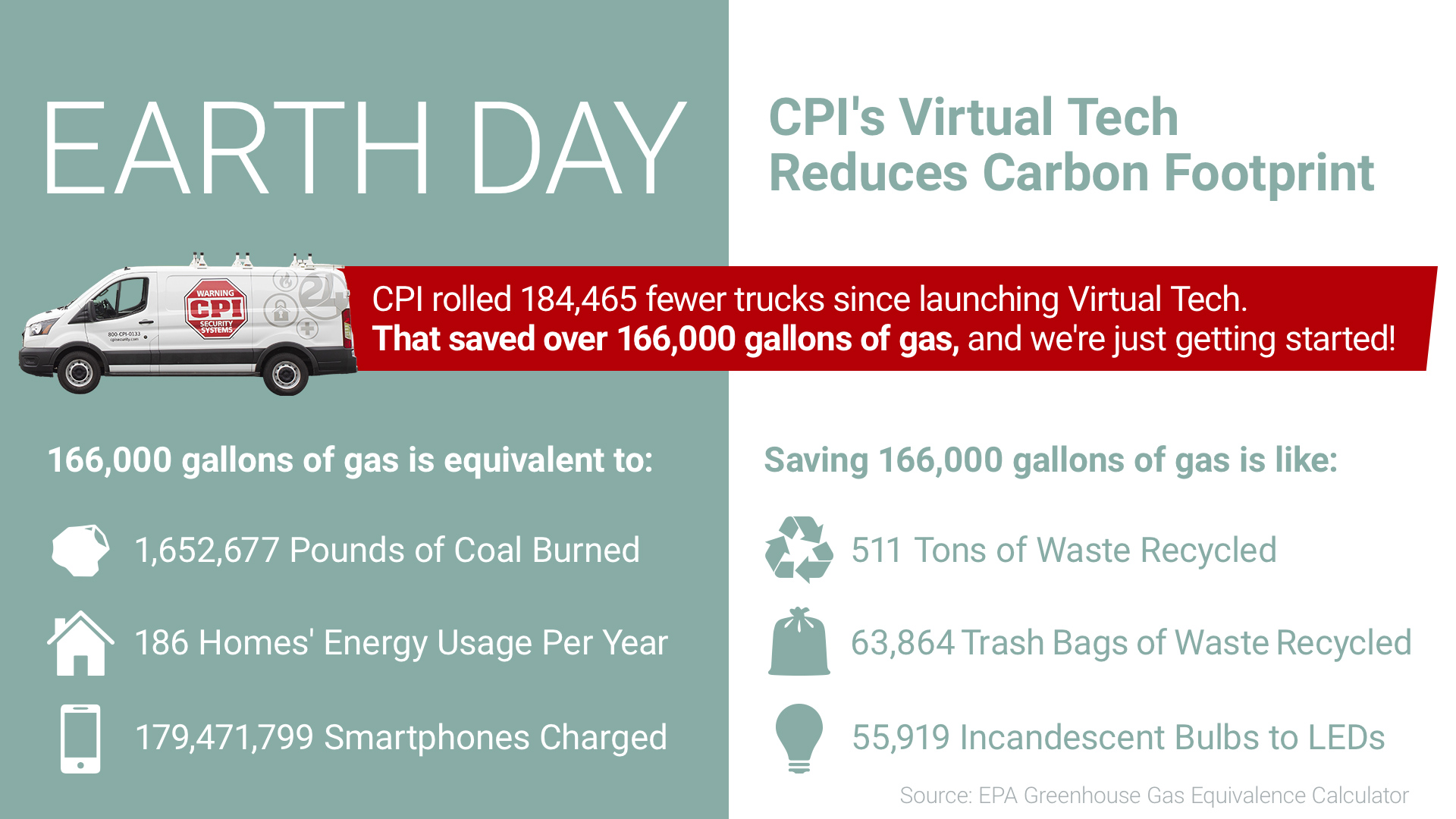 CPI Security is committed to being a good neighbor to the communities it serves, and sustainability is just one of many ways we are giving back to our communities. Visit our community blog page to how CPI is giving back in other ways to make our lives safer and better for all.