Tourists from all over the country flock to Atlanta each year to experience its rich history, bustling nightlife, and thriving music scene. And hundreds of thousands of residents are happy to call Atlanta home for the same reasons. 
 But like any top-ten metropolis in the US, Atlanta has its fair share of crime, with a property crime rate of 40 per 1,000 residents, more than double the national average of 19 per 1,000 residents. * 
Whether you are contemplating opening a business in Atlanta or already own one, it's important to protect your business with a security system. But with so many options, it can be difficult to decide on the right security system for your business. So, we've pulled together this informative guide to help you make the right choice. 
Essential Features for Your Business Security System
When protecting your business, a reliable security system is an essential investment. Not only does it safeguard your assets and inventory, but it also provides peace of mind for you and your employees. 
 This section will explore some of the essential features to look for when selecting a security system for your business. By understanding these key factors, you can make an informed decision that will help keep your business safe and secure. 
Video Surveillance
A critical feature of any comprehensive commercial security system is video surveillance equipment that can monitor both the inside and outside of your business. But not all video surveillance systems are created equal. Some have more features than others, and it's best to be sure which ones you get when you sign up for a security system.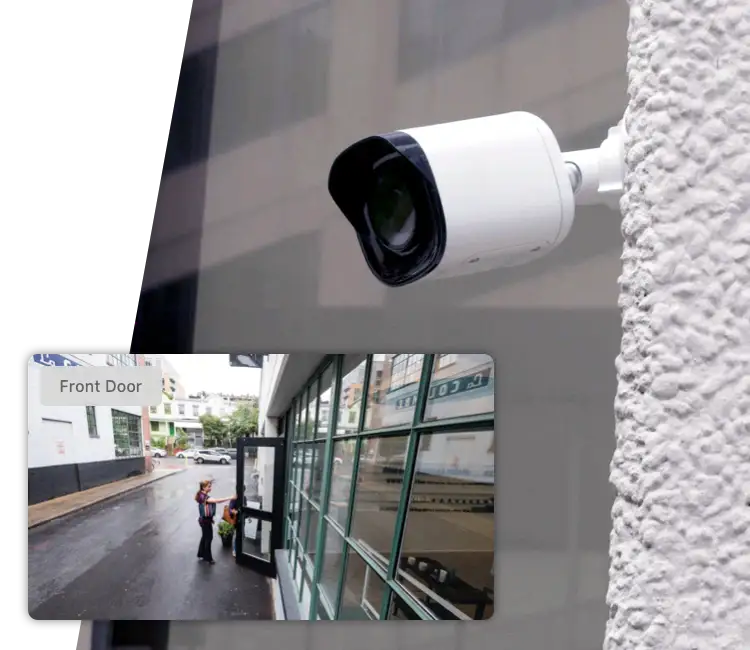 Important camera surveillance features include:
Varifocal lenses:

Varifocal lenses have an adjustable focal length, angle of view, and level of zoom.

 

24/7 recording

 

4 MP HDR Video: 

4 MP stands for 4 million megapixels, which is two times the size of 1080P, the most common video camera resolution.

 

HDR stands for High Dynamic Range which means the video can show more detail in dark shadows or bright highlights of an image. HDR is especially useful for capturing clear video in areas with harsh lighting. 

 

 

IR Night Vision:

 

Infrared technology can help illuminate images in the dark.

 

Premiere Detection Analytics:

With Premiere Detection Analytics, accurately detect people and vehicles entering your property while ignoring unimportant motion like rain or shadows. Receive real-time alerts of trespassers or unexpected guests in prohibited areas or after hours.

 
By investing in a video surveillance system with these critical features, you can increase the effectiveness of your commercial security system and help keep your business safe from harm. 
Monitored Intrusion Detection
You'll also want to ensure that the commercial security system you select can monitor who is coming and going from your business. This system should also have some form of threat detection to provide even more peace of mind. 
There are a few different types of sensors that a security company can install to help monitor intruders and protect your business. Glass, window, and door sensors will alert you when someone has broken into your business. On the other hand, motion sensors will alert you when people have entered areas that are off-limits. 
In both cases, these sensors operate and are monitored 24/7 by companies such as CPI so that you and the authorities are alerted immediately if any of them are tripped. 
AI Integrations
Another vital feature to consider when selecting a security system for your business is the integration of artificial intelligence (AI) technology. AI can provide an added layer of protection by detecting threats in real time and alerting you to potential security breaches before they happen. 
Some advanced security systems use machine learning algorithms to recognize patterns and identify suspicious behavior, such as loitering or unattended bags. With AI-powered security equipment, you can rest assured that your business is being monitored around the clock and that any potential threats are being detected and addressed promptly. By leveraging the power of AI technology, you can enhance the effectiveness of your commercial security system and protect your business from harm. 
AI can be used for more than just threat detection. With CPI's Business Activity Analytics, you can utilize the power of AI to gain more insights into the operations of your business. For example, Business Activity Analytics can help you monitor total occupancy in real-time, traffic flow, heat mapping, and queue monitoring.  
Safety Alarms
It's important to consider other types of alarms too. Smoke and carbon monoxide alarms can help protect your business and investment by immediately alerting you when there's a fire. This real-time response is vitally important in the case of a fire when seconds can be the difference between a business that's saved or destroyed. 
Smarter Access Control Systems for Atlanta Business Owners
Smart devices are everywhere nowadays, and for a good reason: they make business owners' lives easier. When access control is incorporated into a business's security system, these smart devices will give you the ability to receive real-time alerts and view live footage from your cameras, which will give you a much-deserved sense of relief and protection. 
But these smart devices will also allow you to monitor who is entering and leaving your business by requiring key card, fob, or badge access for employees. When combined with security camera systems, this will let you know exactly who has entered your business. Plus, if the badges or fobs are lost, they can simply be deactivated, which is much safer than reprinting keys.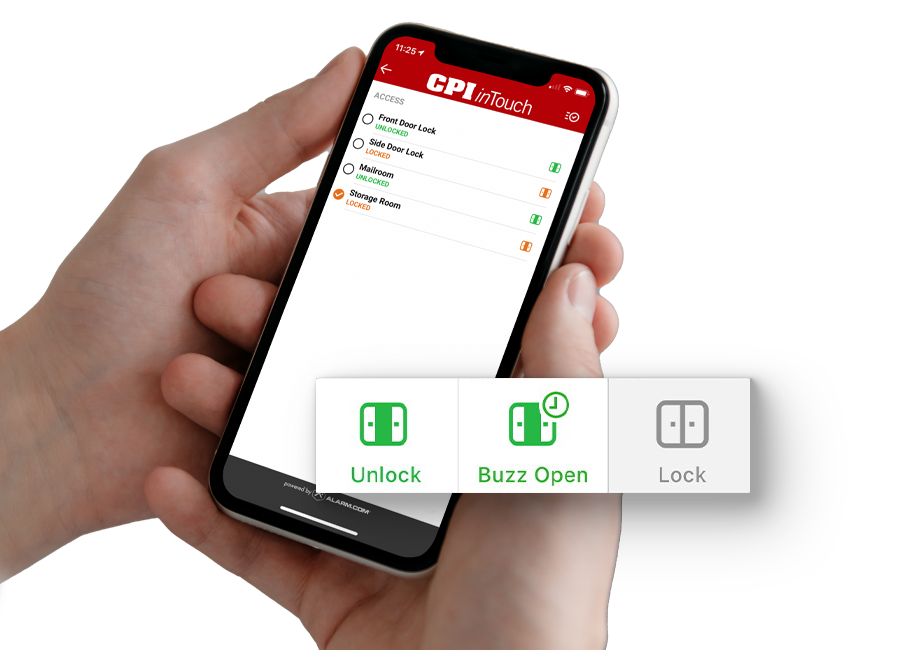 A Security Solution for Every Type of Atlanta Business 
More businesses are choosing CPI over other Atlanta security companies because of our experience protecting the southeastern U.S. for more than 30 years. Our systems are trusted across a variety of industries, from restaurants to retail to offices and more.   
Here is a small sample of the surrounding areas and Atlanta neighborhoods that we're proud to service: 
Buckhead

 

Midtown

 

Downtown

 

Virginia Highland

 

Inman Park

 

Old Fourth Ward

 

Grant Park

 

Ansley Park

 

Candler Park

 

Brookhaven

 

Sandy Springs

 

Druid Hills

 
Why a CPI Business Security System is the Best Choice for your Atlanta, GA Business
When protecting your Atlanta, GA business, we recommend selecting a company with the proven experience and technical stack that you can rely on to keep your property and your employees safe. 
CPI uses state-of-the-art technology combined with 24/7 active monitoring to provide the best possible protection for your business. Our systems use advanced sensors and detectors to identify even the most minor changes in temperature or movement, ensuring that any potential threats are detected quickly and efficiently. Additionally, our systems are integrated with smart automation features like remote access control and real-time alerts so you can always stay connected to your business even when you're away. 
Ready to let CPI help you keep your Atlanta, GA, business safe with a commercial security system? Get started today by scheduling a call for a free quote. Or give us a call at 855-900-7872 to receive a customized quote and learn about our monthly special offers. 
Sources 
* Neighborhood Scout, "Atlanta Crime Data"