With a smart video doorbell, you don't need to drop what you're doing to see who's there. In fact, you don't even have to be at home – or on the same continent. Today's video doorbells, also known as doorbell cameras, serve as powerful home security and connectivity devices that let you see more of what's at your door. 
The CPI Video Doorbell Pro let's you monitor your front door anytime, anywhere. You can make sure that important package is delivered safely, greet the kids as they get home from school, or chat with an unexpected visitor. And you can do it all from your phone.  
As you learn more about cameras like CPI's Video Doorbell Pro, you'll have a clear understanding of how it's different from other doorbell cameras. 
Features and Specs of the

Video Doorbell Pro

 
How Does

CPI's V

ideo Doorbell Work?
CPI's Video Doorbell camera recognizes activity through artificial intelligence, alerting the homeowner in the CPI security inTouchTM app. That communication happens over Wi-Fi. Some doorbell cameras, including the CPI Video Doorbell, use artificial intelligence to distinguish between different types of movement like whether a person is walking up to your door or a car is driving past your house, while other video doorbells may use motion sensors that can't differentiate between types of movement. CPI's Video Doorbell Pro stores recorded footage in the cloud.  
Of course, CPI's Video Doorbell still functions like a traditional doorbell, as well. But you'll quickly discover that the old ding-dong is now a whole lot smarter.  
Discover the CPI Video Doorbell Pro
The Video Doorbell Pro, CPI Security's smart video doorbell camera, integrates seamlessly into the rest of your CPI smart home security system, with features like:
An expanded 150° field of view that shows what's happening at your front door and in the spaces immediately around it, like your porch vestibule or front yard
Two-way audio so you can talk to whoever's out there, no matter where you happen to be
IVAN℠ (Intelligent Video Activity Notifications) technology that distinguishes between people, vehicles, and animals
Real-time alerts you can customize, so you only get a notification when there's as an actual person at the door
Seamlessly integrates with the rest of your CPI smart home security system so you only have one app to control all your smart home and security functions
Our doorbell camera's features also include a full HD 1920 x 1440 video resolution with night vision and High Dynamic Range (HDR). HDR can show more detail in dark shadows or bright highlights of an image. HDR is especially useful for capturing clear video in areas with harsh lighting.
It's durable and weatherproof, with a rating of IP66. I stands for Ingress Protection, and is made up of two numbers:
The first number refers to the level of protection against dust and is measued on a 0-6 scale.
The second refers to the level of protection against liquids and moisture- this is measured on a 0-8 scale.
Cameras with an IP66 rating are suitable for outdoor use, offering total protection from dust and designed to withstand rain, sprinklers, and powerful water jets.
Plus, with a sleek design available in bronze or silver, it's a subtle but attractive addition to your home's exterior design.
Want to learn more about our smart doorbell camera? Explore the CPI Video Doorbell Pro and review the full list of technical specs for yourself.
Video Doorbell Pro Installation
: What You Need to Know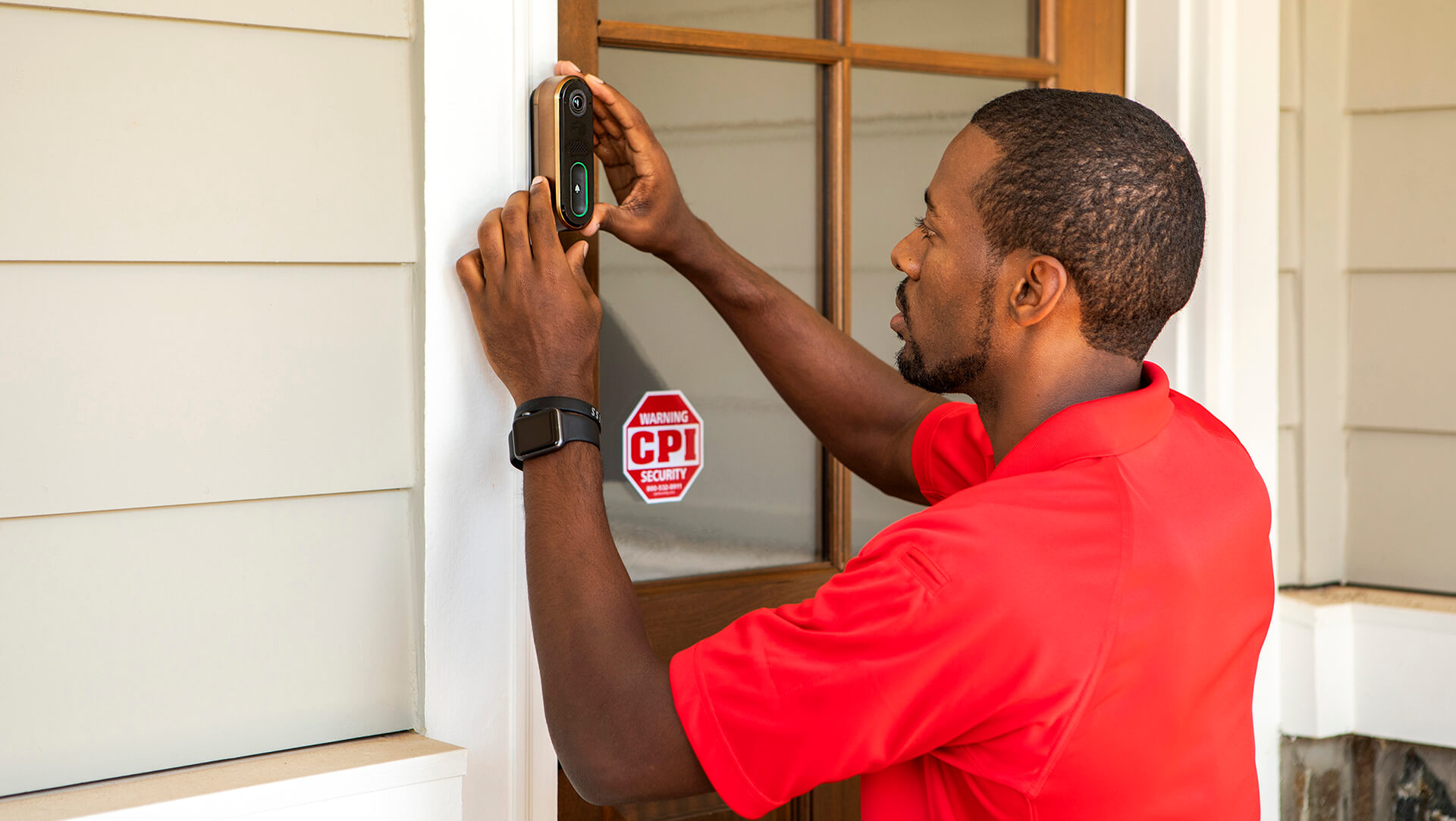 Who Installs a Video Doorbell?
Installation of your video doorbell depends on which product you purchase. Essentially, there are two options: DIY ("do it yourself") and professional installation. Battery-powered video doorbells may be simpler to install, while hard wired cameras require more in-depth electrical work.  
While DIY might seem like a good idea in theory, many people find the prospect daunting. There's a good reason for that. With professional installation, you'll have the peace of mind that comes from knowing everything's done right the first time, by experts you can trust. Plus, most professionally installed cameras are of higher quality than cameras you can buy off-the-shelf at your local home improvement store.  
How Much Does Video Doorbell Installation C
ost?
The cost depends on which video doorbell product you select. If you've chosen a DIY option, you might think your installation costs are zero… until you add up the time you spend troubleshooting, the additional trips to the hardware store for a tool you didn't know you needed, and the frustration of not being sure you've done it correctly.  
Even if you pay a handyman to install your DIY doorbell camera, there's no guarantee it'll be right. And if it's not, there might not be anything you can do about it. 
Some professional installers charge a fee for installation of a new smart home security system or product. CPI Security, however, is proud to offer free professional installation for the Video Doorbell Pro – and all CPI Security systems and products.  
How long does it take to install a video doorbell?
Depending on whether it's part of a full system install or just a single product add-on, it might take anywhere between about 30 minutes and a few hours. CPI Security offers flexible appointments that include time to teach you how to use your system. It's stress-free, and time well spent.  
Are There Other Benefits to Professional Installation?
Most importantly, with professional installation by experts, you'll be assured proper functionality – keeping your household safe and preventing false alarms. CPI Security products, systems, and professional installation are designed to prevent or reduce false alarms. CPI Security even offers a no false alarm guarantee. 
Who Monitors the
Video Doorbell Pro
? 
In two words: We do. 
Let's back up for a moment. You may have heard of "self-monitoring" video doorbells and other home security products. But all it really means is that you're on your own – just you, your home and loved ones, and your app. If you're not glued to your phone when a break-in or other unauthorized activity takes place at your home, it's as if you have no monitoring at all.  
How Does Professional Monitoring Work?
With professional alarm monitoring, your home security system sends information to a monitoring center.  Their operators observe and respond in real time, communicating with you, with first responders like police or fire, and even with someone in your home. 
In addition to 24/7 monitoring of your home security alarms, professional monitoring extends to fire and carbon monoxide detectors, as well as medical monitoring products and services. 
Professional Monitoring with
Video Doorbell Pro
With a CPI Video Doorbell Pro, you'll get the advantage of Central Station, CPI's professional alarm monitoring center. It's a world-class, Five Diamond Certified, U.L. Listed Monitoring Center providing specialized protection for all CPI customers.  
When you have a CPI Security system, you'll also enjoy the peace of mind of our award-winning emergency response protocol: Real Time Response℠.  
In the event your security system triggers an alarm, you'll have the opportunity to cancel it. If you don't take action, a CPI Central Station Operator will contact you over your system's two-way speaker or by phone.  
If they can't reach you to confirm everything's OK, they'll contact emergency responders to relay critical info in real time – and with your permission, they'll access the video stream and relay what information they can gather from video surveillance on your video doorbell or other CPI home security cameras. 
Video Doorbell and Your Smart Security App
With the growing popularity of smart home security and management products, there's also a deluge of apps used to control them. And while app-based security sounds convenient, it gets overwhelming when you need a different app for each product, system, and function. 
Using your CPI
Video Doorbell Pro
through the inTouch™ app
Unlike doorbell cameras that require their own separate app, CPI Security's Video Doorbell Pro uses the same integrated inTouch™ app as the rest of your CPI smart security system and devices – from cameras and locks to your thermostat and more. You control it all through the CPI inTouchTM app or your CPI SmartHub. 
For example, if you're home alone at night and someone approaches your front door, your video doorbell sends an alert to your app to let you know someone's out there. But as you get the alert, you see in your app's dashboard that you forgot to lock up, so you lock the front door remotely. Before the visitor can even ring the bell, you've secured your home. Now that you know you're safe behind locked doors, you can chat with whoever's on the other side using the camera's two-way audio. And they'll have no idea you're even home unless you decide to let them in.   
Want to see how CPI's two-way audio works? Watch the video below.  
Getting Started with CPI
Video Doorbell Pro
Ready to do more when someone's at your door? Visit us today to learn more about CPI Security's Video Doorbell Pro doorbell camera.