If you've never been a victim of porch piracy, it's almost certain you know someone who has. As simple as it is to purchase all your household necessities online, burglars looking for an easy opportunity can be quick to grab recently-delivered packages from porches as they pass by.
In fact, package theft accounts for 1.7 million packages stolen or lost every day in the U.S., according to researchers at Rensselaer Polytechnic Institute. Facts and statistics like this may leave you wondering, "Do doorbell cameras deter crime? Do home security cameras prevent crime?" 
Here are three of the ways doorbell cameras prevent crime and keep you safe and secure: 
Criminals generally avoid places with visible cameras.

 

Doorbell cameras give homeowners peace of mind.

 

Footage from doorbell cameras and security cameras can help police departments apprehend criminals. 

 
Install a Doorbell Camera to Keep Your Home Secure
Read on to learn more about three ways that doorbell cameras can improve your home's overall security.  
Criminals generally avoid places with visible cameras.
Burglars looking to steal something off a porch or break into a house are typically looking for somewhere easy to get in and out without getting caught. Doorbell cameras, lighting, alarms, and other security system features act as a big deterrent. Burglars don't want to be caught in the act, and even if they are able to break into a home, take something, and leave, they don't want to know their face has been captured by a camera. If a doorbell camera or other security camera is easily visible from the road or from the front of a house, would-be thieves are more likely to skip that house in favor of an easier target.*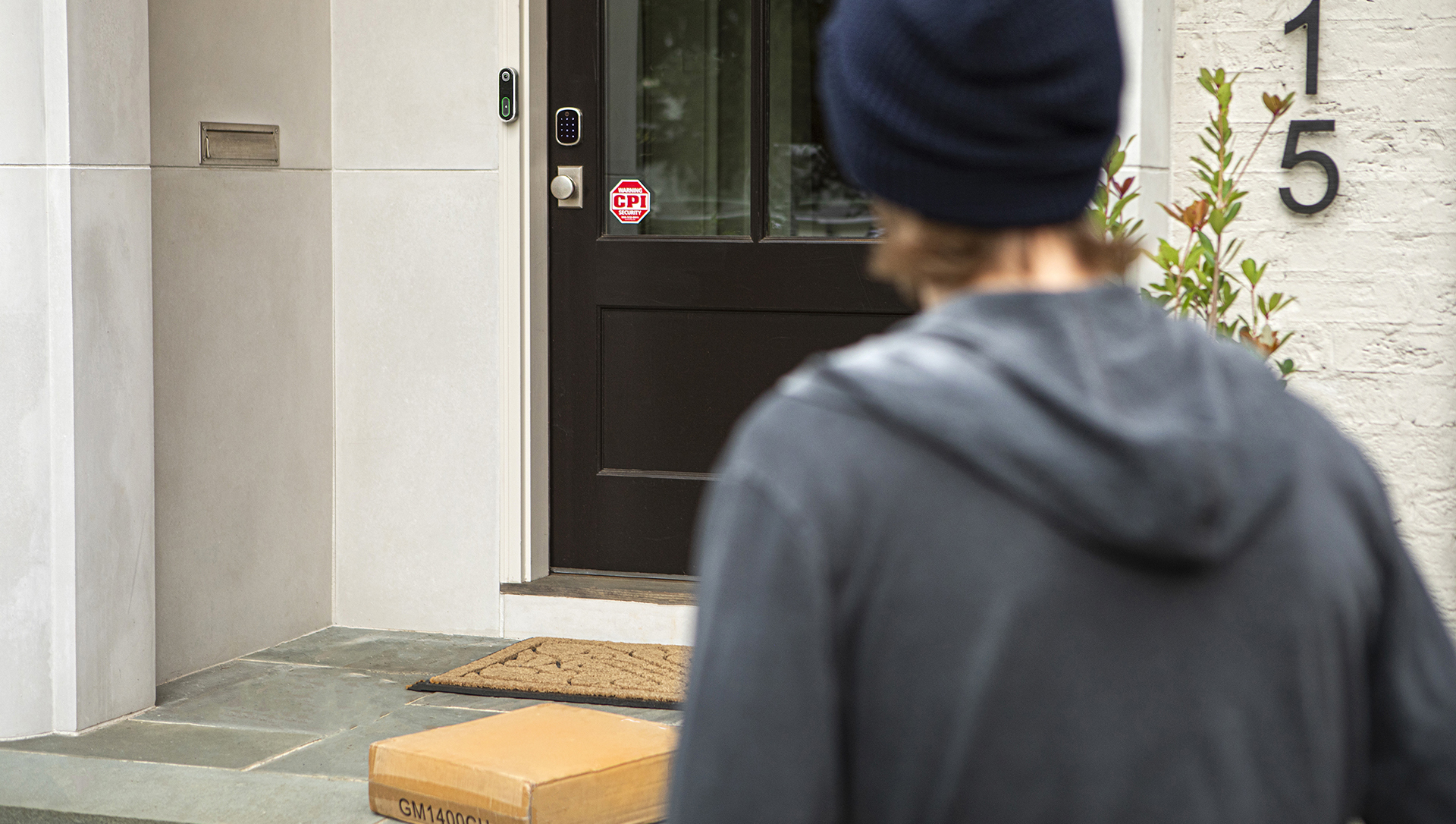 Doorbell cameras give homeowners peace of mind.
While making sure your home is actually secure is, of course, more important than ensuring your home feels secure, there's still something to be said for feeling safe whether you're at home or away. Doorbell security cameras provide a sense of security that many homeowners find important. Whether you live alone and would like to know who is ringing your doorbell before opening the door, or you travel often and aren't always around to answer a door, there is a certain feeling of safety that comes along with knowing who is approaching your home and why.  
CPI Security's video doorbell connects to the CPI Security inTouchTM app and the CPI SmartHub. So, whether you're home or away, you can view who is approaching your door and even talk to them in real-time through the camera's two-way audio feature, without the visitor knowing whether you're actually at home.  
If you shop online, doorbell cameras also let you keep tabs on deliveries. You can have a trusted neighbor pick up a valuable package if it's delivered while you're away, or if paired with a smart garage door controller, you can have the delivery driver drop it inside, then close the garage door remotely after he's gone.  
Footage from doorbell cameras and security cameras can help police departments apprehend criminals. 
In the unfortunate event that porch piracy or even a home invasion does occur, footage from a doorbell camera and other security cameras can help your local law enforcement identify, arrest and charge the perpetrator, hopefully preventing them from committing more crimes in the future. Plus, doorbell cameras have also helped solve other crimes unrelated to porch piracy and home invasion, such as kidnappings, car thefts and assaults, according to the office of Community Oriented Policing Services. In fact, some law enforcement offices are subsidizing the cost of doorbell cameras or even providing free ones for this very purpose.  
A Doorbell Camera Buyer's Guide
If you're ready to purchase a doorbell camera to add to your whole home security system, there are a few specs and features you need to consider to make sure you're getting the best doorbell camera for your needs: 
Will the doorbell camera integrate with your home's security system?

 

What image resolution do you need?

 

What horizontal field of vision do you need?

 
Do you want mobile alerts through an app?

 

Does the doorbell camera you are considering have high resolution night vision?

 

What motion sensing features do you need?

 

Do you need two-way audio features?

 

How weather-resistant does the camera need to be for your environment?

 
Does the camera offer a live view?

 

How does the camera choose what to record and store?

 
At CPI Security, we're proud to offer a smart video doorbell camera that integrates right into your home's security system. With a 150° field of view, you're able to keep an eye on what is happening at your front door at any time, from anywhere. Thanks to the doorbell's two-way audio feature, you can talk to anyone at your front door, no matter where you are. Plus, thanks to our IVAN℠ (Intelligent Video Activity Notifications) technology, you'll get real-time video alerts as your camera discerns between people, animals and vehicles to determine who is at your door. Our doorbell camera's features also include a full HD 1920 x 1440 video resolution with night vision and HDR, a weatherproof rating of IP66, and a small profile available in silver or bronze to match your home's aesthetic. 
To learn more about how to deter crime by adding a smart doorbell camera to your home's security system, get in touch with the home security experts at CPI Security by calling (833) 623-1293 or filling out a contact form on our site.  
Sources: 
Inside UNC Charlotte, "Through the eyes of a burglar- study provides insights on habits and motivations"