On Sunday, Oct. 17, a team of more than two dozen people will represent CPI Security at the American Heart Association's Heart Walk (AHA) in Winston-Salem. Longtime CPI Security employee, Lee Douglas, is leading the team.
Douglas will be the first to tell you he never thought he'd be going on a walk at all, let alone leading a team of more than two dozen people in an organized race. But after a near-death medical diagnosis, a lifestyle makeover, and a passion for the AHA, it's safe to say this isn't the same Lee Douglas many at CPI Security have gotten the privilege to know over the last two and a half decades.
Meet Lee Douglas.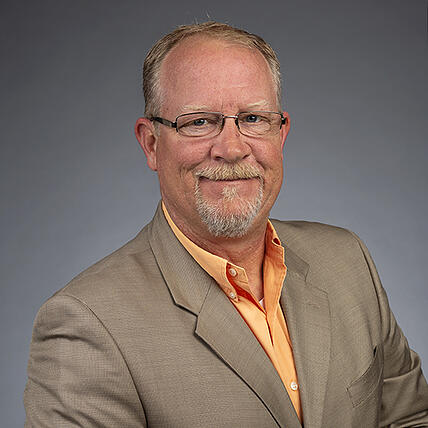 Douglas joined the CPI family in December of 2004 as a technician. He's worked his way up in the company and has served as Operations Manager at the Greensboro office for the last seven years.
Lee Fletcher, Director of Field Operations for CPI Security, is Douglas' manager and has known him for nearly 30 years. Fletcher best describes Douglas as dedicated and passionate, especially when it comes to his work ethic.
"He's always the first one in the building, and he's the last one out of the building," Fletcher said. "He drives an hour to work, and if he needs to get there on Saturday morning to make the day go smoother, that's what he'll do. He's extremely dedicated to his team and this organization. He's all in."
After a health scare at the start of the new year, Fletcher witnessed Douglas channel his energy into something new, his health. Health and wellness may be a new priority to Douglas, but he's still approaching his new lifestyle the same way he approaches most things; He's all in.
When the Symptoms Started.
Looking back on the last year, Douglas says there were signs that something was wrong long before he knew what was going on in his body. In September of 2020, he noticed significant swelling in his stomach, legs, and feet, and he would get winded after simple tasks.
"I used to not be able to walk from my back door to get in the truck to come to work without being out of breath," Douglas said. "I used to not be able to brush my teeth without stopping to take a deep breath."
Douglas attributed the symptoms to side effects of his medication or not moving enough throughout the day. But as the months went on, the symptoms worsened.
"I woke up on Jan. 2 to come here [CPI Security's Greensboro office], which was Saturday, and I could barely put my shoes on my feet because they were so swollen," Douglas said.
After several misdiagnoses, he was referred to a cardiologist. There, he learned the problems were much more profound than just being out of shape.
Cardiomyopathy.
Cardiologists diagnosed Douglas with dilated cardiomyopathy. In laymen's terms, cardiomyopathy prevents your heart from pumping blood as efficiently as it should.
In Douglas' case, his heart had three blockages and was only working at 23 percent. It meant he was a prime candidate for a heart attack at any time. Doctors told him he would need surgery.
"He [the doctor] told me if we don't do this, it's not going to be very long before your wife finds you laying out in the yard or somebody finds you slumped over your desk," Douglas said.
On March 11, 2021, Douglas underwent successful open-heart surgery.
Lifestyle Change.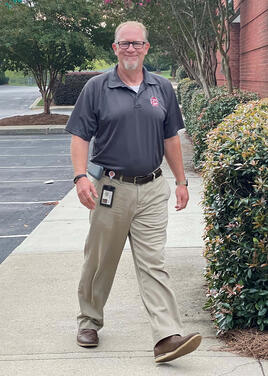 Even though his cardiomyopathy is partially genetic, the regret weighed heavily on him as he knew his lifestyle exasperated it.
"My favorite thing to do on Saturday before I got to work was rolling through the McDonald's and get a double cheeseburger, large fry, and a large coke for lunch. That was my treat for myself," Douglas said.
He admits that what he was eating throughout the rest of the week wasn't much better than his weekly McDonald's fix. Douglas consulted with CPI Security Health and Wellness Manager Josh Lawson after his diagnosis. Lawson leads CPI Security's fitness and nutrition program that all employees have access to.
"He was not the epitome of health, but Lee is not different from a lot of people. He was just a normal guy who liked to work and liked other things that weren't the healthiest things in the world," Lawson said. 
Lawson says he didn't have to do much to motivate Douglas to live a healthier life. He only warned Douglas that reverting to his old ways post-op wouldn't get him very far.
"Through those months leading up to the surgery, I kept hammering into him like 'Hey Lee, if you're going to invest in yourself and make this big of a change, make it last, make it work," Lawson said.
That message stuck with Douglas. When he woke up from surgery, he was determined to be discharged from the hospital as soon as possible.
"I told myself when I was laying there staring at the walls and the ceiling that this was not going to stop me. I was going to come back better than I ever have before," Douglas said.
The CPI Olympics.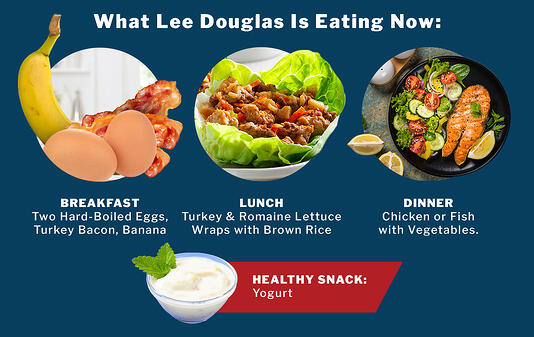 In August, CPI Security launched a company-wide competition in sync with the Olympics. The games included various challenges like jump roping, cup stacking, archery, and a one-mile relay.
"I kept looking at the one-mile run and thought, I'm going to do that. I'm going to run and see what I can do," Douglas said.
Still recovering from open-heart surgery, Douglas scared a few people with that goal, his wife and Lawson included. But one day, he did it. He completed the one-mile run in 14 minutes.
"I wasn't sprinting by any means. I jogged maybe two-thirds and walked a third of it," Douglas said. "But I was proud of myself because I completed it, and it was my personal goal."
"For me, that's the best gift that I could possibly get," Lawson said. "To see Lee living his best life," Lawson said.
The Heart Walk.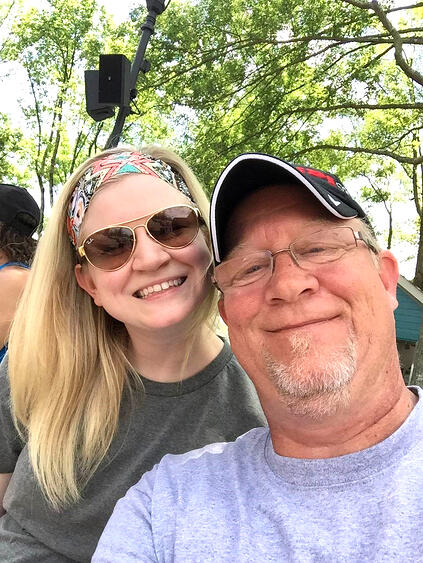 Nowadays, you can find Douglas walking around the CPI Security offices in Greensboro every morning, bike riding for miles on weekends, and bringing his lunches in place of McDonald's. Since the beginning of 2021, he's lost nearly 80 pounds.
"It's amazing the difference it makes. You start feeling better; you get healthier. It makes you happy," Douglas said.
In a way, his medical scare was a blessing in disguise because it gave him a new lease on life just in time for the arrival of his first grandchild. Douglas' daughter is due in March, exactly one year after his life was in jeopardy. The second chance he was given is what inspired him to lead Team CPI in the American Heart Association's Heart Walk in Winston Salem.
"This really isn't about me," Douglas said. "This is because sometime in the past, somebody walked, somebody raised money, somebody donated so that I could still be here today," Douglas said.
"Now, I'm going to walk, I'm going to raise money, and I'm going to donate. So, in the future, somebody can be here to do the same for somebody else."
Douglas' team has already raised more than $1,100 for the American Heart Association. CPI Security will match employee contributions to the Heart Walk.