Sunny skies welcomed thousands of people to Charleston, S.C. this weekend for the 44th annual Cooper River Bridge Run.
After going virtual in 2020, the 10K race was held in person, and CPI Security returned for the eighth year as a sponsor to congratulate runners at the finish line. Limited to 25,000 participants, runners began the 10K on Coleman Boulevard in Mt. Pleasant, S.C., then crossed the iconic two-and-a-half-mile-long Arthur Ravenel Jr. Bridge. Once in Charleston, the course wrapped around Meeting and King streets before culminating at Charleston's historic Marion Square.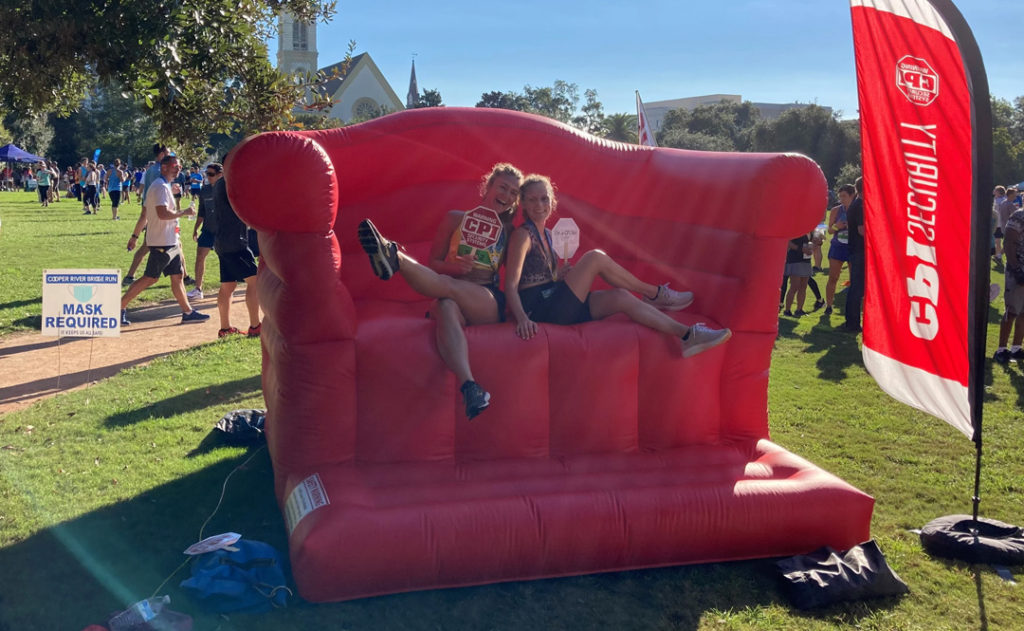 At the Finish Festival in Marion Square, CPI Security employees greeted and congratulated runners for finishing the 6.2-mile course. Just as the Ravenel Bridge and Marion Square are mainstays of the run, so is CPI Security's Big Red Chair. Each year, people wait in line to document their weekend in Charleston with a picture in the chair. Susan Kein struck a pose to celebrate her completion of the race!
"It looks like the big couch from that show I used to watch," Kein said, referencing the "Big Comfy Couch".  "[The race] was so good! The weather was beautiful, and everything went great!"
Participants and onlookers also tried their luck at spinning CPI Security's wheel for a chance to win CPI swag like drawstring bags, water bottles, and sunglasses.
Just as our customers look to CPI Security for safety support, participants needing help at the race could look to volunteers donning CPI Security emblazoned t-shirts to answer their questions.
As the 3rd largest 10K in the U.S., CPI Security was honored to celebrate with participants who got to run the Cooper River Bridge Run in person, once again.
We'll see you next year!