For nearly 30 years, CPI Security has provided innovative security, video, and automation solutions to residents and businesses throughout the Southeast. We are more than a company that offers the latest technology, the best protection, and world-class customer service, though.
Day by day, CPI employees strive to make a positive difference. We live in the communities we serve. We're your neighbors, friends, and family. That personal connection is a big thing that sets us apart from other providers in the industry. And serving and protecting our communities is woven into the very fabric of our culture. 
During the season of giving, our employees join together to support holiday outreach projects at each of our CPI branch offices. It's a time-honored tradition that we all look forward to every year. Last year, we raised more than $36,000 in gifts for 189 children across our footprint.
Especially this year, many families are suffering and facing unique challenges. We hope to make a difference for those in need while sharing our love and support. Check out this year's partners to see how you can help us make the holidays brighter for children and families in need.
Charlotte, N.C. – Charlotte Mecklenburg Police Department Police Explorers Christmas Project
For over 15 years, CPI Security has partnered with the CMPD Police Explorers Program, providing Christmas gifts to local families in need after they are identified through interactions with Police, Fire, Medic, and school counselors. CPI is committed to making Christmas wishes come true for more than 50 children through this program.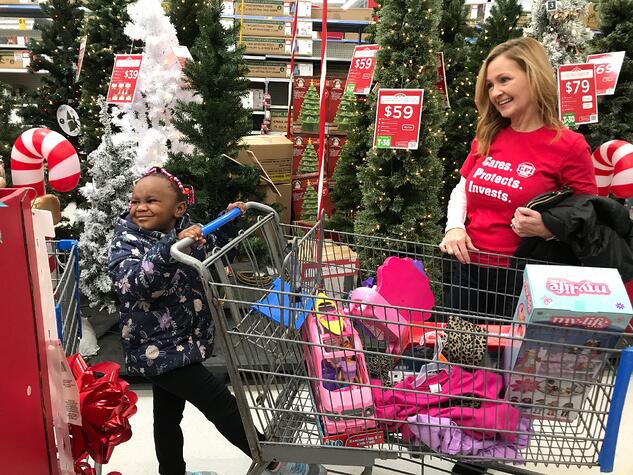 CPI joins the Raleigh Police Department for "Shop with a Cop."
Raleigh, N.C. – Raleigh Police Department Shop with a Cop
For almost a decade, CPI has partnered with the Raleigh Police Department on their annual "Shop with a Cop" program. Employees will also have the opportunity to support children and families through the Salvation Army of Wake County Angel Tree Program.
Greensboro, N.C. – Greensboro Police Department Operation Yuletide
CPI Greensboro is once again partnering with the Greensboro Police Department on their annual "Operation Yuletide" providing clothing, toys, and necessities to families in need.
Charleston, S.C. – Charleston Police Department Kids and Cops Program
CPI's Charleston office is proud to partner with the Charleston Police Department for their annual "Kids and Cops" program, providing $150 gift cards to each child adopted to "shop with a cop" for the holidays.
Myrtle Beach, S.C. – North Strand Helping Hand
CPI's Myrtle Beach office is proud to partner with North Strand Helping Hand which strives to provide essentials to those in the North Strand community, including food, clothing, and holiday cheer.
Columbia, S.C. – Families Helping Families
CPI Columbia is partnering with the Families Helping Families initiative to support a family in need, providing gifts and groceries to make the holiday merry.
Greenville, S.C. – The Salvation Army of Greenville: Adopt an Angel
CPI Greenville has partnered with the Spartanburg County Department of Social Services to support the annual "Adopt an Angel" initiative, donating clothing and toys for families in need.
Atlanta, GA; Asheville, N.C.; and Knoxville, TN – The Compassion Closet
CPI's Atlanta, Asheville, and Knoxville offices are partnering with local Compassion Closet programs to collect clothing and toys for foster children and their families.