Two years ago, Charlotte ranked last out of 50 large U.S. cities for economic mobility, meaning a child born into poverty is unlikely to escape. That was a call to action for leaders at Freedom Communities, a nonprofit working to empower people in the Freedom Drive Corridor of West Charlotte with the tools and resources to break free from that statistic.
As part of our commitment to making a difference in our community, CPI Security is proud to support this incredible organization to help empower people to climb the ladder of opportunity.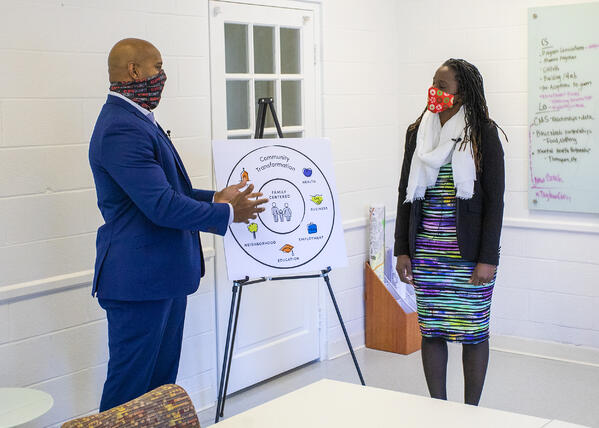 Kerr Putney, CPI's Chief Community and Government Relations Officer, and Cynthia Scott, Freedom Communities' Family Service Coordinator
"The best results come from within our community, where solutions are tailored to people's unique needs," said Ken Gill, Founder and CEO, CPI Security. "Freedom Communities gets it, and they're changing lives in a big way."
In December 2019, Freedom Communities purchased an empty church that would have been lost to redevelopment in the area. Now known as the Tuckaseegee Opportunity Hub, this site allows the organization to grow their roots in the community while better serving families and improving access to resources.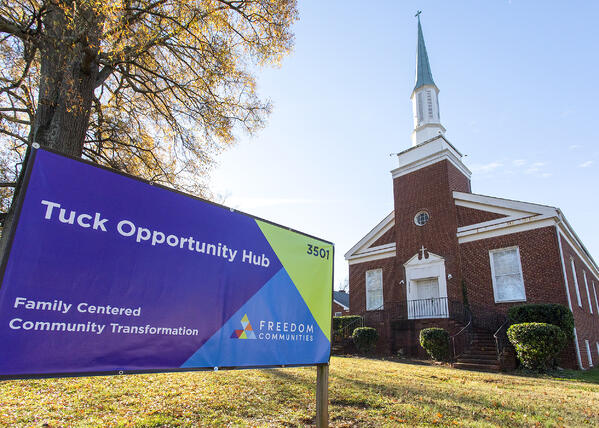 Tuck Opportunity Hub
They've made amazing progress and transformed the site, but there are still renovations and finishing touches left. CPI Security is proud to donate $50,000.00 for renovations that will help transform the church into a safe haven, community gathering space, workforce development lab, and more.
"We are incredibly grateful to have CPI's generous support for this important work in our community," said Hannah Beavers, Executive Director, Freedom Communities. "We see infinite potential in the mothers and children we are working with – and this Hub will be a safe space for them to meet, to build supportive relationships, connect with opportunities, and to build pathways to realize that potential."
In addition, we are proud to support their Moms Moving Forward program with a $30,000.00 donation. Moms Moving Forward is a 12-month program for single mothers and their children that provides coaching and workforce training, educational support for children, and financial literacy training. It's a targeted program to help families plan and save for the future, improve skills, and find and access opportunities.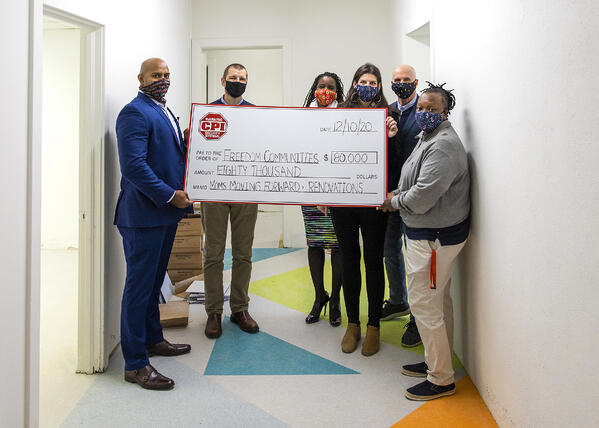 Putney and the Freedom Communities team
"CPI Security is committed to being a part of solutions that ensure everyone has equal opportunities, regardless of their circumstances," said Kerr Putney, Chief Community and Government Relations Officer, CPI Security. "That's how we break the cycle of poverty and lift up children and families who have been left behind."
Protecting and serving our communities is woven into the very fabric of our culture. That's because CPI employees live in the communities we serve – we're your friends, family, and neighbors. Our personal, local connection is an attribute that sets us apart from others in the security industry, and we remain committed to doing our part to give back.