A North Carolina family is calling a CPI Security Central Station Operator their angel, after the operator alerted them and the fire department to a fiery explosion inside their home, before it was too late.  
Teresa Miller was at work when she got an alert from her CPI Security System notifying her that the living room smoke detector went into alarm.
"When I first got the alert, I thought, 'this is a false alarm,'" Teresa said. "[But] I hurried home and opened the back door. [That's when I saw] flames. I was terrified."
The smoke alarm came into CPI Security's Central Station in Charlotte. CPI Security Central Station Operator Tea'Kay Smith alerted the Millers and the fire department to the alarm. With the Millers' permission, Smith accessed the Millers CPI interior cameras and saw the explosion and fire aftermath in real-time. Because the Millers have interior cameras in their home, Smith could visually verify the emergency and let 911 dispatchers know that they were responding to an active house fire.
"So, they [firefighters] knew they were coming to a house fire instead of a false alarm," Teresa said.
Working close to home, Teresa actually made it to the house before the fire department. She doused the flames in water, putting the fire out just before firefighters arrived. Within minutes of the explosion, CPI's surveillance video showed thick black smoke covering the inside of the home and large flames spreading across the kitchen island.
"Had it not been for that alert, we wouldn't have a house," Teresa said.
Damage was contained to just the kitchen. Sawmills Volunteer Fire and Rescue Department Fire Chief Wes Lail credited the mitigated damage to CPI's early alert and the subsequent response.
"When we have early detection, then we have early dispatch and early response," Lail said. "And when we have that, we have good outcomes. It's a team effort."
The Millers were charging a portable jump starter on the kitchen counter. Firefighters determined the batteries inside the jump starter overheated, causing the explosion.
"When we purchased the CPI Security System, we had no idea how important that purchase would be," Teresa said. "The amount of money we have spent … paid for it all on that day. Every bit of it."
"It has been a godsend to us," Larry Miller said. "It really has."
The Millers Met the CPI Operator Who Alerted Them to the Fire
About two months after the explosion, the Millers and CPI Operator Tea'Kay Smith met in person.  
"You'll always hold a special place in my heart," Teresa said to Smith. "It means the world to meet him; the one who saved our home. Had he not been doing his job, my house wouldn't be here." 
"It was an honor to actually be there to save their home. It was an honor," Smith said. "That's what we're here for at CPI Security. We're here to protect the community as much as we can, and as quickly as we can." 
CPI Security Donates to Sawmills Volunteer Fire and Rescue Department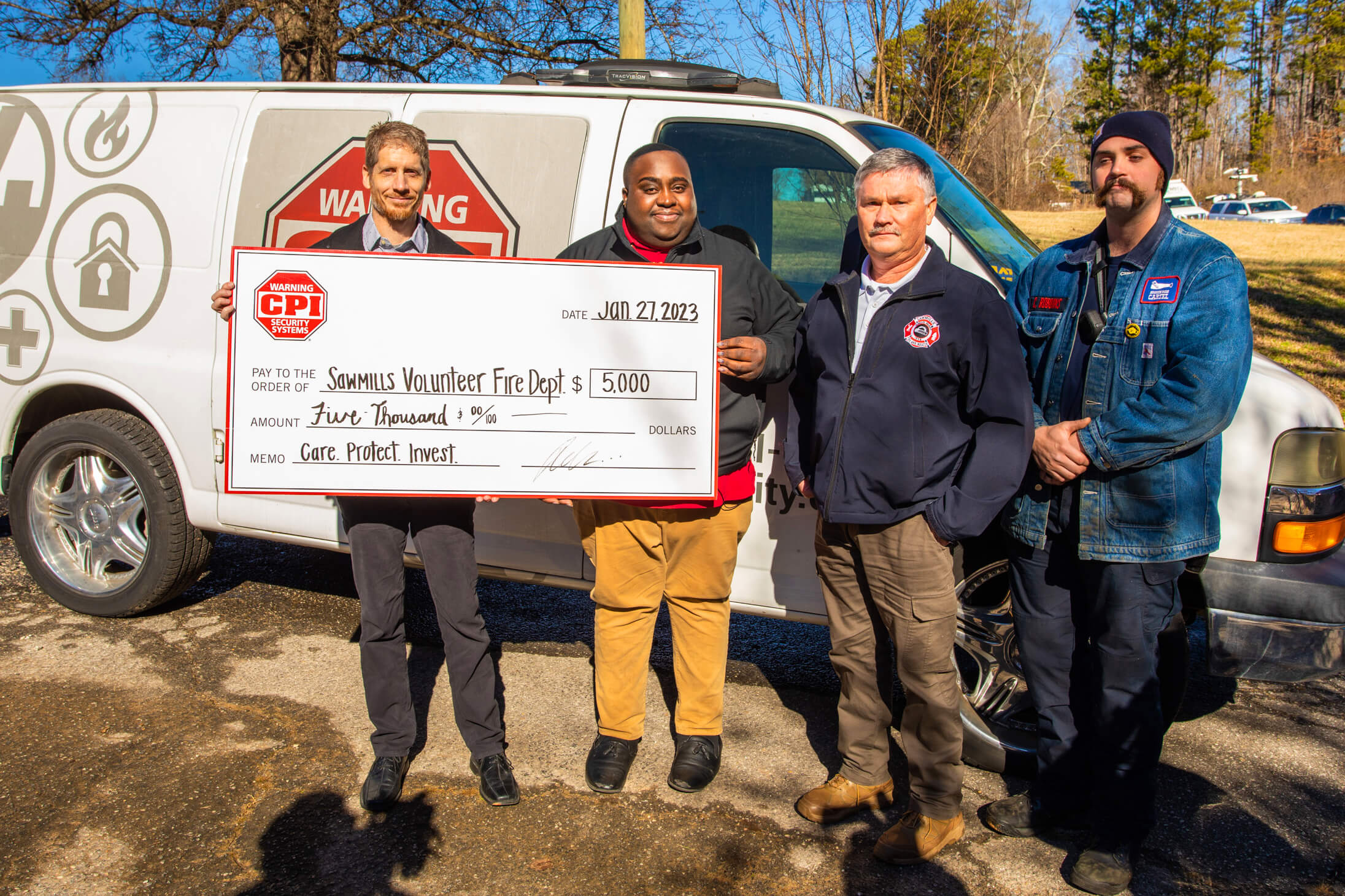 Because of CPI Security's commitment to protecting its community and enhancing relationships with local first responders, CPI made a $5,000 donation to the Sawmills Volunteer Fire Department. Chief Lail says the department will use the donation to replace older equipment. 
For more information on CPI Security's fire and carbon monoxide protection, click here.