Recently, we had the pleasure of hosting a group of students from Promise Youth Development for a CPI Security Career Day. In keeping with our service-minded culture, CPI hosted this career day to provide educational and career-focused opportunities for local youth.
"Showing children different careers encourages them to start thinking about their futures," said Ken Gill, Founder and CEO of CPI Security. "We're proud to partner with Promise Youth Development to help these incredible kids and young adults learn and access new opportunities."
Of course, we couldn't have hosted this Career Day and helped make a difference for deserving students without Promise Youth Development. This local nonprofit promotes healthy choices for youth and young adults and inspires resilience through mentoring, health promotion, and academic enhancement.
We are proud partners of Promise Youth Development, and we remain committed to working with them to help youth and young adults climb the ladder of opportunity. By helping them find rewarding careers, we empower students to reach their full potential.
"That's the power of mentoring and having strong partnerships like the one we have with you, CPI Security," said Tesha Boyd, founder of Promise Youth Development. "We are so grateful for the opportunity to expose the kids to careers they never knew about or considered."
To kick off our Career Day, the students toured our corporate headquarters and met with different departments, while following health and safety guidelines. The day started with a first-hand look at our award-winning monitoring center to see how we serve and protect homes and businesses across the Southeast. They also had the opportunity to meet with every department to experience our unique family-focused, rewarding, and fun culture.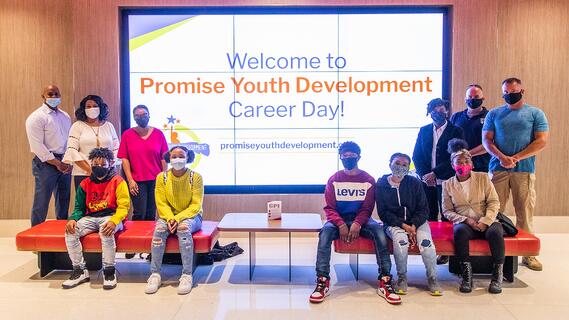 "Each employee and department we visited was welcoming and openly shared their knowledge with the teens," said Tesha. "The teens were so impressed with every aspect of the tour, facility, and people they met."
We were glad to show them meaningful career paths where they can apply their unique skills. The students heard from employees across all levels and departments – Inside Sales, Human Resources, IT, Marketing, and Accounting, to name a few. They asked several questions, and students walked away with new ideas for their future.
"The kids talked about their experience the entire ride back home. The CPI team made a favorable impression on them and could've possibly shaped their future career choices," said Tesha.
Care. Protect. Invest. That's CPI Security's mission, and we will continue to work every day to see it through.