When the Carolina Panthers take on the Philadelphia Eagles Sunday afternoon at Bank of America Stadium, among the tens of thousands of fans watching will be seven boys attending their first NFL game.
CPI Security donated eight of its 100-level Carolina Panthers tickets to boys in the Step Up To Leadership program. Step Up To Leadership is a local nonprofit that provides resources, experiences, and tools to improve the self-esteem, self-image, and futures of at-risk youth in Charlotte.
"They [CPI Security] got the boys right at the tunnel where the Panthers come out at. It's going to be amazing to see their faces."

Founder and Executive Director of Step Up To Leadership, Arkevious Armstrong
Armstrong founded Step Up To Leadership in 2013 when he felt there was a need in Mecklenburg County to provide young men with experiences and mentors that could lead them to brighter futures.
"I realized there was a social issue we were dealing with, and there was an identity problem among our young men," Armstrong said. "They didn't have a clue who they were, what they wanted to be in life, or what direction to take in order to accomplish their goals."
Step Up To Leadership provides young boys with experiences and opportunities they may have never had without the nonprofit. The outings range from sporting events like Carolina Panthers games or NASCAR races to camping trips, college tours, and career days. The program also provides training in leadership, conflict resolution, drug awareness and prevention, self-control, and character building.
"The work Step Up To Leadership is doing in Charlotte is making a real difference in the lives of these young men," CEO and Founder of CPI Security Ken Gill said. "So much of what life is about is having unique experiences. We want all kids to get the chance to go to a game, travel, or experience something they wouldn't normally be able to."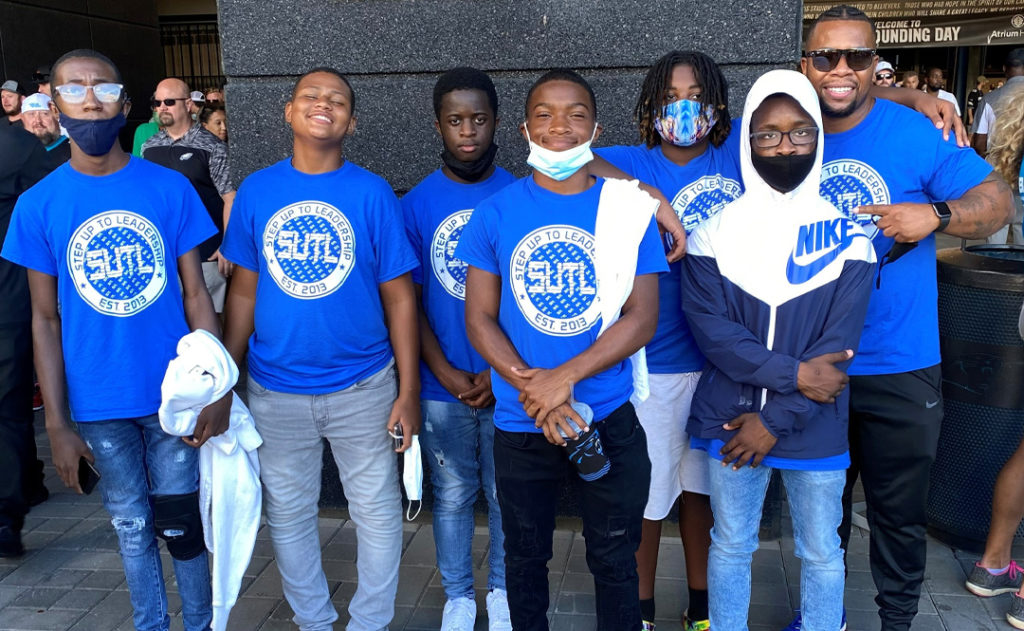 Armstrong says many of the boys in the program don't have role models to guide them, the financial means to experience new things, or the ability to see the potential in themselves. The mission of Step Up To Leadership is to steer today's youth toward the right path.
"It's so easy for them to get around the wrong people and start making the wrong choices that could potentially cost them their life and freedom," Armstrong said.
Step Up To Leadership is a nonprofit, so it relies on corporate sponsors and volunteers to operate.
"Anyone who has a gift or a talent who wants to take the time to mentor young men—from engineering to IT, trucking to carpentry- bring those gifts to the table and let's expose those opportunities and avenues to these young men who don't know what they want to be or what direction they want to take in life," Armstrong said.
CPI Security recognizes the difference Step Up To Leadership is making in Mecklenburg County youth. Providing Carolina Panthers tickets to the boys in the program is just one way CPI Security supports the nonprofit. The company has also made substantial financial contributions and has welcomed boys in the program to corporate headquarters for career fairs and a 3-on-3 basketball tournament.
To learn more about Step Up To Leadership, click here.
Step Up To Leadership will be the second group CPI Security is sending to Bank of America Stadium this year. On Sept. 19, a group of kids from West Boulevard Ministries saw the Carolina Panthers beat the New Orleans Saints 26-7. West Boulevard Ministries is a nonprofit that supports families in need who live in the West Boulevard corridor of Charlotte.
To view some of the fun West Boulevard Ministries had at the Carolina Panthers game, click here.