Planning a camping trip? You're not alone, as more than 86 million households in the U.S. consider themselves campers.*
Camping provides an excellent opportunity to travel somewhere new, connect with nature, and spend time with family and friends. Whether it's a weekend getaway to a campground or you're embarking on a multi-day backpacking trip, you'll need to plan ahead for your time in the great outdoors.
Before you hit the trail, check out our need-to-know camping tips and tricks for beginners and experienced campers alike.
Camping Safety Basics
At CPI, our biggest priority is our customer's safety, whether you're at home or away. As Louis Pasteur said, "fortune favors the prepared mind," so here are some camping safety tips to keep in mind as you prepare for your camping trip.
Pack a stocked first aid kit.
You can buy a pre-made first aid kit, or you can create your own! Either way, you'll want to include:
Antiseptic wipes
Antibacterial ointment
Gauze pads
Bandages
Moleskin
Other blister-care products
Anti-sting or anti-itch ointment for insect stings
Antihistamine for allergic reactions
Medication to treat pain and fevers
Don't forget the sunscreen and bug spray.
A bad sunburn or itchy bug bites can quickly take the best camping trip from "oh so fun" to "oh no." Come prepared with your preferred sunscreen and bug spray.
Beware of bears.
Whether or not bears have been spotted where you're camping, it's always a good idea to bear-proof your campsite. Store food in sealed containers away from your campsite, or lock it in your car if possible.
If you're camping in a bear-prone area, you may want to invest in bear-proof storage containers for your food, and you'll likely want to pack bear spray as well.
Be smart about fire safety.
Building a fire is a quintessential part of a good camping trip, but please be safe about it! Keep your fire within a fire ring, keep sand or water nearby if you have to put it out in a hurry, and make sure the fire is out before leaving your site. You should also pay attention to local conditions that make a fire too dangerous, like drought or heavy winds.
Secure your campsite and your home.
Stay safe from the minute you set out to go camping until you're back and settled in at home by securing your house. Before heading out on your camping adventure, check to ensure all doors and windows are locked, exterior lights are left on, and your alarm system is set.
If you have a system like the CPI Smart Security System, you'll be able to check on your home while you're away through your app. As a bonus, their 24/7 monitoring team will dispatch first responders to your home in the event of an emergency, allowing you to rest easy under the stars.
When it comes to securing and protecting your campsite, follow these general rules:
Introduce yourself your neighbors (if you have them)
Lock expensive items like bikes or grills to a nearby tree
Never leave valuables unsecured outside overnight
Keep your most important items (car keys, wallet, etc.) with you if you leave your site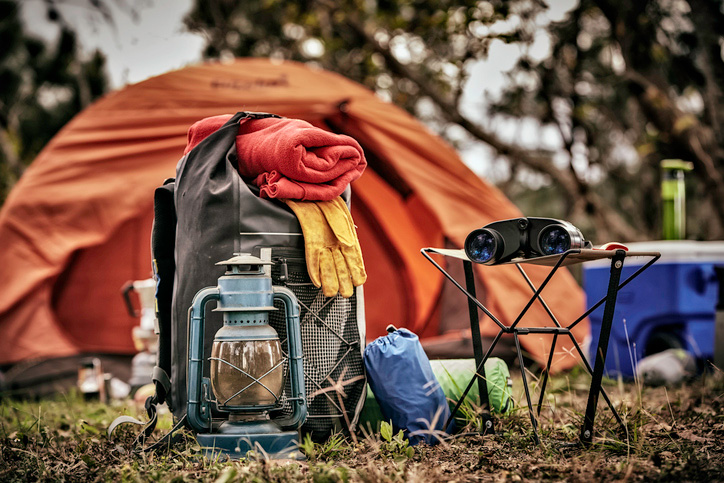 Things to Take Camping
Before you can decide what to take camping, you'll need to plan out the specifics of your trip. Are you hiking or driving to the site? Will you be tent camping or staying in an RV? Are you going to rough it at a primitive campsite, or will you be staying at a campground with every amenity imaginable?
Begin with the camping basics.
What will you need to set up camp? It depends on what you'll be doing:
If you're hiking to your campsite, you'll need a backpack and a backpacking tent. If you'd rather sleep under the stars, you could opt for a hammock instead. You'll want to choose a backpack and tent just big enough for what you need, but no bigger; otherwise, you'll be carrying unnecessary weight on your back.
If you're tent camping somewhere drivable, you'll have room to pack a larger tent and some extra essentials.
If you're staying in a camper or RV, make sure you have everything you need to make hooking up to power, water, and sewer easy.
Campfire equipment
Bring charcoal, fire starters, matches, and anything else you'll need to light a good campfire, with one exception – firewood. This may seem counterintuitive, but when you bring firewood from home, you may inadvertently bring tree-damaging insects or disease along too. Instead, buy your firewood when you arrive at your destination.
Food, dishes, and cooking supplies
Think through each meal you'll have while camping and what you'll need to prepare and eat it. You'll likely need a camp stove and propane, pots and pans, cooking utensils, plates, bowls, cups or water bottles, silverware, food, instant coffee, bottled water, and a water bottle. It's also helpful to bring a small dishpan, some dish soap, and a sponge or washrag so that you can wash your dishes at the end of each meal.
Weather-appropriate clothing
Stick with comfy, moisture-wicking clothing that suits your destination's weather. Layers are a great way to transition from cool mornings to hot afternoons. You'll also want to consider bringing rain gear, a sun hat, and a swimsuit.
Personal hygiene products
Don't forget to pack whatever you need to keep yourself feeling like "you" – like deodorant, a toothbrush, contacts, glasses, lotion, make-up, and any other personal care products you use daily. If you have access to a shower, you may want to bring soap, shampoo, shower shoes, and a towel.
Other camping gear basics
What else should you take camping to improve your overall experience? Consider this:
Flashlights and lanterns (check the batteries before you leave!)
A multi-tool
A hatchet for splitting wood
Baby wipes
Hand sanitizer
Garbage bags
A sleeping bag, pillow, and camping mat or air mattress with a pump
Folding chairs
A cooler and ice
Games, books, or other entertainment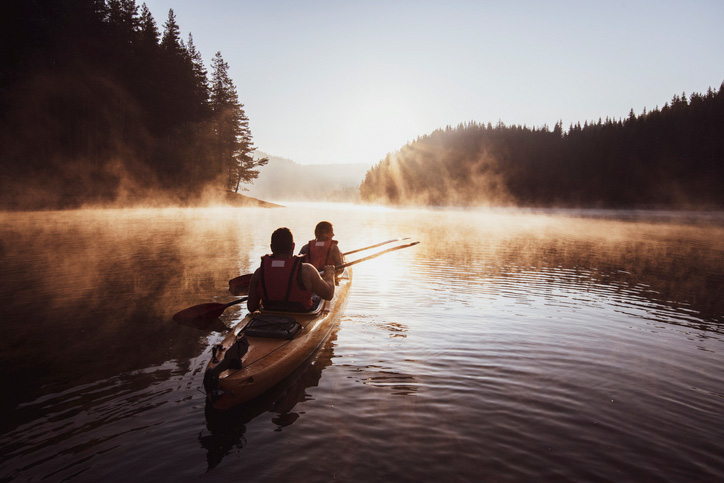 Things To Do While Camping
Now that you're prepared for a safe, fun camping trip, it's time to plan your itinerary! Whether you love to follow a strict schedule or you prefer to take things as they come, here are some camping ideas and activities we know you'll love.
Explore the surrounding area – a quick search online can help you decide which attractions you can't miss!
Go for a hike near your campsite to spend some time in nature.
Play games with your friends and family. Don't forget to pack a deck of cards!
Find a quiet place to relax and read a book.
Go fishing.
Go swimming, tubing, kayaking, or canoeing if there is water nearby.
Bring or rent a bike and explore nearby bike trails.
Go birdwatching.
Enjoy some yoga at sunrise.
Build a campfire and make smores.
Cook dinner over the fire.
Throw a football or baseball, or play lawn games such as corn hole.
Find a vista and watch the sunrise or sunset.
Pack your guitar or other musical instruments and have a sing-a-long
If you have kids, have them look for bugs, catch fireflies, play flashlight tag, do a scavenger hunt, or identify and collect leaves or flowers.
Time to Start Exploring!
We hope you find these camping tips helpful before your next big adventure. For more tips like these, visit our blog today.
Sources:
*KOA, "Fresh Data Indicates Camping Interest To Remain High In 2021."