Summer break is over, and kids are about to be back in school. To help you and your family get back into the swing of things, we're outlining some of the top back-to-school safety tips, as well as how you can use your CPI system to keep you in the know after school.
Back to School Safety Tips
Starting a new school year is an exciting time for you and your children. Keeping them safe is one way you can set them up for success. Here are a few ways to stay safe and healthy the entire school year.
It's okay to share your child's first day of school picture on social media. Just remember to be selective with the amount of personal information you share on a platform that is accessible to anyone.
Encourage your child to wear both bookbag straps to distribute the weight they're carrying evenly. The National Safety Council recommends bookbags weighing no more than five to 10 percent of a child's weight.*
Remind your child to frequently wash their hands, cover their mouth when coughing or sneezing, and use hand sanitizer to reduce their chances of getting sick.
COVID-19 guidelines are frequently changing. Double-check each school's mask and social distancing requirements regularly.
School Bus Safety
You trust school leaders to ensure your child is safe while riding on the school bus, but there are plenty of other risks to keep in mind before and after the bus is loaded. Remind your child to be aware of their surroundings with these tips.
Your child should be three giant steps, or six feet away, from the curb while waiting at the bus stop.**
Tell your child not to get on or off the school bus until it completely stops, the stop arm is extended, and the doors have opened.**
Make sure your child never walks behind the school bus.**
If your child must walk in front of the school bus to get onboard, tell them to wait until the stop arm is extended. If possible, your child should make eye contact with the bus driver to ensure they are seen and look both ways before crossing.**
Traffic and School Zone Safety Tips
Parent or not, everyone can help students get to school safely by being cautious on the road before and after school.
Before backing out of your garage or driveway, look for children walking to school on the sidewalk.**
Help children get to school safely by obeying traffic laws and being mindful of school zones.*
Obey school zone speed limits, especially when lights are flashing.**
Leave plenty of room between your car and a stopped bus and NEVER pass a bus loading or unloading children.*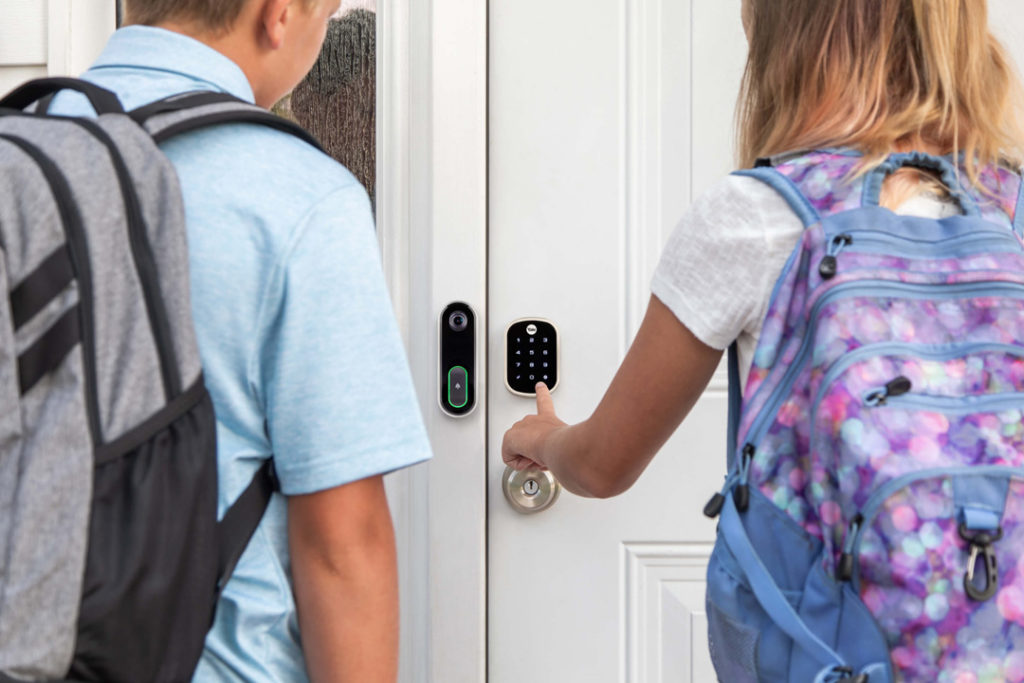 After School Safety Tips & Your CPI Smart Security System
Did you know that if you can't wait at the bus stop or be at home to ensure your child gets home from school safely, you can use your CPI smart security system to check on them from anywhere?
Know When They Get Home: Get an alert sent straight to your inTouchTM app when your CPI Outdoor Camera or Video Doorbell Pro detects your kids walking to the door. You can even greet them with a quick "Hey, welcome home!" through either camera.
Give Them a Personal Lock Code: Give your kids their unique code to your CPI Smart Lock. You'll get an alert to your inTouch App when they punch in the code.
Arm Your System From Anywhere: If your child forgets or does not know how to arm the system after they get inside, you can arm your system remotely through the app.

How Can Your CPI System Help Your Kids Focus on Homework?
You may think your CPI smart security system is solely used to protect your family, but the possibilities are endless. Here's how else you can use your security system to keep an eye on your kids after school (and even help them with homework).
Homework Help at Their Fingertips: If your child has a question on their homework, they don't need a cellphone to get in contact with you. Instead, they can use the push-to-talk feature on the 180 camera to ask you for help remotely.
Keep Tabs on Where They're Studying: Curious about what your kids are up to? Check your indoor camera at any time through your inTouch app, and even take it a step further with IVAN (Intelligent Video Activity Notifications). Set zones for off-limits areas in your home during "homework time" (like a TV room) get an alert sent to your phone when someone enters the area.
Limit Time on Certain Devices: If you're worried about your child getting too much screen time after school, use your Mesh Network to limit WiFi usage on devices like your TV or gaming consoles.
For more tips on making the most of your CPI Security system and keeping your home and family safe, visit our blog today!
Sources:
*National Safety Council, "Back to School Safety."
** National Highway Traffic Safety Administration, "School Bus Safety."