If you're new to the world of smart home security, you might be wondering, "How do home security cameras work to protect us?" Good news: today's home security cameras do far more than just capture endless hours of video footage.
As part of a smart home security and management system, indoor home security cameras can be proactive and interactive, showing you exactly what you want and need to see. And they help you take action, whether in the moment or later. Keep reading and we'll show you how to get the greatest benefits from a home indoor camera.
Use your indoor home security cameras to keep the family safe and the household running smoothly
Most people install security cameras to protect against intruders and thieves. By placing indoor home security cameras near entryways like front doors, garage doors, mudrooms, windows, and other access points, you get a whole-home view.
Intrusion prevention is just the beginning of the benefits of a home indoor camera. CPI's indoor home security cameras are motion triggered, with two-way audio directly through the app. They include intelligent alert technology that distinguishes between people, animals, and vehicles.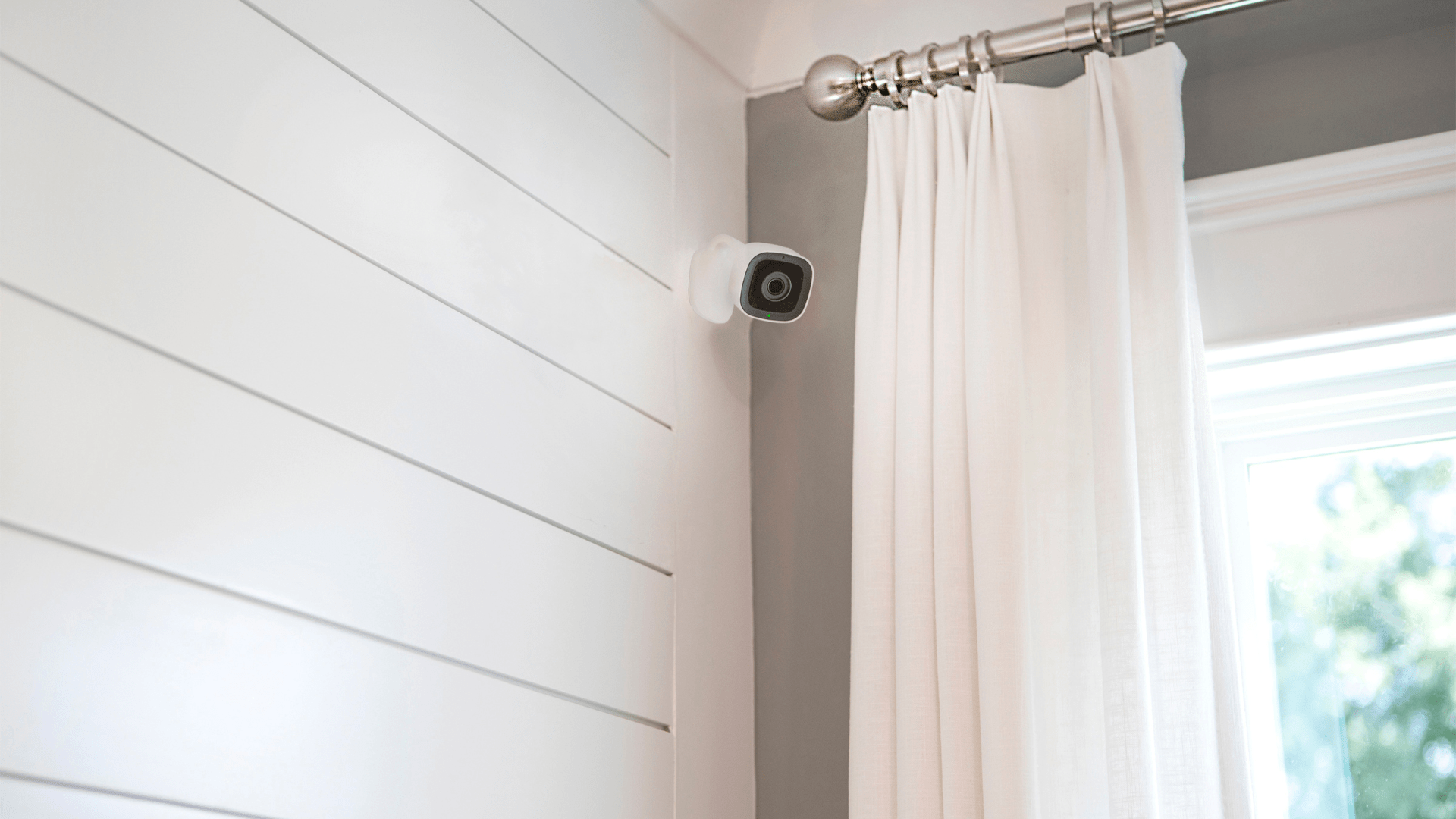 You'll also get real-time alerts with video clips – so you can manage the action right from your phone:
Watch as the kids get home from school, then check on them during homework and chores.
Monitor people you've allowed into your home, like renovation workers or babysitters.
Keep an eye on an aging relative, or check in with a spouse who's recovering from surgery.
You can even remind Buddy he's not allowed on the couch! Bonus: the whole family can laugh at the video clip as your four-legged family member tries to figure out where your voice is coming from.
To get even more of the benefits of a home indoor camera, try CPI's 180° Indoor Camera. The wide angle offers sweeping views inside your home. And the two-way audio feature includes a button on the camera so your family can talk to you instantly through the app.
Cancel False Alarms and Verify Actual Alarms with Indoor Security Cameras
Having an indoor camera is just the first step in protecting against intruders. It's also important those indoor cameras are being monitored by a 24/7 monitoring center like CPI Security's Central Station. Monitoring centers can verify if there is an emergency before calling the police, fire department, or medics. By having an indoor camera, central station operators can visually verify there is an emergency, so they aren't calling first responders for a false alarm.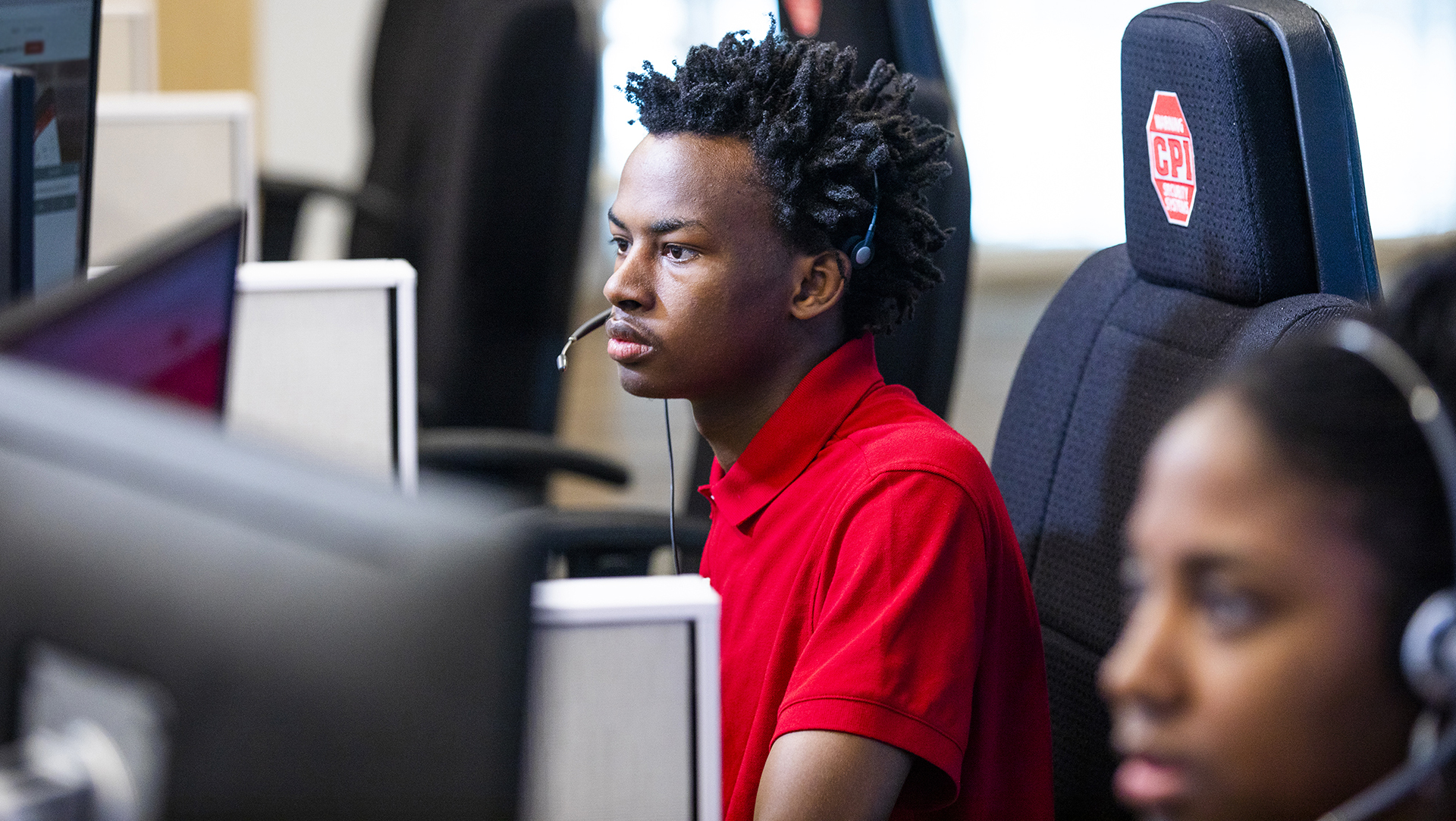 In most jurisdictions, police agencies prioritize responses when there's confirmation of a human presence, a threat or damage to property, and a threat to life. By having an indoor security camera, your professional monitoring center can visually verify a threat and provide information to authorities to substantiate an escalated response. In layman's terms, first responders could get to the emergency faster if they know it's for an emergency that's been visually verified.   
Similarly, indoor security cameras and the in-app customer response option can help reduce calling first responders for false alarms. We all have a responsibility to use our alarm systems responsibly, so we aren't waste important community resources. The less time first responders spend on false alarms, the more time they can spend on actual emergencies.  
You can also "train" your security system to ignore alerts that show harmless activity. As you dismiss alerts you don't want, your system will get smarter about delivering the ones you do.
To get the greatest benefit of a home indoor camera, pair it with other tech like outdoor cameras, smart locks, lights, smart thermostats, garage door controllers, and more – in a professionally installed security system. You can manage major renovations from miles away, reduce utility costs, and automate your household with lighting or music. You can even create whole pre-set environments to set the mood with a single tap of the app.
Take advantage of the insurance benefits of having a home indoor camera
How do home security cameras work to save you money? Well, insurance providers want policyholders to be as safe and secure as they can be.
After all, the fewer claims they must pay out, the more profitable their business. So, they provide discounts to policyholders who have security systems installed, based on how effective those systems are.
Simple intrusion prevention systems (the classic "burglar alarms" you might remember from childhood) can work, but smart security systems with indoor home security cameras go a step further. Video cameras are particularly important because they provide evidence that helps authorities identify who's committing property crimes.
Stopping just one intruder can impact many of their policyholders in the area, not just you. So, offering discounts for security systems is just good business for insurance providers.
Give your community greater peace of mind and other similar benefits of a home indoor camera

Wait – how does your community benefit if your cameras are indoors? The truth is that many households have security systems that include outdoor cameras and other technology, too.
It's easy to deter criminals with a simple sticker or sign that lets them know they're being watched. Many are opportunistic, and they may just choose a different street.
Another benefit is social media. While clips of funny or heartwarming moments make for great content, the real value is in spotting – and sharing – evidence of activity like trespassing, vandalism, or even breaking and entering.
Sharing clips from outdoor and indoor home security cameras can help neighbors identify patterns of unwanted behavior. This lets communities exchange important information and take action to prevent crime in their neighborhood.
If there's a break-in or burglary, your camera makes it easy to provide evidence to law enforcement. You can locate motion-activated, time-stamped clips and share them directly from the inTouchTM app. As part of a professionally installed smart home security system, indoor cameras are a powerful tool in protecting your community.
Extend your home's indoor security to include cameras across your whole property
Smart home security isn't just for the inside of your residence, which is why indoor home security cameras are just the beginning – especially in larger homes or properties.
Outdoor cameras can secure the entire perimeter of your property, and some will even deliver warnings through flashing lights and loud alerts if someone enters. Wireless outdoor sensors can protect outbuildings, sheds, and even vehicles like ATVs by letting you know if something's been opened or moved.
In fact, smart home security systems can save lives even when there's no crime taking place. Securing a pool gate or dangerous equipment – and getting an instant alert if it's been breached – can help you protect the people who matter most.
But wait – are there disadvantages of security cameras in the home?
With all that available protection for your home, family, and community, it's hard to see the downside. But there are a few things for you and your household to consider when installing a security system with cameras.
Not all indoor home security cameras are created equally when it comes to preventing hacking or other data breaches – a professional system is much more likely to protect your sensitive video clips and other household information. CPI Security takes your privacy seriously. All employees are licensed by the state alarm board, CPI employees will only access video streams with the customers' permission first, CPI only uses encrypted networks, and customers can turn on two-factor authentication to add an extra layer of security to their CPI account.
For more tips to secure your home and protect what matters most, visit the CPI blog or contact us today to get your home equipped with CPI.