Gone are the days when you have to distribute keys, switch the locks, or worry about copies being made. You can secure your business worry-free with an access control system. Access control is an electronic system that allows you to manage access to your facility.  
How
Access Control in Security
Works
From new hires and former employees to guests and contractors, there are a lot of people coming and going at any business. The safety and security of your facility is of utmost importance. So, why rely on physical keys to manage access? Instead, you can utilize an access control system to manage the comings and goings of everyone in your business. 
Access control allows business owners to manage who can enter and exit, where they can enter and exit, and when they are allowed to enter or exit. Because access control systems are managed remotely, you can grant or terminate access with the click of a button. This can be especially helpful in situations where a former employee should no longer have access to the building. Another use case can be for contractors who should only have access during certain periods of time. Plus, you'll receive notifications if a door is left open or unlocked. It's all intended to improve the safety and security of your employees, guests, and business.  
Additionally, access control systems create an electronic log of who comes and goes, through what door, and at what time. This can help you see the most trafficked areas of your business, check on employees clocking in and out, and help identify who may still be in the building during an emergency.  
Access control systems can also be tied to your fire alarm system to automatically unlock the doors in the event of an emergency. In case the power goes out, access control systems utilize a fail-safe feature that sends the doors into an "unlocked" state, so everyone can exit. Access control requires power to go into a "locked" state.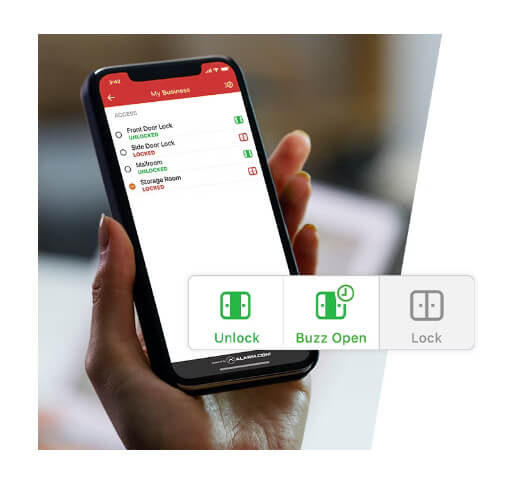 Types of Credentials Used in
Access Control Systems
There are many forms of credentials used in access control systems. You can choose the credential that works best for your business. The best part? You won't have to worry about employees losing keys and compromising the security of your business anymore.  
Badges
Grant employee access to your facility by having them swipe a badge to unlock the door. If you need to terminate an employee's access to the building or a certain room or floor of the building, simply deactivate their card or only allow access in certain locations.  
Key Fobs
Similar to a badge, employees can swipe a key fob to gain access to the facility. If someone loses their fob or badge, simply disable their fob so there's no compromise in the security of your building.  
Key Code
Employees can enter a unique pin number on a keypad reader to unlock and gain access to the facility. 
Mobile Credentials
No need to have employees keep track of fobs or badges when they have their mobile phone on them. They can use mobile credentials to unlock doors by swiping their smartphone.  
Biometrics
Eliminate the need for badges, key fobs, or mobile credentials by utilizing biometrics. This could be a fingerprint or a face scan that grants a person access to the building. 
Access Control
and Automation
Access control systems allow you to do much more than just unlock or lock a door. Connected to your integrated smart business security system, you can automate rules whenever someone uses access control to unlock or lock a door. For example, when the first employee swipes their credentials for the day, you can set a rule to automatically disarm the alarm. When the last employee leaves, have them double tap their credentials to arm the system on their way out.  
Want even more insights into who is coming and going? Our access control systems are seamlessly integrated with our business video surveillance systems. With just a few clicks, you can remotely view who is accessing your business. And by incorporating our business activity analytics, you can gain even more insights to your business like the most highly trafficked areas, occupancy rates, and more.  
Access Control Installation
Because access control systems are at the forefront of your business' security system, it's best to leave access control installation to the professionals. CPI Security technicians will complete a walk-through of your business to determine the best access control system for your business.  
Our professionally installed business security systems are backed by our award-winning 24/7 monitoring center. To learn more about access control and how to secure your business today, contact CPI Security. And for more tips to keep your business safe, visit the CPI blog.