March is known for bracket competitions, and this year we wanted to be a part of the bracket fun! We put together a bracket, but instead of finding the best basketball team, we were in search of what you think is the best benefit to having CPI Security. We took the competition to our Instagram stories and held four rounds with 16 matchups of some of our most popular features, asking you to vote what is your favorite.  
The Secure Sixteen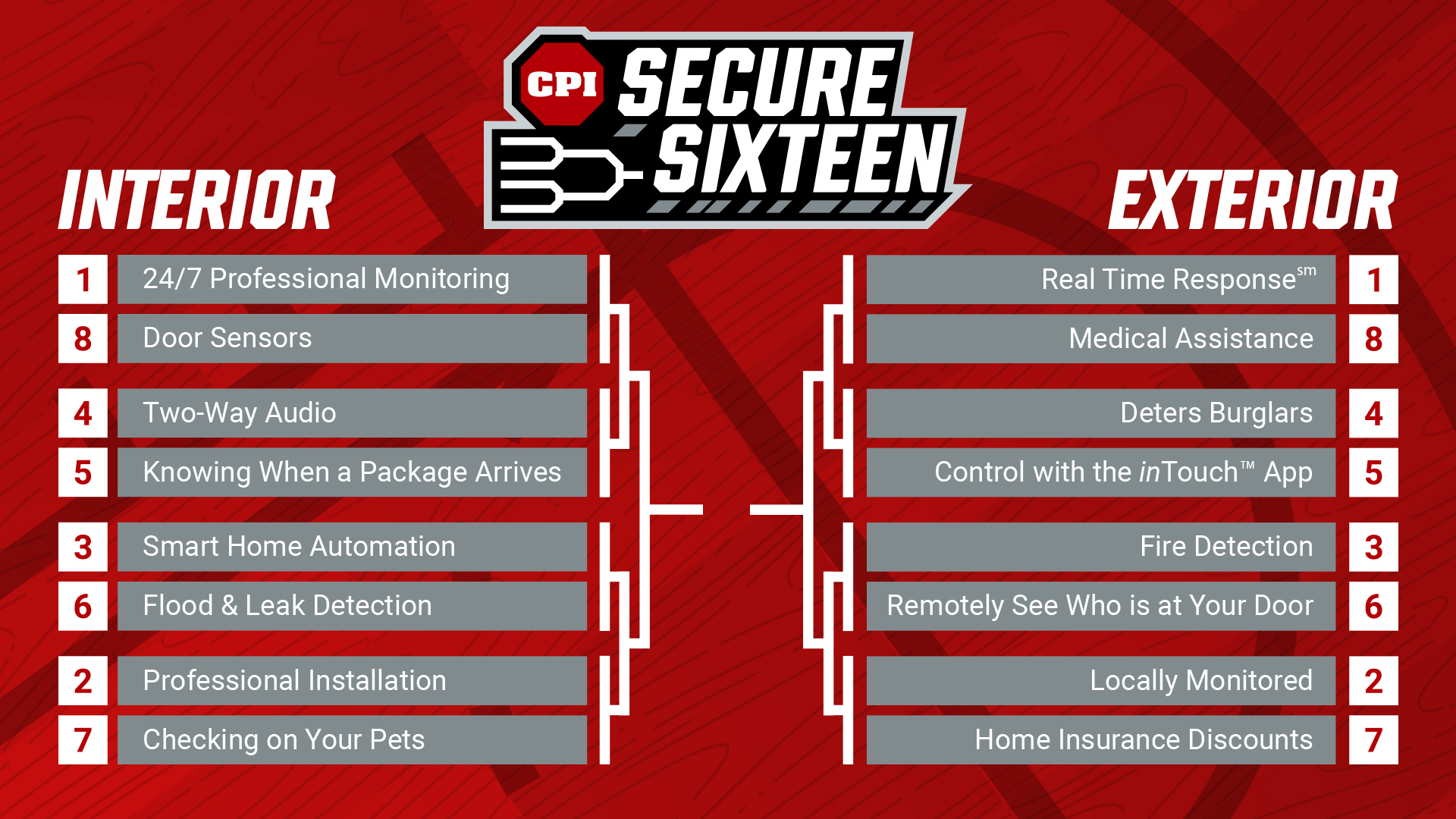 Real Time Response℠:

Whether it's a burglary that triggers your alarm or carbon monoxide detection, our award-winning, UL-certified Central Station acts fast, which can mean the difference between a minor incident and a total loss. 

 

Medical assistance:

Feel more protected when it comes to your health and safety or monitor the safety of an aging parent or family member. When our medical monitoring device is pressed, our monitoring team is notified, so they can get help immediately. 

 

Deters burglars:

Research shows 83% of burglars try to determine if an alarm system is present before attempting a break-in.*

 

Control with

in

Touch™

 app:

Whether you want to make sure you armed your security system or need to unlock the door for a visitor, no matter where you are, with the CPI

in

Touch app, you can control all your home security and automation devices from the palm of your hand.

 

Fire detection:

Imagine not being home & a fire starting in your house. Sure, your smoke detectors would go off, but who would call the fire department? With our Smart Smoke Detector, if smoke is detected, you and our monitoring team will be notified right away, getting help on the way faster. 

 

Remotely see who is at your door:

Whether you're home or away, you have the luxury of knowing who is at your door and you can even communicate with them via the two-way audio feature. So, they may not even know that you aren't home. 

 

Locally monitored:

CPI has been family-owned since its inception. All CPI representatives are employed directly by CPI and are motivated to provide you and your family with the same protection we provide our own. Our Central Station Monitoring Center is located at CPI headquarters in Charlotte, N.C. 

 

Home insurance discounts:

Who doesn't love saving money? With CPI Security, you can get a certificate to submit to your insurance company for a discount on your home insurance.

 

24/7 professional monitoring:

Our award-winning 24/7 monitoring team is always there for you and ready to respond when you need it most. Giving you the peace of mind you deserve.

 

Door sensors:

Secure and monitor any door or window in your home, from entryways to interior doors. Perfect for families with little ones who could slip past you before you even know it.

 

Two-way audio:

Listen and talk to whoever is in our outside your home, no matter where you are! Greet guests as they approach your door, let the kids know dinner is ready, or speak to an unexpected visitor.

 

Knowing when a package arrives:

There are 1.7 million packages stolen or lost every day in the U.S. With our

Video Doorbell Pro

, you will immediately know when your packages arrive.**

 

Smart home automation:

We could all use an extra hand around the house. One benefit to smart home automation is that you can link it to your Siri or Alexa device. 

 

Flood & leak detection:

Did you know, 37% of U.S. homeowners will suffer losses from water damage?*** Water damage starts where you can't see it: under sinks, behind washers, under water tanks, and in attics or basements.  Protect your home with CPI's wireless Water Sensor and

Smart Water Shut-Off Valve

. 

 

Professional installation:

Leave the stress of installation to the professionals. From security camera installation to a walkthrough of your new CPI system, our technicians set up every element from start to finish.

 

Check on your pets:

See what your pets are up to while you are away

by pulling up a live video feed from your CPI Security indoor camera.

 
Round 1: Secure Sixteen Matchup 
Round one went exactly how we thought it would. 24/7 professional monitoring is highly valued by our customers, so it was a tough matchup for door sensors. But when it came to the matchup between two-way audio and knowing when a package arrives, it was a close call. Still, two-way audio prevailed. Another matchup that came down to the wire was between professional installation and checking on your pets. We saw this match-up going either way because we all love our pets, but it looks like you all love leaving the installation to the professionals. We don't blame you! 
Check out the rest of the Secure Sixteen matchups below.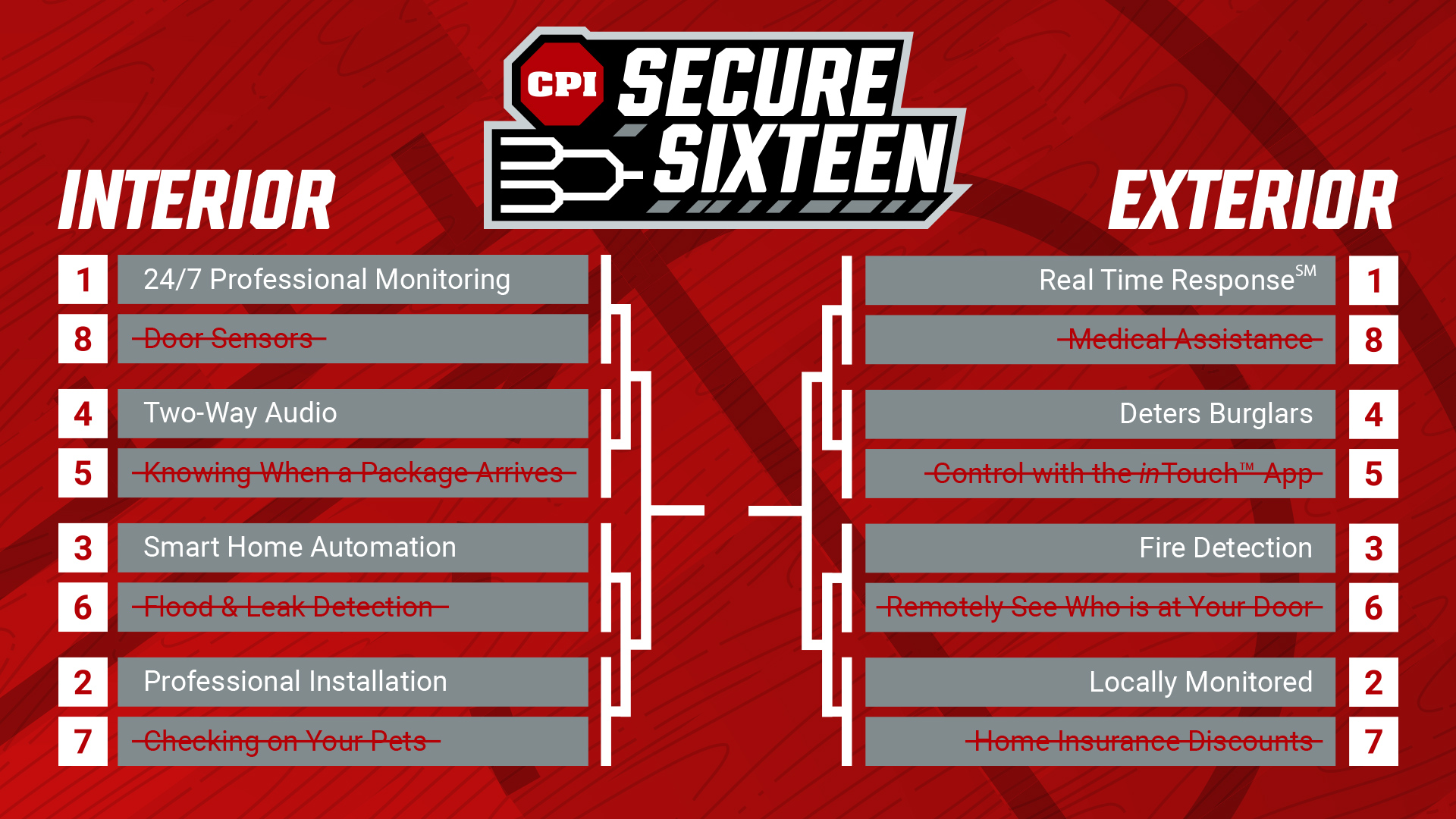 Round 2: Essential Eight Matchup
Next up, the Essential Eight. While most people get home security to keep their home safe and deter burglars, most of you went with Real Time Response. We couldn't agree more! While most burglars would not target a house with home security, in the case that one did, your alarm system would notify central station with our cutting-edge emergency response protocol, Real Time Response.  
It was a close showdown between smart home automation and professional installation. We can see where this would be an even matchup. Smart home automation can make everyday tasks easier and provide hands-free help, but when it comes to installing a home security system, you decided to leave it to the professionals. Besides, there's no use in having smart home automations if they were installed incorrectly. 
Check out the rest of the Essential Eight matchups below.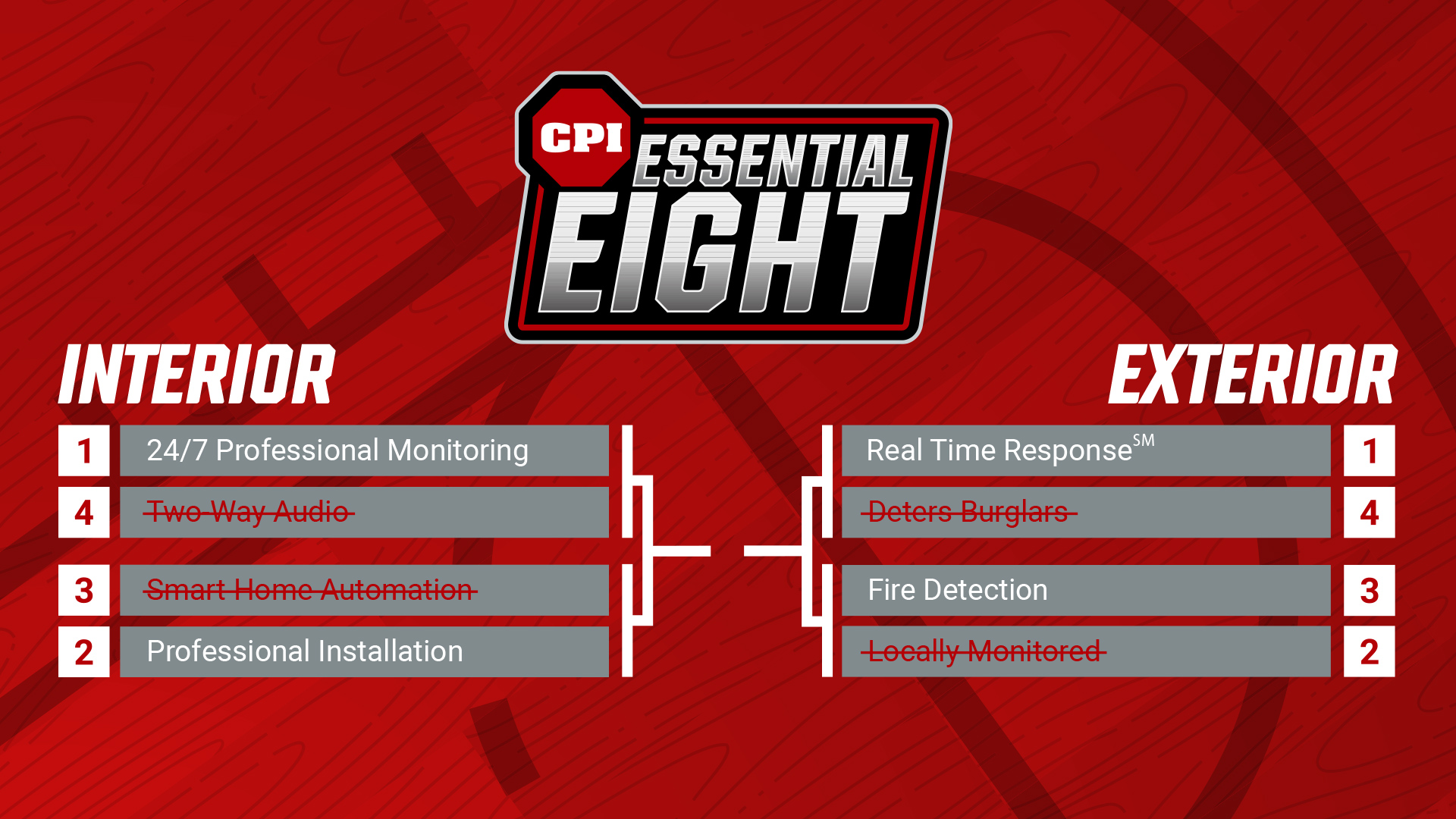 Round 3: Fundamental Four Matchup
Now onto the Fundamental Four matchups: 24/7 professional monitoring, professional installation, Real Time Response, and fire detection.  Let's take a minute to appreciate all four of these benefits, as they all play a huge role in giving our customers peace of mind by protecting what matters most to them. Here's where it really starts to get tough.  
Check out the rest of the Fundamental Four matchups below.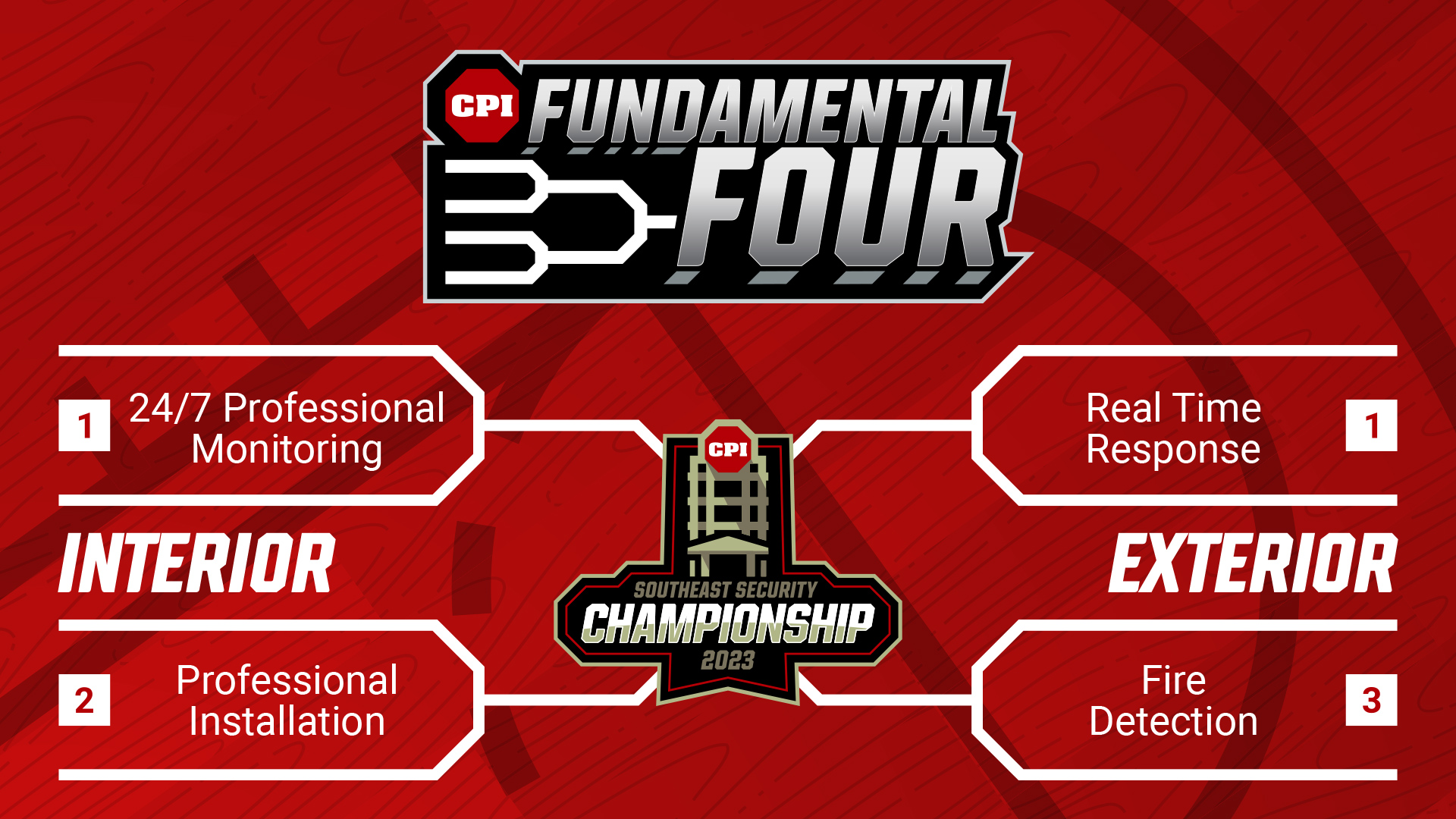 Round 4: Southeastern Championship 
The final matchup was between 24/7 professional monitoring and Real Time Response, and 24/7 professional monitoring was crowned as the biggest benefit of having CPI Security! While both are huge benefits of having CPI Security, Real Time Response would not be possible without 24/7 professional monitoring, in fact both benefits play hand-in-hand.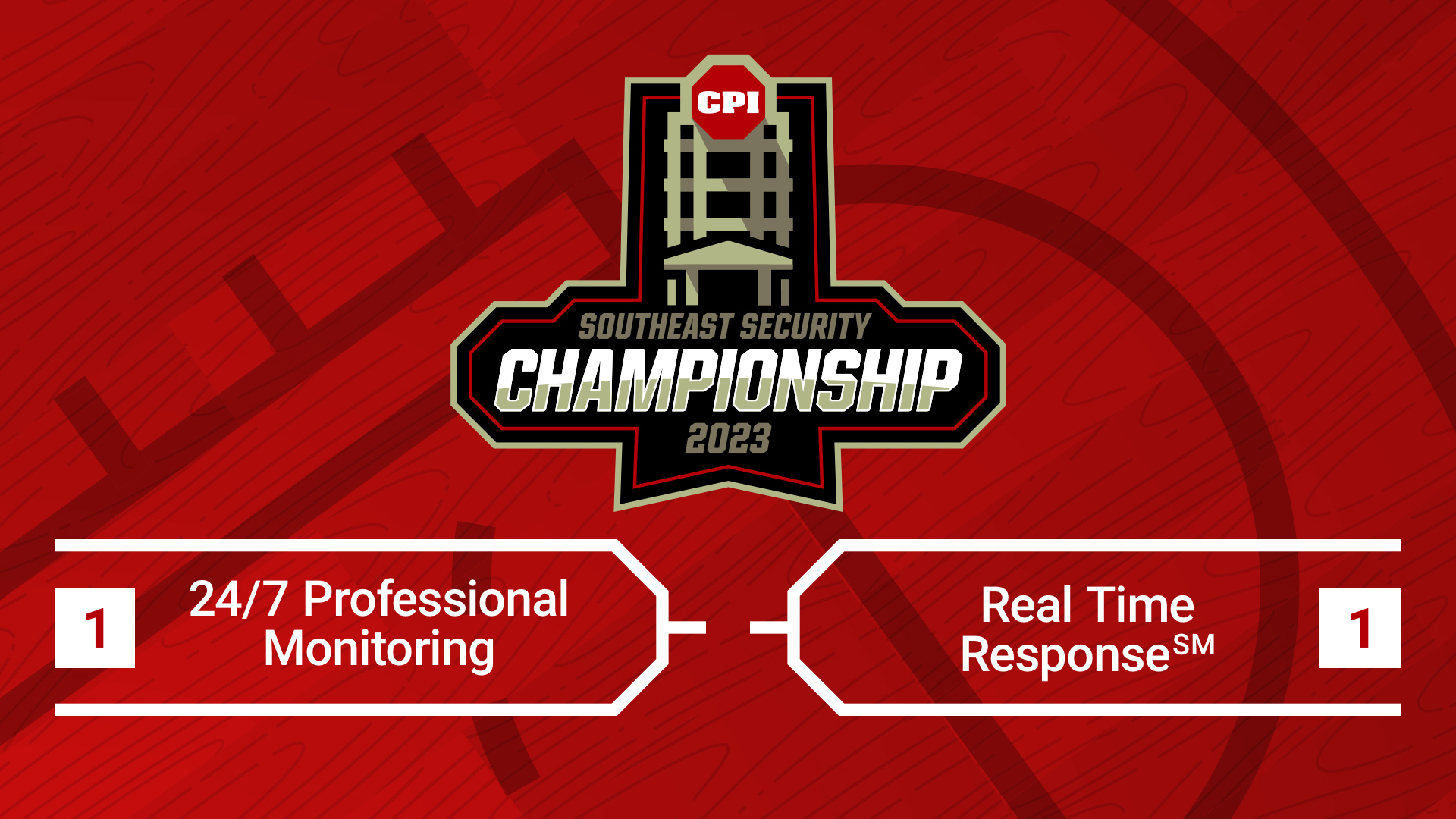 The Champ in Home Security: 24/7 Professional Monitoring
While this competition was all fun and games, CPI Security's purpose is to help customers gain peace of mind by protecting what matters most to them and leading safer lives, all while staying connected to your home.  When you secure your home with CPI, your alarm system comes with 24/7 alarm monitoring and our industry-leading emergency response – Real Time Response.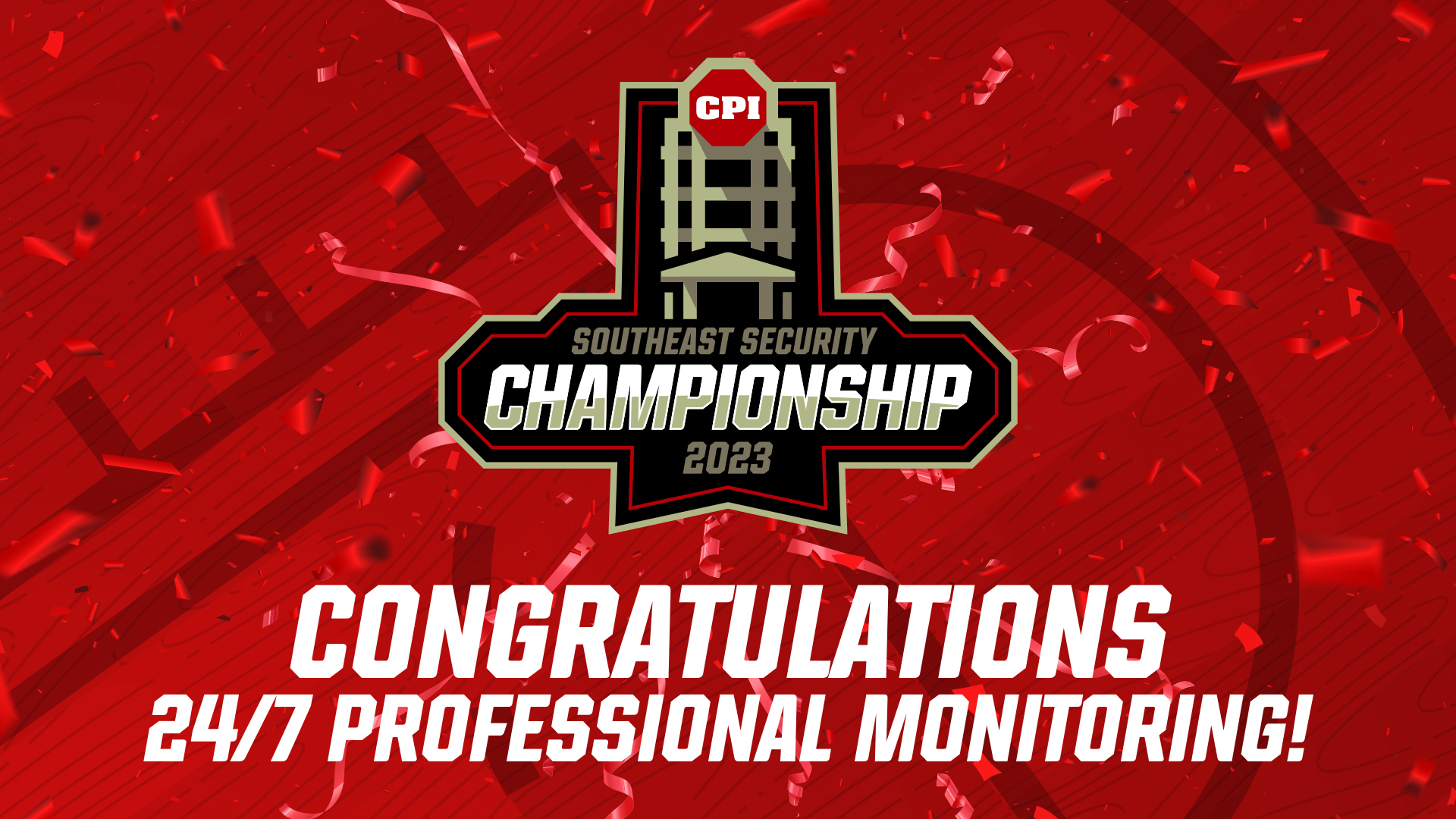 Want more information on protecting your home or business? Check out our other blogs to make your life safer today! 
Sources:
*Forbes Home, "Can Fake Security Signs and Stickers Prevent Break-Ins?"   
**The New York Times, "90,000 Packages Disappear Daily in N.Y.C."  
***Water Damage Defense, "Water Damage By the Numbers"