What do the best outdoor security cameras all have in common? Beyond simply recording the action, they work hard to deter package thieves, vandals, intruders, and other mischief makers outside your home. And it doesn't matter whether you're right there in your living room or halfway around the world. 
Unlike many other outdoor security cameras that only record activity for you to review later,  CPI's outdoor security camera is designed to stop trouble before it starts. It detects the would-be offender and delivers a stern warning that's sure to send them running – while recording their every move. 
Of course, the best outdoor security camera systems don't stop there. Keep reading to learn how a CPI smart home system with outdoor security cameras can make life easier, while protecting everything that matters most.  
Features and Specs of the
Outdoor Security Camera
Understanding How O
utdoor Security Cameras
Work
Whether you're at work, home sleeping, or on vacation, your outdoor security camera is always watching. You can activate 24/7 recording on your CPI Security outdoor camera so you don't miss a second of what's happening around your home, or have your camera record when AI-triggered. With 24/7 recording, the footage is stored locally on the camera and can be remotely viewed or downloaded. IVAN triggered recordings are stored on the cloud and can also be viewed remotely and downloaded to a PC if desired. The best outdoor security cameras also deliver alerts to the homeowner through a smartphone using Wi-Fi connection. Some, including CPI's cameras, are even equipped with artificial intelligence tools that can tell the difference between harmless motion and potential threats.  
Rest assured: outdoor security camera reviews help you learn what to look for, so you'll be ready for the proactive protection that outdoor security cameras can provide.  
Discover the CPI
Outdoor Security Camera
CPI Security's outdoor security camera is a powerful part of a CPI smart home security system, with features like: 
Perimeter Alert that detects a bad actor, delivers an audio and visual warning, and sends them running

 

Full HD 1920 x 1080 video resolution with night vision and HDR.

High Dynamic Range (HDR). HDR can show more detail in dark shadows or bright highlights of an image. HDR is especially useful for capturing clear video in areas with harsh lighting.

 

IVAN℠ (Intelligent Video Activity Notifications) AI-driven technology that can tell the difference between people, vehicles, and animals

 

Two-way audio that lets you communicate with individuals outside your home, from wherever you are

 

Sleek white styling and rugged construction with an

IP66 weatherproof rating

 

 
As with all CPI security cameras, the Outdoor Security Camera delivers real-time video clip alerts you can customize. That means you'll always be privy to key happenings outside your home – but you won't be interrupted by warnings about squirrels or delivery trucks. The camera also includes a 117° field of view that can be trained on key access points around your property. And our Outdoor Security Camera seamlessly integrates with the rest of your CPI smart home security system, including compatibility with Alexa and Siri.  
Want to discover the best outdoor security camera for you? Explore the CPI Outdoor Security Camera and review the technical specs and other details.  
What You Need to Know About Installing
Outdoor Security Cameras
Who Can Install an O
utdoor Security Camera
?
The process for installing your outdoor camera will really depend on what type of camera or security system you purchase. You could go the DIY route – purchase and install an outdoor security camera on your own – but you might not be happy with the result. If you run into trouble, you could be stuck on hold with customer support for hours, or find yourself buried in confusing online tutorials. And if something's not connected properly, your household could still be at risk – and you won't even know it.   
All CPI Security Systems are professionally installed. Which means you don't have to worry about choosing the best location for your camera, connecting it to the rest of your system, or any of the other intricacies that make your security system secure. With professional installation, all the hard work is left to the experts! 
What's the Cost of O
utdoor Security Camera
Installation?
How much you'll pay depends on which type of outdoor security camera you choose. DIY products may promise the ease of self-installation, but how easy is it once you actually get in and start working? And is it really free? Consider the value of the time you spend on troubleshooting and the expense of those extra trips to the hardware store, not to mention the aggravation factor. On top of that, there's no real way to know whether you've done it correctly – that is, until a troublemaker begins wreaking havoc and you realize your DIY… didn't.  
When you think about it that way, the question really becomes: what's the cost of not leaving your outdoor security camera installation to the pros? Theft of personal items. Damage to your property. Or worse.  
While some providers charge extra to install your outdoor security cameras or smart security system, CPI Security does things differently, with free professional installation for the Outdoor Security Camera when you purchase a CPI Security system.  
What are the Benefits of Professional Installation?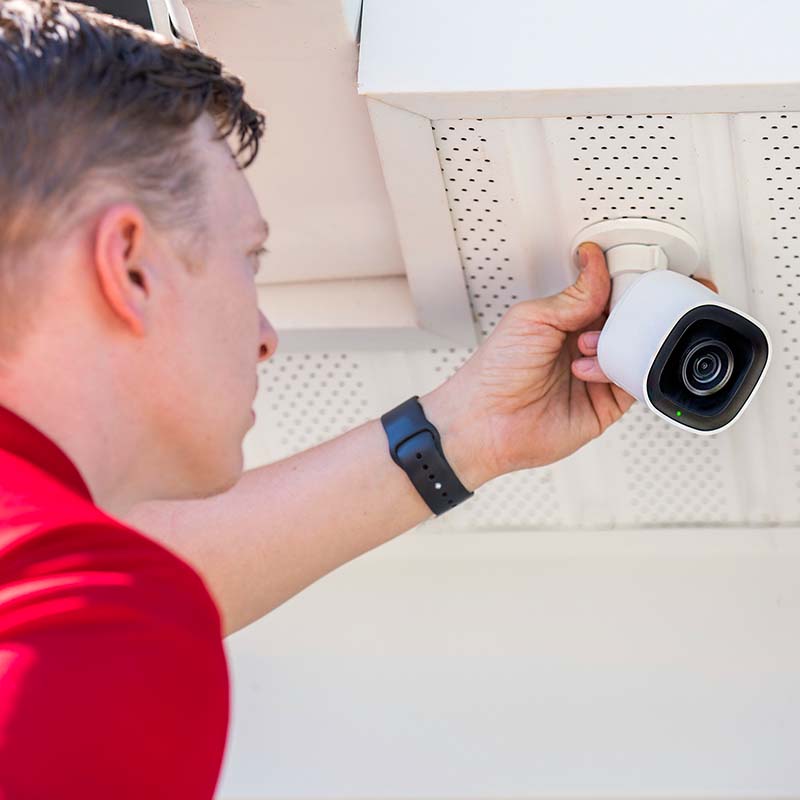 Even if you're just starting out with an outdoor security camera and one or two other items, professional installation makes more sense. After all, it's not really about hardware and software. It's about the comfort and peace of mind that comes from protecting what matters most.  
Since CPI Security systems are professionally installed at no additional cost, you won't have to worry about assembly, positioning, or configuration of your CPI Outdoor Security Camera. Along with free installation, you'll enjoy: 
End-to-end service from convenient installation appointments to setup and final walkthrough

 

Expert advice and recommendations on the most strategic positioning of key components

 

Professionally trained and vetted technicians you can trust in your home

 

Seamless installation that fits your space, looks attractive, and causes you zero hassle

 

Post-installation testing and education so you're well-versed in everything your system can do

 
Your home and family deserve the protection of an outdoor security camera. Doesn't that mean they also deserve the assurance that comes with professional installation? 
Who Is Responsible for Monitoring an
Outdoor Security Camera
? 
About Self-Monitored
Outdoor Security Cameras
Home security system monitoring happens in one of two ways. The first is called "self-monitoring," which is a bit misleading. After all, it just means that you're fully responsible for checking your outdoor security camera's alerts, system status, and more. In order to be able to do something about an intruder or other emergency, you'd have to be paying attention to your phone at all times.  
But is that realistic? There are lots of times when you might not want to be glued to your phone: you're on vacation, you're mid-meeting or in an important interview, you're busy with children or pets, you're working out, you're catching up with an old friend. If your outdoor security camera is "self-monitored," you could easily miss critical moments that require immediate action. And even if you do see what's happening in real time, you might panic, or you might not know how to respond to that particular emergency.  
How do Professionally Monitored O
utdoor Security Cameras
Work?
Professionally monitored home security systems are connected to a central station, where specially trained operators can observe and respond in real time. With your permission, they can see and hear what's happening at your home through indoor and outdoor security cameras, determine which first responders are best equipped to handle the situation, and communicate with everyone involved – including an intruder. 
Of course, round-the-clock professional monitoring can cover more than just home security alarms. It can also keep tabs on your smoke and CO detectors, and call the proper authorities in the event of a fire or similar event. Same goes for medical monitoring solutions – professional backup can be a literal lifesaver if you have a vulnerable family member. 
About the CPI
Outdoor Security Camera
and Professional Monitoring
When you choose a CPI Security system with an outdoor security camera, you'll automatically get the protection of our cutting-edge Real Time Response℠ via Central Station, our professional alarm monitoring center. It's a world-class, Five Diamond Certified, U.L. Listed Monitoring Center that provides specialized protection for all CPI customers.   
In our award-winning Real Time Response℠ emergency response protocol, you'll have the opportunity to cancel if your Outdoor Security Camera triggers a false alarm. If you don't, a Central Station Operator will try to contact you using the system's two-way speaker, or on your phone if you're not home.  
If they can't get in touch, they'll use their expertise, your CPI outdoor security camera, and other smart home security products to confirm the emergency and take decisive action. They can use your cameras to speak to people in and around your home, whether it's first responders or even the intruder themselves.  
Using Your
Outdoor Security Cameras
with a Smartphone App
About O
utdoor Security Cameras
and Apps
In theory, smart home security and management apps are a great idea. Who doesn't want to have complete control in the palm of their hand? But it can often feel like every purchase or business interaction now requires you to download another app. A separate app for every smart home product can get cumbersome quickly once you add additional cameras, locks, thermostats, and other smart home products.  
Get the Most From a CPI
Outdoor Security Camera
Using the inTouch™ app
Great news: CPI's outdoor security camera uses the same app as the rest of your CPI smart security system and devices. Your cameras, locks, thermostat, and other devices are all connected through the CPI SmartHub panel and fully integrated in our inTouch™ app. 
If you're at the office late and someone wanders into your driveway, our outdoor security camera's perimeter alert feature will hit them with a bright LED light and a loud audio warning. At the same time, the inTouch™ app alerts you to what's happening. 
You can immediately use the app to turn on all indoor and outdoor lights, making your home (and the potential troublemaker) highly visible. You can communicate directly with whoever's out there using two-way audio right from the app – if it was just a mistake, they'll be on their way quickly, and you can cancel the alarm.  
But if they don't depart or you see them behaving suspiciously, you can confirm the alarm is real or just let Central Station do what they do best: coordinating a fast, expert response to protect what matters most. 
Getting Started with a CPI
Outdoor Security Camera
Ready to stop trouble before it starts? Visit us today to learn more about CPI Security's Outdoor Security Camera.