CPI Security Supports Greenville City Fire Explorer Program
Take a behind the scenes look at the Greenville City Fire Explorer program!
Here at CPI Security, we work round-the-clock to protect our customers' homes and businesses, striving every day to make our communities safer. Our commitment doesn't stop there – service is woven into the very fabric of our culture. We regularly partner with local organizations that share our purpose to make our communities safer and improve lives, and we champion initiatives that support first responders and their families.
One organization we are proud to sponsor is the Greenville City Fire Department's Firefighter Explorer program. This program introduces the youth of Greenville to fire and emergency medical services, and it underscores the importance of community service while providing life skills through mentoring, training and career development.
"Supporting the brave men and women who put their lives on the line to protect our communities has always been a top priority," said Ken Gill, Founder and CEO of CPI Security. "We're glad to sponsor the Greenville City Fire Explorer program to invest in our community while providing youth a path to develop a career in firefighting."
Because of CPI's support and hard work from these young men and women, all of the active explorers have been certified in CPR, three are currently attending graduate school, and two have received full training to qualify to apply for a firefighter position with a department of their choice when they turn 18-years-old.
This corporate investment will not only help improve opportunities, but also help to break down the barrier for disadvantaged youth so that they, too, can access these programs.
"As we attempt to make a difference in the Greenville Community, we want to thank CPI Security for being a contributing force behind this," said Micah Rains, Greenville City Fire Department Explorer Advisor. "Together, the youth in this area can have the opportunity to live, lead, and pursue excellence in life."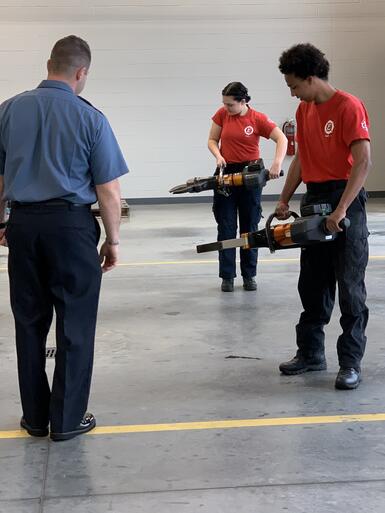 Trainees with the Explorers program practice and learn new skills.
To learn more about the Greenville City Fire Explorer program and CPI's partnership, learn more here.