While fire safety may not be at the forefront of everyone's mind, home fires happen more often than you may think.
Consider this:*
There are over 358,000 home fires each year in the US.
Fires cost homeowners almost a billion dollars in damages annually.
Home fires cause approximately 3,000 deaths every year.
The key to preventing a tragic accident is to be proactive with your fire safety measures. Help keep your home and family safe with these five fire safety tips.
5 Home Fire Safety Tips
Safety Tip 1: Practice Safe Cooking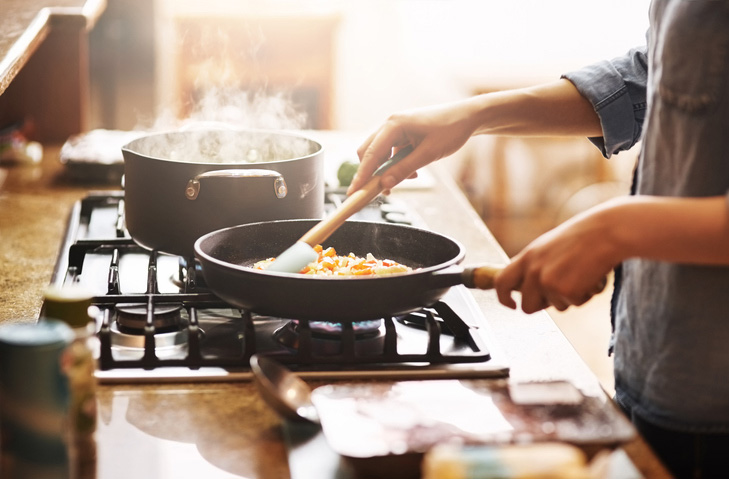 Cooking fires are the leading cause of home fires and injuries.** They can happen for a few reasons:
Distracted or fatigued cooking.
Haven't we all left the room for 'just a second' to check on the kids, look at our cell phone, or grab a package off the porch? It may feel harmless, but these distractions can lead to severe consequences.
Before you start cooking, take a second to check into your mental state. Are you tired? Are you multitasking? Are you distracted? All these things can increase the risk of a cooking fire.
Flammable Materials.
It's also important to make sure your stovetop and oven are clear of flammable or combustible materials – including oven mitts, paper or plastic bags, and dish towels.
Grease Fires.
Prevent grease buildup by deep cleaning cooking surfaces, countertops, and areas around appliances regularly.
CPI Safety Tip: Keep a fire safety blanket or extinguisher in your kitchen for those "just in case" moments. If you must leave the kitchen, consider turning off your burners first.
Safety Tip 2: Heat Your Home Safely
The second leading cause of household fires is improper heating practices.* This could be:
A space heater that is too close to other furniture or the wall (resulting in small fires that can quickly spread to the rest of the house).
A wood-burning fireplace that gets out of hand (evaluate the size of the fire and how much longer you plan to enjoy the fire before adding the next log).
Cracked, damaged, or broken electrical components of heating devices (which can spark and cause fires).

Remember, the more heat generated by the source, the more likely a fire could begin.
CPI Safety Tip: Periodically check heating devices to ensure that the electrical components work properly. You should also never crowd a space heater or leave it unattended.
Safety Tip 3: Test Your Smoke Alarms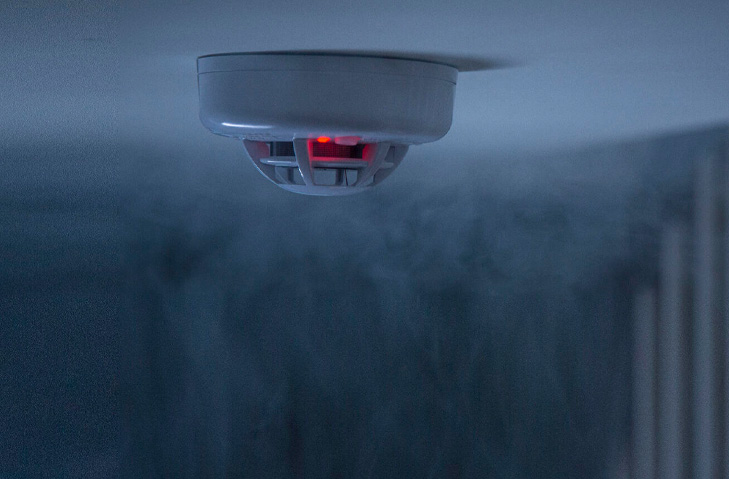 Smoke alarms are a common feature in most homes, but having a smoke alarm does not guarantee that you have a working smoke alarm.
As a best practice, test your smoke alarms every month to ensure they are working properly; also, if you have a standard smoke alarm, it is recommended to replace your batteries every year.
These two practices will help guarantee your smoke alarms work during those critical moments when you rely on them to keep your family safe.
CPI Safety Tip: If you want to simplify your smoke alarm maintenance, CPI's smart smoke detector, the Fire Communicator, sends alerts for device tampering and low batteries directly to your phone.
Safety Tip 4: Have a Working Home Fire Extinguisher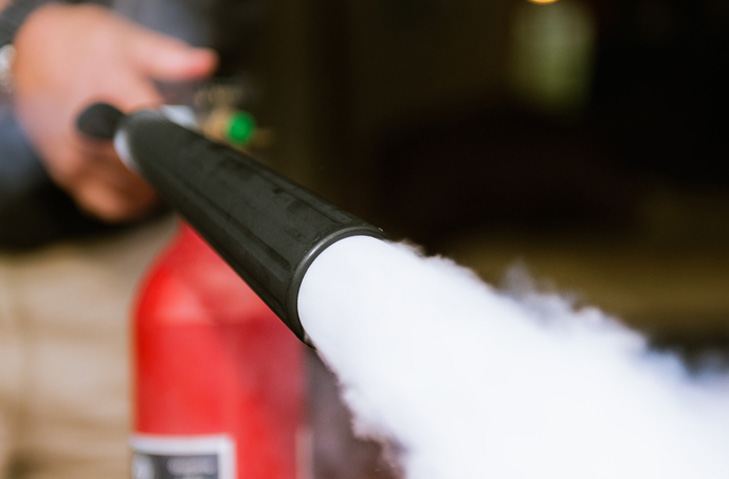 Fire extinguishers are a must-have for any household. Not only are they relatively inexpensive, but they can help you take control of a fire before it gets out of hand.
Extinguishers can be single or multi-use. When you get your fire extinguisher, you should inspect it, study the instructions, and make sure you know how to use it. Fire extinguishers differ in their design, so it's essential to read the instructions before first use.
As a general rule of thumb, follow the acronym PASS:
Pull the pin.
Aim low, towards the bottom of the fire.
Squeeze the handle slowly.
Sweep from side to side to cover as much of the fire as possible.
CPI Safety Tip: Take time to read the instructions and consider practicing with your fire extinguisher. It's far easier to learn how to use one in a calm, relaxed moment rather than trying to learn in the middle of a raging fire. Understand your extinguisher's maintenance needs as well – some extinguishers need to be recharged or refilled after use.
Safety Tip 5: Devise a Fire Escape Plan
In the unfortunate case that preventative measures don't protect you from a house fire, it's crucial to have a clear escape plan in place. This plan should be easy to understand and known by everyone in your household.
If triggered, the CPI Fire Communicator sends an alert to our Central Station, activating Real Time Response℠. Our 24/7 emergency response team then confirms the emergency and dispatches authorities on your behalf. They'll also stay in contact with you over your panel's speaker and/or your phone during an alarm – making sure they're with you every step of the way.
Here's just one example of how Real Time Response keeps your home safe during a fire emergency:
Depending on the devices with your CPI smart security system, you can also create automations that will shut down your HVAC to limit fire spread, turn on lights, and unlock your door, making a more obvious exit route.***
CPI Safety Tip: Fire drills are not just for schools and workplaces. Practice your escape plan a couple of times a year to ensure everyone in your household is aware of the plan and confident in its execution.
Fire Safety Begins With Preparation
Set the foundation of fire safety in your home with preparedness, caution, and working alarms and tools. The tips listed above can help ensure that you and your family are kept safe in the event of a household fire.
For safety tips like these, and more information on everything home, smart security, and innovation, visit the CPI blog to learn more.
***Note: This requires rules that must be set up by the customer. Additional home automation devices required. Automation features can be programmed from your computer or mobile device.
Sources:
*The Zebra, "House Fire Statistics and Facts in 2020."
**National Fire Protection Association, "Top Fire Causes – Cooking"