Across the US, over 14,000 people daily experience water damage in their homes. 98% of basements (almost all of them) will be affected by water damage.* Not great news for homeowners as water damage can cause a host of potential hazards: mold growth, structural degradation, property damage; the list can go on. We recently wrote a blog post about ways to prevent water damage in your home. In this post, we'll go deep into one specific tool – water sensors – and how they can help you detect water damage before it becomes a problem. Here are four ways that water sensors can protect your home from water damage. 
What Are Water Sensors?
Water sensors are devices designed to detect and alert you of any water in a monitored area. In other words, if a leak or water appears in an area that shouldn't have water, these sensors will notify you. Using built-in moisture detectors and/or water probes, these sensors can detect water before it has had time to cause property damage. 
4 Tips for Using Water Sensors to Protect Your Home from Water Damage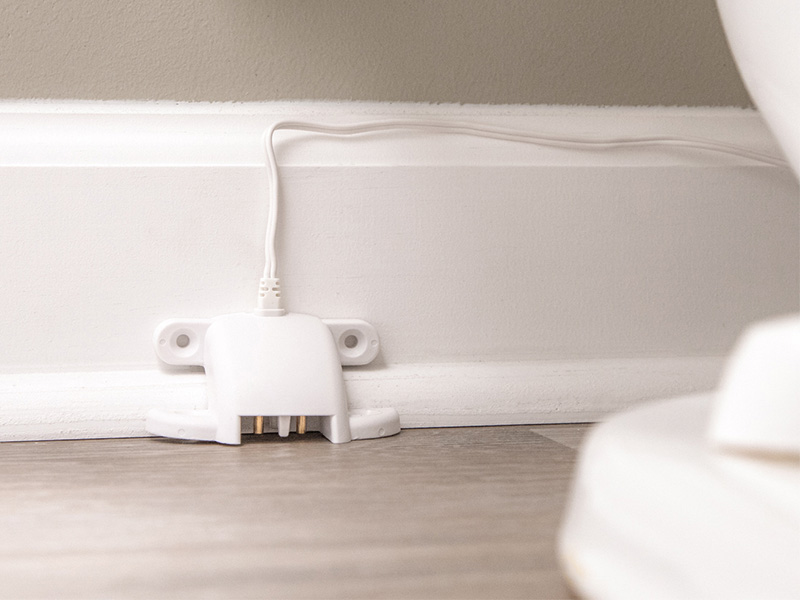 Tip 1: Place Water Sensors for Maximum Coverage
The first step in protecting your home with water sensors is to ensure they are placed in the appropriate spaces to monitor potential leaks or overflow. 
This includes placing them around the following: 
Washing Machines

 

Dishwasher

 

Sinks

 

Refrigerator/ Icemaker Drain Lines

 

Hot Water Heaters

 

Toilets

 

Sump pumps

 

Drainpipes

 
You should also place them around areas of the home that may collect water in the event of a flood or heavy rain, like your basement or near porch doors. 
Once you've set up your water sensors, the next step is to sync them with a home monitoring app. This will alert you immediately of any potential water leaks or moisture buildup, giving you plenty of time to act and prevent further damage. 
Since CPI Security's water sensor automatically integrates with the inTouch™ app, you don't need to download another app for this feature!
Tip 2: Sync Shut-Off Valves to Your Home Monitoring Apps
You can take your water damage control system to the next level by installing a water shut-off valve to turn off the water supply when the sensor detects moisture. This prevents any more water from entering your home and causing damage. Combined with a water shut-off valve, water sensors can mitigate the amount of damage you would have and reduce cost in repairs because it detects the leak and shuts off the water source before any serious damage occurs.  
Bonus: CPI's water shut-off valve is also integrated into your inTouch™ app, so you can shut the water off or turn it on remotely with the click of a button. 
Tip 3: Monitor Invisible Leaks
Over the past several years, leak detection and water monitoring have advanced significantly. Modern leak detectors utilize the same technologies as water sensors but focus more on leakage in pipes. These monitoring systems are beneficial for catching more minor leaks (think drips) behind interior walls that may otherwise go undiscovered until they become a big problem. 
Some sophisticated leak detection systems can be installed in your plumbing system to give you actionable information about your home's water flow/water pressure to detect leaks or breaks. If you want even more precautions, pair sensors with your smart water shut-off valves to stop an invisible leak before it becomes an issue. 
Tip 4: Don't Forget About Freeze Sensors
We may be coming out of winter, but now is the perfect time to prepare for next year's freezing temperatures. Frozen pipes can lead to burst pipes, which can cause massive amounts of water damage. 
Suppose you live in a state that is prone to below-freezing temperatures. In that case, you may want to consider incorporating a freeze sensor into your water damage control system.   
If these sensors detect a temperature below or around 45°, either an alarm or your linked smart device would be notified. 
These devices are usually placed in areas that are prone to freezing weather or environmental exposure, Unfinished basements, crawlspaces, or areas with insufficient insulation. Freezing water sensors should be installed along with the other mentioned technologies to help prevent disaster. 
Though you may not have this issue much if you live in the Southeast, you can still program your Smart Thermostat to notify you if the house drops below a certain temperature you set.  
Make Your New Tech Optimal
On top of the above water sensors, other technologies can also be used to enhance the effectiveness of your water detection system works. Consider the following: 
– Home Alarm Systems: These can be audible or synced to your phone. This will give you an immediate indication that water has been detected. 
– Wi-fi Extender: If you plan on adding smart water detection devices to your home, you can bet that they are going to fight for wi-fi dominance. We recommend installing a wi-fi extender/booster to ensure your signals can reach every crevice of your home. 
– Generator/backup battery: Having a backup energy source for your water sensors can be helpful to keep your system operational in the event of a power outage. 
Keeping a safe home is essential for every family. With the right mix of water sensors and a water shut-off valve, you can protect your home and your family from the potential damage that water leaks and floods can cause.   
If you're ready to improve your home's water detection system, we can help. CPI has the experience and smart technology to protect your home's most vulnerable areas. Learn more about our security sensors and get a free quote today! 
*Ruby Home Luxury Real Estate, "Water Damage Statistics (2023)"